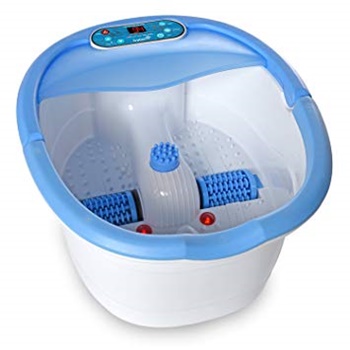 Having been uniquely designed to provide you with a soothing massage to your tired ankles and feet, the Ivation foot spa can be purchased for a good price. It relies on two motorized rollers to provide a nice massage to the soles of your feet.
Plus, since it combines many of the popular features currently available in critically acclaimed foot spas, it is definitely worth considering. Check out the rest of our Ivation Foot Spa review to find out more.
Features and Benefits
Ease of use is one of the first benefits that you will get to enjoy if you decide to go for this unit. There aren't any complicated procedures when it comes to customizing the massage, and many customers have noted that they didn't even have to read the user manual to learn how to utilize the footbath.
The control panel boasted by the Ivation model is quite easy to read, and its display will show you the water temperature, as well as any changes you perform on the settings. Every function that you have activated is backlit by a small red light, so you know which ones working and which one is not.
Another aspect worth noting about this particular model is that it is outfitted with rollers on the bottom. Since they are motorized, you don't even have to move your legs to get a great massage on the soles of your feet. Of course, if you do want a more intense massage and want to apply more pressure, you can simply push against the rollers more.
Additionally, you'll be glad to know that the Ivation foot spa comes with vibrating massage. It's quite intense, actually, especially based on the reviews that the unit has acquired over time. The vibration feature is effective and fully capable of relaxing your muscles, as well as improving your circulation.
Whether you decide to use the footbath in the evening or early in the morning, before you get out of the house, you should know that it is equipped with a timer. This allows you to focus on other activities at the same time, such as reading a book or watching your favorite TV show. If you set the timer for fifteen minutes, it will get the job done during that specific time.
Another reason to keep the model in mind is that it is rather intelligent. It begins by heating up the water that you've poured into it, and it automatically heats it up to 108 degrees. Once it reaches 95 degrees, the unit starts creating bubbles. Once the water is at the maximum temperature, the motorized rollers begin working, as well.
Specifications
Size: 16.5 x 9.2 x 14.9 inches
Capacity: 6L
Temperature Range: 95-122F
Power: 450W
Voltage: 110V
What to expect from the Ivation Foot Spa?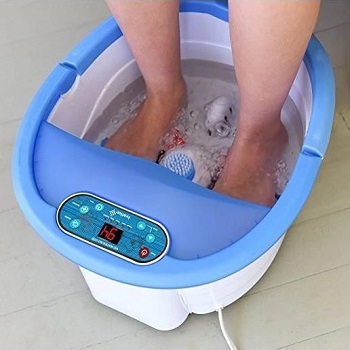 Most of the feedback that we've analyzed about this product is favorable. Some consumers say that they wish that they had bought it sooner. It's easy to use and easy to clean, and the water heats up quickly.
You can add essential oils or Epsom salt to get the best experience. It doesn't make a lot of noise, either, so you can use it in the presence of other people. For more information, refer to the comprehensive user manual included.
Pros
User-friendly since it comes with clearly marked functions and programs and a backlit display
The rollers massage the soles of your feet without you making an effort
Sizable enough to accommodate people with larger feet
Cons
It doesn't produce as many bubbles as similar products might
Wrap Up
The Ivation can allow people to get rid of foot pain and relax at the end of a hard day. If you have used anti-inflammatories and they haven't made much of a difference when it comes to alleviating your pain, this alternative method might be a good choice for you. It's safe and non-invasive. We hope that our Ivation Foot Spa review has helped you understand whether this model speaks to your specific needs and preferences.