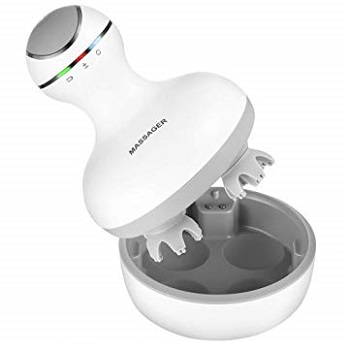 In this day and age, it can be more or less challenging for you to pick the right head massager, particularly since the market seems to be overflowing with options. You might have already come across a variety of models whose manufacturers claim to do wonders. But are they all worthy of your consideration?
In this KESITIS Head Massager Review, we've highlighted both the pros and the cons of this device so that you know what you are spending your money on.
Features and Benefits
The KESITIS seems to stand out from the crowd because of its versatility. It is very easy to use, convenient, as well as fully capable of doing what it is supposed to. It is equipped with as many as 21 individual nodes, which are each made of soft silicone, so they feel good against your scalp. The material also makes it possible for any hair tangling or pulling to be prevented.
Furthermore, we couldn't help noticing that the scalp massager seems to be able to mimic the moves of an actual massage therapist, and that's why it has been praised time and again for its pain-relieving capabilities.
Another aspect worth writing home about with regard to this choice is the fact that it weighs in at just 0.7kg. This means that it is among the lightest devices in its line and it also means that you will be able to handle it conveniently and easily. Additionally, the model works with a rechargeable Lithium battery, so it also takes the cake when it comes to portability.
Multi-Mode Settings
Since most people who are shopping for massagers want to get a bit of freedom in terms of the settings that they can choose, you will be happy to know that this unit comes with four-mode settings. You can pick low speed, high speed, clockwise and anti-clockwise, so you can, therefore, massage your scalp as effectively as possible.
Due to its features, the KESITIS massager is capable of accelerating blood circulation and enhancing skin absorption. Given that it is waterproof, you can use it in the shower and along with some hair products such as conditioner, for example. It will effectively stimulate the skin to retain the product a lot better.
We've already mentioned that this device is waterproof, but did you know that it can be used on other body areas, not just your head? Because the nodes are made of soft silicone, they aren't going to cause any bruising or pain if you decide to use the massager on your neck and shoulders, for example.
The charging base isn't included in the actual design of the product, which is a benefit since it would have likely gotten damaged due to exposure to water. The battery can be charged using a USB cable, so you can even use your laptop or any other USB-capable device for the task.
Specifications
Weight: 14.1 ounces
Battery: Lithium-Ion
Charger: USB
Cordless: Yes
What to expect from the KESITIS Scalp Massager?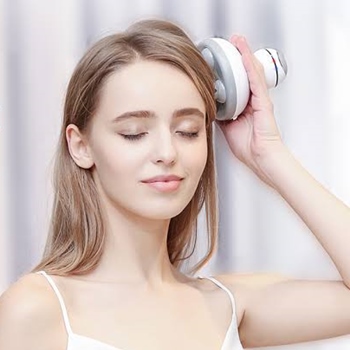 From what we have noticed, most of the individuals who were kind enough to provide feedback with regard to this product are fully satisfied with the way it works. It can even be used on pets, not just people, and if you take good care of it and clean it after every use, you can even use it along with the rest of your family members.
Make sure that everything is in the right place before deciding to use it in the shower, as per the user manual.
Pros
It doesn't pull your hair
Can be used on both dry and wet hair
Portable, rechargeable, convenient
Cons
The runtime is about 90 minutes and some people would have liked for it to be longer
Wrap Up
As you can see, the KESITIS alternative seems to be a pretty good option if you want to get a handy head massager that's actually capable of decent performance. We suggest that you take some time to go through some consumer reports, as well, but in the end, we hope that our KESITIS Head Massager Review has helped you get a picture of what this model can do for you.