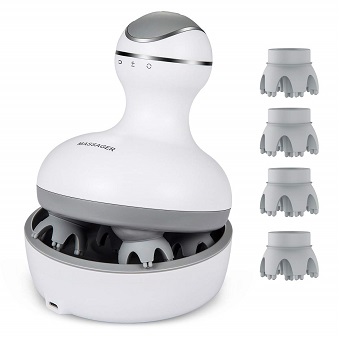 Head massagers have become more and more popular over the years, as getting a scalp massage once in a while can help you relax and even alleviate the unpleasant symptoms of a headache. If you have been looking for a decent device in this line but you're feeling unsure about picking a particular one, you're in the right place.
Check out this LATME Head Massager Review to find out everything you might want to know about its features, benefits, and even the things that have bothered users in the past. Read on to find out whether it addresses your needs or not.
Features and Benefits
This scalp massager comes with as many as twenty-eight individual nodes and 3D deep-kneading, which means that it makes the perfect option for your scalp, for fully massaging your head, and for stimulating hair growth, as well. Based on the claims of the manufacturing brand, the model is capable of increasing local blood circulation and promoting relaxation.
Needless to say, due to its action, the LATME alternative can also help you get rid of the stress that you might have dealt with throughout the day. The neatest thing about the model is that it can be used in other body regions, not just your head. This means that you can utilize it as a handheld massager and apply some soothing pressure to your calves, feet, shoulders, or any other body area that could be achy.
On top of everything, you might want to know that this head massager is waterproof. This means that you can safely use it while you take a bath, for example. There's no need for you to worry about getting the device damaged if you get it a little soaked. However, to extend its durability, we do recommend avoid fully submerging it into the water.
Design
The cordless and rechargeable design boasted by the LATME massager is a benefit in itself. This means that you can take it with you wherever you go. It is significantly more compact compared to other devices in the same category, which means that it can fit into your backpack or hand luggage.
If you charge the device for one hour, you will get as many as two hours of massage. You can use it at the office, at home, or even when you're in the car, waiting to pick up someone or when you take a break from a long-distance drive. Given the user-friendly design boasted by this choice and its handy features, we believe that it might make a great present for someone you care about, like a parent or grandparent.
Specifications
Weight: 0.6 ounces
Cordless: Yes
Batteries: 1 Lithium-Ion Battery (included)
Warranty: 1 year
What to expect from the LATME Scalp Massager?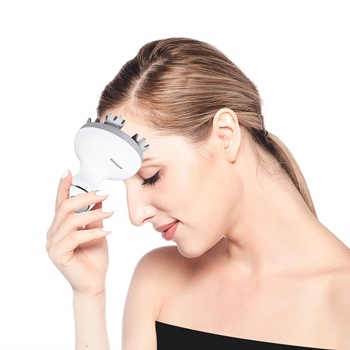 Most of those that have chosen this device among the others that they have come across say that they are fully satisfied with the way it works. Some have declared that it has even exceeded their expectations. The size of the unit is highly spoken of since it conveniently fits into your hand and it is easy to use.
Some people note that it is advised for you to read the user manual before you use it for the first time. Otherwise, you aren't going to tell how to utilize it properly and be able to adjust its settings as per your needs. Other customers have declared themselves impressed by the fact that the massager can be used by the whole family and even on pets.
Pros
Powerful 3D kneading shiatsu massage nodes
Cordless design makes it highly portable
Easy to use controls even for less tech-savvy people
Can be used in the shower
Cons
The rubber feet can get a little stuck in the user's hair
Wrap Up
While it can be a little too strong for some and not so much for others, the LATME head massager is definitely worth jotting down on your list. It comes with great features and it can provide you with a relaxing massage experience, no matter the body region you decide to use it on.
In the end, we hope that the LATME Head Massager Review that we have put together has helped you understand whether you're likely to benefit from its services or not.