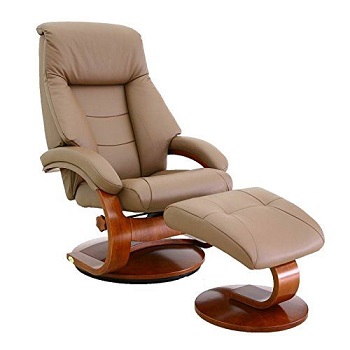 If you have ever wanted to come home from work and be able to relax in a comfortable recliner, then it's a good thing that you're reading this post. The Mac Motion option is among the most critically acclaimed ones out there, so that's why we decided to put together a whole article about it.
To find out everything you should know about its pros, cons, features, and benefits, check out the Mac Motion Recliner Review below.
Features and Benefits
First of all, we'd like to note that the company that makes this product has experience spanning over 35 years. Mac Motion delivers quality and comfortable chairs to the public, and the two-piece motion models made by the brand have become some of the most desired ones out there.
The Mac Motion recliner that we're discussing is anything but a conventional one. It's top of the line, which means that it is outfitted with simple and sleek features that are eye-catching and that also takes the cake when it comes to comfort.
The chair is padded with a generous quantity of high-end memory foam in the seating. This gives your body a soft and comfortable feel. It's also worth noting that the model comes with an adjustable design, which means that you can set it as per your specific needs and preferences.
The matching therapeutic-designed ottoman that accompanies the recliner adds to the overall comfort you will experience. Besides, the base of the Mac Motion swivels to 260 degrees, which means that you can reach your phone, TV remote, or anything else you might want to get.
Even the headrest is adjustable, which is not something that you might see in similarly priced alternatives. Plus, it even comes with an external footrest which can, of course, be positioned to your liking.
If you're wondering why it is a little more expensive when compared to some of the others out there, we'll tell you. It's covered in top-grain leather, so the quality of this recliner is undeniable.
Suggestions
The chair arrives disassembled, but you can, fortunately, put it together with as little effort as possible. The back cushion comes fixed to the frame and it's held together tightly with two bolts. You can use two cotter pins to attach the cushion for your back to the seat cushion. As for the ottoman cushion, it's attached to the wooden frame with four bolts.
For more information on the assembly process, we suggest that you take the time to read the user manual.
Maintenance
Make sure that you use only leather-friendly cleaning solutions, wipes, or sprays. If you haven't noticed anything other than dust, just use a microfiber cloth to get rid of any debris. If you notice any stain, try to clean the area as soon as possible. Otherwise, the recliner might remain stained for the remainder of its life.
Specifications
Size: 43 x 30 x 37 inches
Ottoman size: 17.25 x 20.75 x 19.25 inches
Chair weight: 92 pounds
Weight capacity; 280 pounds
What to expect from the Mac Motion Leather Recliner?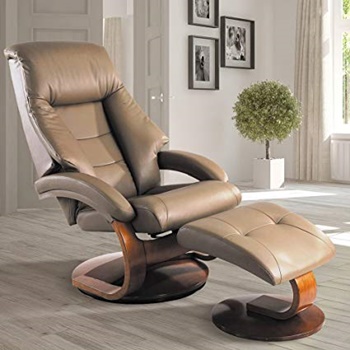 Based on the reviews acquired by this model, it seems to be attractive, comfortable, and easy to assemble. You can put it together in less than an hour even if you have no one else to help you with the process. The company even has several videos on YouTube that you can use to find out what you're supposed to do.
Plus, it looks good and seems to be well-made, although there have been some mentions about the leather-wearing out around one year after the purchase.
Pros
Lumbar support keeps your spine aligned in its natural curvature
Easy to use manual recline feature
Available in a wide variety of wood finishes
Comes with a 360-degree swivel for easy movement from side to side
Cons
Since there have been some complaints regarding the durability of the leather, we'd advise you to get a cover right off the bat. It will protect it in the long run.
Wrap Up
If you have taken the time to read our Mac Motion Recliner Review, you might have noticed that this a pretty good model for the cost. It offers great value and it can allow you to relax at the end of a hard day. It's made of decent materials and it boasts an eye-catching design, meaning that it can look great in your living room.