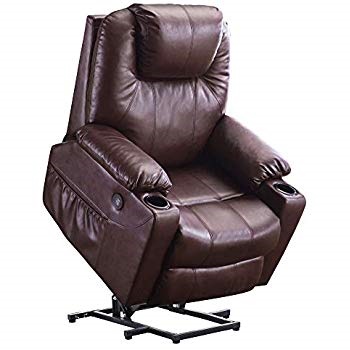 If you have been tossing and turning about getting the perfect recliner for your preferences and needs, it's a good thing that you are reading this post. We've done a lot of research on the topic and we stumbled upon this model, which seems to be one of the most popular ones out there.
But is this unit the right one for you? If you want to know whether it can meet and even exceed your expectations, be sure to read the MAGIC UNION Recliner Review below.
Features and Benefits
The first thing that you will notice when trying to make the difference between this model and the others is that it is highly affordable. A low price doesn't mean that it's low quality, however, since this recliner is made from good materials. It boasts a wooden frame and faux leather upholstery.
The area where the Magic Union alternative really shines is comfort. Having been equipped with cup holders and pockets where you can put your TV remote control or anything else that you might require, you can rest assured that you'll have everything at hand and also relax.
The power lift function of this option can push the whole chair up from its base so as to help the person sitting in it stand up with ease. This feature is particularly helpful for people such as seniors, who might have a hard time getting out of the chair due to knee or back pathologies, for example.
Additionally, the unit is outfitted with as many as eight massage points for four areas of massage focus (thighs, legs, lumbar area, and back). There are five modes that you can pick from (pulse, wave, press, auto, and normal) and that can meet your demands of various massage types.
While this recliner does come with heat, you will find that it is only available in the lumbar region.
Suggestions
Use the remote control to recline the chair and then release the built-in footrest. Both the back and the footrest work together, which means that controlling them cannot be done individually. The unit comes with two remote controls and you can use them to control the lift and the recline of the chair.
Maintenance
Since the upholstery is made of faux leather, you are not going to have to go through a lot of trouble to get this recliner clean and looking as if it were brand new. You do need to utilize some sanitizing wipes or a sanitizing spray and a microfiber cloth, especially if you have used the heating function.
If this is your first recliner, it might be a good idea to do a little reading on how to use a recliner chair.
Specifications
Size: 31 by 33.5 by 41.3 inches
Wall clearance: 17-20 inches
Armrest height: 25.6 inches
Back height: 28.7 inches
Seat height: 19 inches
Seat depth: 20.5 inches
Frame: Wood
Upholstery: PU leather
What to expect from the MAGIC UNION Massage Recliner?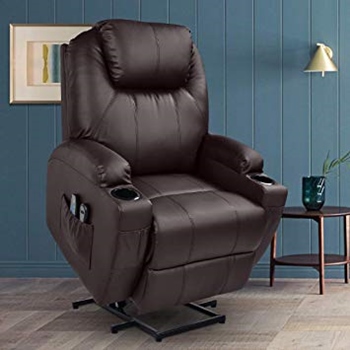 Most of the reviews that we came across with regard to the performance of this recliner are positive. The majority of those that have invested in it say that it has helped them deal with chronic diseases such as spinal stenosis, for example, or just chronic back pain.
Over time, however, there have been complaints regarding the durability of this model, so you might have to do a bit of homework before deciding to spend your hard-earned cash on it.
Pros
PU leather makes it easy to clean
Can be used with ease by anyone, regardless of their technical skills
Wooden frame renders it moderately durable
Sizable enough to fit most individuals
Comfortable and versatile, especially since it comes with heating and massage
Cons
The quality of the user materials could have been better, at least judging by the consumer reports that this chair has received over time.
Wrap Up
If you are in the market for a very budget-friendly recliner and you haven't found one that can satisfy your requirements, we suggest having a look at this one. In the end, we hope that our MAGIC UNION Recliner Review has assisted you in getting a clear picture of what it can do for you.