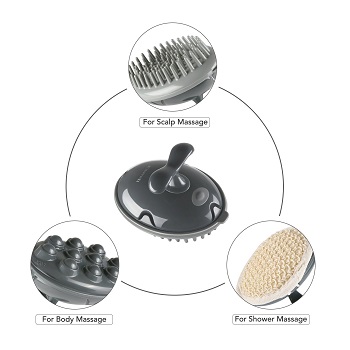 If you have been searching for good head massagers, it's quite likely that you have come across the MARNUR model. But you might have asked yourself whether it is worthy of your consideration or not. Well, luckily for you, we've done a lot of research on it and we've put together a MARNUR Head Massager Review.
In it, you'll find out everything there is to know about its pros and cons, features and benefits, and even what other users are saying about the way it works. Keep on reading for more info.
Features and Benefits
One of the neatest things about this model is that it comes with not one, not two, but as many as three different attachments. As such, you will find that it includes a scalp massage pad, a loofah pad, as well as an intensive massage pad. You can choose from the three in accordance with your momentary needs and preferences.
The essential scalp massage pad is capable of improving your local blood circulation. Therefore, it does a decent job when it comes to stimulating hair growth, and it can also allow you to say goodbye to dandruff and any itchiness. Since this is an electric device, after all, the vibrations can increase the speed of your skin metabolism, meaning that your hair will start looking shinier and healthier.
What's really cool about the MARNUR choice is that it is waterproof. This means that you can safely and conveniently use it in the shower or while you take a bath. It will both stimulate your scalp to absorb your conditioner better, but it will also assist you in getting rid of hair products such as dry shampoo, liquid shampoo, or hair masks. The bristles are gentle, but they can reach every bit of your scalp.
Multi-Functional
The intensive massage pad included with this alternative means that you can make the most of it by using it as a full-body massager. This particular pad comes with nodes that can rejuvenate your skin and apply a gentle, yet thorough massage on any body part.
We'd like to note that this is a somewhat basic massager in this sense since it doesn't have any heating, shiatsu, or deep kneading, which you might find in more advanced handheld body massagers. However, if you want to apply the pressure by yourself and you understand that the only thing that the device can provide you with is a decent amount of vibration, it might be a good option for you.
The product is also accompanied by a loofah pad that can be used to clean your body as you take a shower, for example. Since it works with batteries, this model can be considered a winner in terms of portability.
Specifications
Weight: 11.2 ounces
Batteries: 2 AA
Design: Cordless
Attachments: 3
What to expect from the MARNUR Scalp Massager?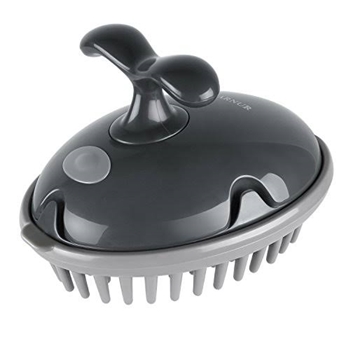 Most of those that have opted for this model say that it has, in fact, exceeded their expectations. Its vibration is strong, but not overwhelming, and it can be quite soothing for a variety of body parts, not just your head.
Some note that they have used the loofah attachment quite often while others say that the massager is a great way of spreading oils and conditioners through the hair if you don't really like using your fingers. To make sure that you use it properly, we would suggest that you take some time to read the user manual.
Pros
Portable, convenient, lightweight, and compact
Comes with several different attachments
Waterproof design
Cons
If your hair is really thick and curly, this item might not be suited for you.
Wrap Up
If you need a head massager to use when you are watching TV or relaxing at the end of a hard day, this one might fit the bill. It's user-friendly, comfortable to use, and versatile, and it takes your shampooing and conditioning routine to a whole new level.
In the end, we hope that our MARNUR Head Massager Review has helped you get a picture of whether you might benefit from using it or not.