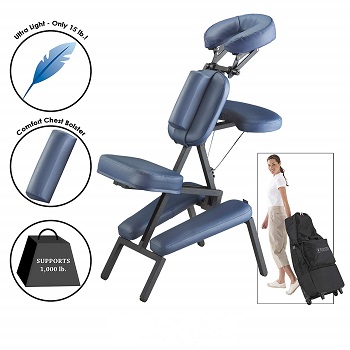 If you've been scouring the market in search of the right portable massage chair for your specific needs and you haven't come across a model that meets your expectations, it's a good thing you're reading this post. We did a lot of research on the topic and we've come up with an extensive review of one of the most popular units out there.
If you have the time, it might be a good idea to read our Master Massage Portable Massage Chair Review. We made sure to include plenty of info on its pros and cons.
Features and Benefits
One of the neatest things about this unit is that it is compact, but a little taller when putting side by side with its competitors. Therefore, it retains a somewhat small footprint. This matters because if you intend on leaving it in the same place with the clients coming to you, then you aren't going to have any problem with finding a permanent space for it.
It's also among the lightest massage chairs we've come across since it weighs in at around fifteen pounds. Thanks to it being able to be installed and uninstalled in a timely fashion, you can take it anywhere with as little effort as possible.
The maximum weight capacity of this unit is estimated at 650 pounds, which is significantly above that of many other massage chairs currently available. From a practical standpoint, this means that you will never have to look for a different solution for one of your heavier clients.
Another aspect worth writing home about when it comes to the Master Massage model is its ergonomic design. It also comes with generous padding that ensures that the client is fully comfortable as you are giving them the massage.
Additionally, this massage chair comes with quality PU leather, which means that it is both capable of standing the test of time and is quite easy to clean. But more on that, below.
Suggestions
As the instruction manual will inform you, as well, this massage chair comes with as many as six different configuration possibilities. This means that your clients will sit perfectly no matter the type of massage that you will give them and regardless of the body areas that you are working on.
On top of everything, the model offers height adjustments in the face pillow, seat, as well as the sternum pad. Even the armrest can be adjusted. The seat of the massage chair is considerably wider when compared to that of other models, which means that your patient is going to feel at ease at all times.
Maintenance
Since this chair is covered in good-quality PU leather, all that you need to do to get it clean and looking as if it were brand new is a damp microfiber cloth. You could also use sanitizing spray or sanitizing wipes. Make sure that you look at the recommendations on the product so that it doesn't affect the PU material.
Specifications
Size: 11"x20"x43"
Weight: 15.2 lbs
Weight capacity: 650 lbs
Material: PU Leather
What to expect from the Master Massage Portable Massage Chair?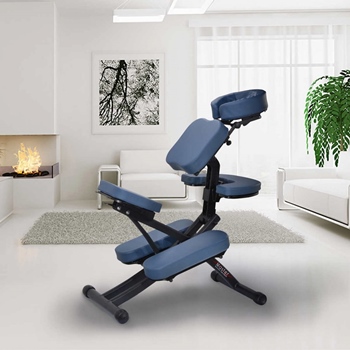 While most of the reviews acquired by this unit are favorable, with many customers speaking highly of its performance and rugged construction, we did come across several complaints. Some people say that it is not recommended for short individuals while others note that it's not as ergonomic as advertised.
The chair is comfortable, as attested by many patients, and it is nice that it is accompanied by a bag that has wheels.
Pros
Very sturdy and easy to carry
Easy to set up and dismantle
Made with hard-wearing material and a solid construction
650-lbs working weight capacity
Cons
It doesn't adjust very much for different body types, especially compared to other chairs
Wrap Up
As you might have been able to tell from this Master Massage Portable Massage Chair Review, this is a model that is worth considering. It's durable, convenient, and can be carried from one client's home to the next comfortably and easily. Keep it in mind if you're a massage therapist.