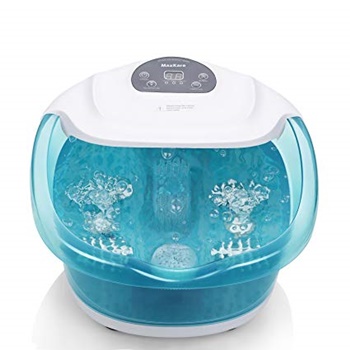 The MaxKare Foot Spa is a great option for anyone who experiences foot pain or who enjoys taking a foot bath in a while. It's easy to use and convenient, and it comes with most of the features that you might want from a device in this category.
It comes with heat, vibrations, as well as bubbles, so it can undoubtedly help you get rid of the soreness in your feet. To find out about all of the benefits that this model can provide you with, make sure you read our MaxKare Foot Spa review below.
Features and Benefits
This machine is quite powerful, and the best thing about it is that it is sizable and can accommodate people with large feet, as well. It is a great way of getting an almost professional foot massage in the comfort of your own home. Since it can be cleaned with ease, it can be used by several different family members, not just one.
What's worth noting about the MaxKare alternative is that it comes with three settings that can be set and customized individually. For example, if you are in the mood of soaking your feet in hot water without using the bubbles or vibration feature, you can do so with practically no effort. If you want to use all the three functions at once, there's nothing stopping you from doing just that.
You'll be happy to know that this machine is built in accordance with FDA certification standards, which automatically makes it safe to use. Having gone an extensive inspection before going on the market, this device can be used by anyone, no matter whether they are tech-savvy or not. Plus, it comes with built-in electric leakage protection, so it's a good choice if you're looking for a foot spa that can withstand the test of time, too.
Additionally, there are individual attachments that you can use with the unit for customizing the entire relaxing experience. This means that the MaxKare choice is versatile, as well as adaptable, and the fact that its design is lightweight and ergonomic also makes it portable.
An aspect that people might be concerned about whenever they're shopping for a foot spa is whether it can be cleaned with ease. Fortunately, this one can be cleaned with as little effort as possible, and that's because it comes with an inner case that can be removed entirely.
On top of everything, the unit is outfitted with a handy and easy-to-read LCD screen that displays the temperature, as well as the settings that you've picked. Since it comes with a 69-inch cable, you do benefit from a little freedom in terms of where you can use it in the room.
Specifications
Size: 16.8 x 14.8 x 8.5 inches
Weight: 3.5 lbs
Voltage: 110V
Power Rating: 500W
What to expect from the MaxKare Foot Spa/Bath?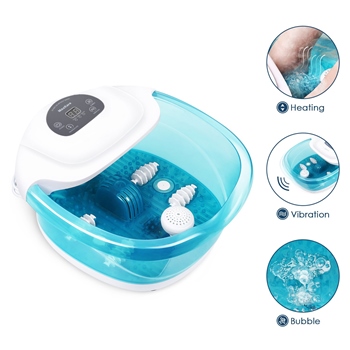 Based on the feedback that this unit has received, it seems to offer good value for the money. The vibration strength is suitable, the heat is perfect, and the bubbles are relaxing. It doesn't make a lot of noise, and the fact that it can be cleaned easily is an advantage to take into account. Most consumers note that it works as advertised, and if you'd like to learn how to use it, you can always refer to the user manual.
Pros
Having been certified by the FDA, this machine is safe to use
Comes with plenty of customizable features
The curved front part prevents water from spilling outside the basin
User-friendly design
Cons
It doesn't make too many bubbles
The rollers can feel a little rough on the soles of your feet
Wrap Up
With its lightweight design and customizable functions, the MaxKare Foot Spa is a machine that should be kept in mind. If you're looking for a convenient, user-friendly option in this line, this one might just fit the bill. We hope our MaxKare Foot Spa review has assisted you in understanding whether this model might do wonders for you.