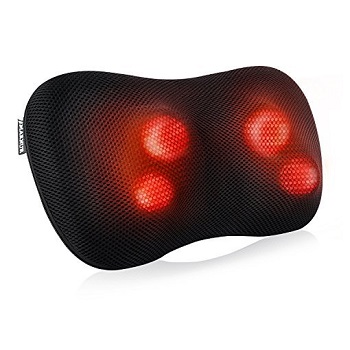 If you want a convenient and easy-to-use massager that you can use on other body areas, not just your back, you should definitely consider this MaxKare model. It's pretty user-friendly and versatile and it has received quite a bit of appreciation on the part of those that have given it a try.
For more information, we suggest that you take the time to read our in-depth MaxKare Relaxation Back Massager Review that we have put together for your consideration.
Features and Benefits
If you have been scouring the market for an affordable unit that can provide you with a back massage, this one should fit the bill. It's a little basic when compared to some of the other options that we have come across, but it gets the job done precisely how it is supposed to.
The MaxKare alternative is outfitted with as many as four massage nodes. These kneading nodes are capable of rotating both clockwise and counterclockwise. Moreover, one aspect that seems to set this model aside from the rest is the fact that it is equipped with heating. The heating helps improve your local body circulation and it also assists you in getting rid of the pain.
As you might have told from the shape and size of the device, this one can be utilized in a variety of body regions, not just your back. You can use it on your cervical area, your shoulders, your upper and lower back, but also on your calves, thighs, and your lumbar area.
The lightweight and compact design boasted by this model is another thing that needs to be considered. Due to its portability, you will be able to take it with you wherever you go. You can even utilize it at work if you usually sit in a chair and work in front of the computer for several hours every day.
The best thing about this model is that it comes with an AC adapter, as well as a car charger, which means that if you are a professional driver or you tend to drive for many hours for your job, you can take a break and give yourself a massage.
Suggestions
While the unit is fairly easy to utilize, as attested by the many favorable reviews that it has gathered in this sense, there are some things to consider. The model is outfitted with adjustable elastic adhesive straps on the back, so you should make sure that you first secure it properly on your chair or car seat.
As the user manual suggests, the intensity of the massage could bother you if you aren't accustomed to it. However, you can improve this by placing a towel between your body and the massager. As a general rule, make sure that you always start with the lowest intensity.
Maintenance
Another thing that we would like to add with respect to this product is that its mesh cover is removable. While it is fully breathable and pretty thin, it can get dirty once in a while. To extend the durability of the cover, we suggest cleaning it gently with some soap and warm water. Avoid throwing it in the washer along with the rest of your laundry.
Specifications
Size: 13 by 4.5 by 8.5 inches
Weight: 2.86 pounds
Speed: 4 adjustable levels
Nodes: 4
What to expect from the MaxKare Relaxation Back Massager?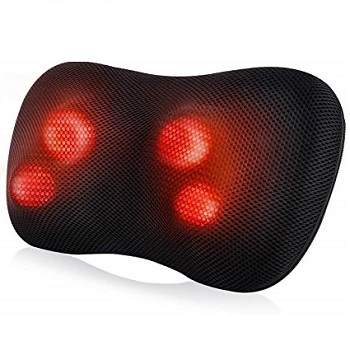 From what we have gathered by going through the consumer reports acquired by this choice, it seems to be more than decent. It can be used in a lot of places and the fabric that the cover is made of doesn't irritate your skin. It is not a rechargeable alternative, which might bother some people, but the included car adapter adds to its overall versatility.
Pros
Convenient and portable design
Lightweight and easy to use
You can customize the speed and intensity of the massage
Removable and washable cover
Cons
It takes a while for the massager to start heating
The massage might be too strong for some people
Wrap Up
As you might have noticed, we discussed both the pros and the cons of this unit so that our MaxKare Relaxation Back Massager Review is as straightforward and honest as possible. We'll finish this post by saying that while it might seem simple and basic compared to others, it is an effective device, in the end.