It's no wonder so many people try to find the best back massager out there because, according to experts, up to 80% of the entire world population experiences back pain at some point in their lives. If you want to get into the 20%, you might as well start looking for adequate solutions asap.
Since back pain affects people of all ages, from teenagers to the elderly, check out the back massager reviews below, and start your journey towards a pain-free future! Now, let's see what these massagers are truly made of!
See The Quick Comparison Chart
What Do Back Massagers Actually Do?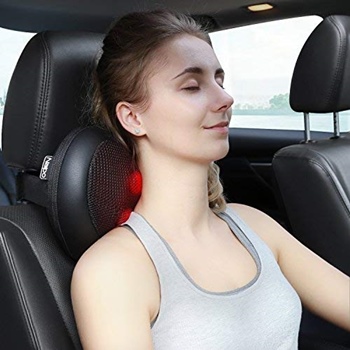 As their name suggests, back massagers are made to give a nice massage to your back. They are most definitely not made to massage your head. In short, a back massager works by replicating the moves of a person giving you a traditional massage, the one you'd maybe get at a spa, for example.
There are a lot of differences in terms of the technology that these devices rely on to do their job. Some will vibrate, others will boast kneading techniques, and there are units that could rub or stroke your back. As you can expect, each of these has various effects. Vibration can assist you with relieving the tension in your muscles, but it's somewhat superficial when compared to deep kneading.
Kneading intensifies your circulation, and it also works your muscles in an effective manner. There are some models that come with pulse technology, but they are a part of another category, called electro-stimulators. These devices are based either on transcutaneous electro-neuro-stimulation (TENS), which stimulates your hypodermic nerves, or neuromuscular electrical stimulation (EMS), which improves the muscle tone of untrained muscles.
Now that we've established what back massagers are capable of doing, let's see the benefits that such devices can offer you.
Benefits of Back Massagers
1. Improved Sleep
Many studies have found that even the most basic back massagers are capable of improving your sleep quality. Since they effectively reduce the tension in your back muscles, they allow you to fall asleep faster. You'll wake up in the morning feeling completely refreshed and ready for a whole new day.
2. Reduced Pain
This is the most important benefit that you will get if you decide to purchase a back massager. You can experience pain in many body regions, and it can be caused by your muscles being misaligned or because you have constant spasms caused by inflammation and knots. Sleeping on your back can also feel painful and awkward when you are tense.
Fortunately, back massagers alleviate the pain that you feel constantly. That's what they are primarily made to do, and some of them are excellent in this respect.
3. Improved Circulation
Any type of massage stimulates your muscles, just like exercise would, to a certain degree. This means that the blood flow in your muscles is considerably improved. Therefore, since more blood is going to circulate in your back, the local tissues and cells will receive more nutrients, as well as more oxygen.
4. Tension Relief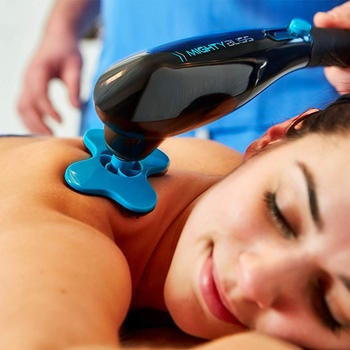 It can be very challenging to manage back muscle tension nowadays. There are people who work standing all day long, but there are also many people who sit in front of the computer for a whole day. Most individuals suffer from some degree of tension, whether in their upper or lower back.
Using your back massager in the morning and in the evening can relax your muscles, get rid of the knots in them, and relieve their tension.
5. Stimulate The Healing Process
If you have recently sustained an injury in your back, you'll be happy to know that getting back massages on a regular basis can help speed up the healing process. This is due to the fact that the massager stimulates your blood vessels, as well as your muscles. In case you didn't know, this practice is even recommended to people who have paralysis.
6. Less Stress & More Relaxation
Let's face it. What's more relaxing than getting a nice massage? Whether you get a massage on your neck and shoulders or on the entire length of your back, the truth is that you effectively feel how you wind down and almost doze off. That's why we recommend doing it in the morning and in the evening, as well. The first can help you tackle the challenges of a new day, and the last can help you chill out and forget about all your worries.
7. Get a Massage Anytime and Anywhere
Another significant benefit to back massagers, in particular, is that most models can be taken everywhere. If you're a web developer or writer, you can just carry the unit to work and fasten it to your chair. Every couple of hours, you can use it for 5 minutes. This means that you get to benefit from excellent portability.
Best Back Massagers Comparison Chart
PRODUCT
DETAILS

Zyllion Shiatsu Back Massager Kneading Massage Pillow with Heat

Price: $
Customer Rating: 4.4
Design: Massage Pillow
Power Source: Power Outlet
Weight: 4.2 pounds
Heat: Yes
Massage Type: Shiatsu

View On Amazon

Naipo Shiatsu Back Massager with Heat Deep Kneading Massage

Price: $
Customer Rating: 4.3
Design: Belt
Power Source: Power Outlet
Weight: 4.4 pounds
Heat: Yes
Massage Type: Shiatsu

View On Amazon

MaxKare Relaxation Back Massager

Price: $
Customer Rating: 4.2
Design: Massage Pillow
Power Source: AC & DC Outlets
Weight: 2.86 pounds
Heat: Yes
Massage Type: Shiatsu

View On Amazon

MIGHTY BLISS Deep Tissue Cordless Back Massager

Price: $$
Customer Rating: 4.8
Design: Handheld
Power Source: Rechargeable Battery
Weight: 3.4 pounds
Heat: No
Massage Type: Percussion

View On Amazon

Exerscribe Personal Percussion Massage Gun

Price: $$$
Customer Rating: 4.4
Design: Handheld
Power Source: 2 Rechargeable Batteries
Weight: 3.53 pounds
Heat: No
Massage Type: Percussion

View On Amazon

Naipo Shiatsu Massage Pillow Back Massager with Heat

Price: $
Customer Rating: 4.4
Design: Massage Pillow
Power Source: Power Outlet
Weight: 3.8 pounds
Heat: Yes
Massage Type: Shiatsu

View On Amazon

VIKTOR JURGEN Back Massage Pillow with Heat-Relaxation

Price: $
Customer Rating: 4.4
Design: Massage Pillow
Power Source: AC & DC Outlets
Weight: 3.25 pounds
Heat: Yes
Massage Type: Shiatsu

View On Amazon
Best Back Massager Reviews
1. Zyllion Shiatsu Back Massager Kneading Massage Pillow with Heat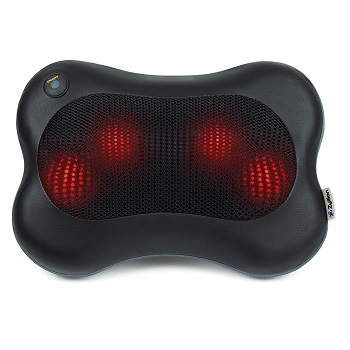 This is a convenient back massager in the form of a pillow. It comes with 3D deep-kneading Shiatsu nodes, which are capable of relaxing your tight and overused muscles. The best thing about this unit is that it automatically changes the direction of the nodes every minute. Plus, you get all the benefits of the heating function, so this device is capable of relaxing you. It also stimulates the local blood flow.
Since the pillow boasts a compact and ergonomic design, it fits perfectly behind your back. It contours to your lower and upper back regions, and it can even be used on other body regions, such as your neck and shoulders.
Furthermore, the unit comes with convenient straps that allow you to adjust the pillow during the massage or can be utilized to secure the device to your all-time favorite chair. The downside is that this model doesn't take the cake when it comes to portability since it can't be used with batteries.
Pros
3D deep-kneading Shiatsu massage nodes
Heating function
Ergonomic and lightweight design
Easy-to-adjust handle straps
Included power adaptor works with 110-120V and 220-240V outlets
Cons
Doesn't work with batteries, so it's not extremely portable
Read More: Zyllion Shiatsu Back Massager
2. Naipo Shiatsu Back Massager with Heat Deep Kneading Massage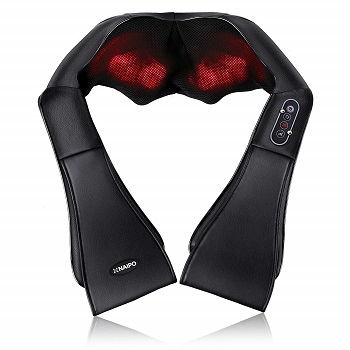 This unit is a little different compared to standard back massagers, in the sense that it resembles a belt. It is ideally designed to give a nice massage to your shoulders and neck, but you are more than free to use it for other parts of your back, as well. It features as many as eight deep-kneading Shiatsu massage nodes, which relieve muscle tightness and provide you with plenty of relaxation.
The neat thing about this product is that it comes with an easily reachable adjustable intensity button on the side. Activating it will allow you to switch between three speeds – low, medium, and high. Therefore, customization is not a problem with this particular model.
Another aspect worth noting is that the Naipo choice comes with a built-in heating function. As for safety, this one automatically shuts off 20 minutes after you've turned it on. It comes with a dust-proof bag to expand its durability.
Pros
Adjustable intensity button
3D rotation kneading massage rollers
Comes with a UL approved power adapter & car adapter
Built-in heat
Automatic shut-off
Cons
It doesn't come with a rechargeable battery
Read More: Naipo Shiatsu Back Massager
3. MaxKare Relaxation Back Massager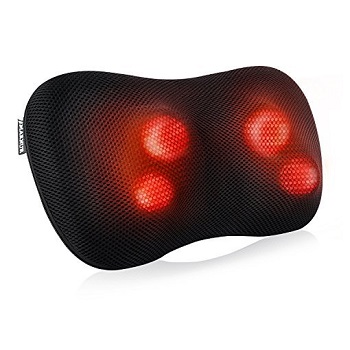 If your budget isn't what it used to be, you're probably looking for an affordable back massager. Well, this one not only fits the bill, but it also comes with more than enough useful features. It boasts 4 kneading massage nodes, as well as a reinforced heating function. It is compact, lightweight, and convenient, so you can take it with you even if you frequently travel.
The 3D deep-kneading nodes boasted by this choice rotate clockwise and counterclockwise, so you get all of the muscles in your lower or upper back stimulated and soothed. Your local body flow is also improved significantly, and the tissues in your back will benefit from the right amount of nutrients and oxygen.
Since this device has overheating protection, it automatically shuts down after 15 minutes. Last, but not least, this one is both UL and FDA approved, so it's extremely safe to use.
Pros
4 deep-kneading massage nodes
Reinforced heating function
Compact and lightweight design makes it portable
Works on various body regions
Cons
Needs to be plugged into an outlet at all times
Read More: MaxKare Relaxation Back Massager
4. MIGHTY BLISS Deep Tissue Cordless Back Massager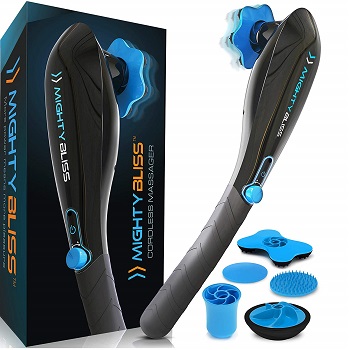 If you take the time to browse through our section about the many types of back massagers currently available, you'll see that handheld options are also worth considering. This is one of those, and it can be used in a variety of body regions. The best thing about it is that it comes with six different massage heads, so you can use the one that best suits your preferences.
Also, another reason to consider this model is that it comes with a rechargeable battery. The runtime is about 120 minutes, so two whole hours, but the recharge takes less than an hour. Since it is cordless and lightweight, you can take it with you pretty much anywhere.
The drawback is that it doesn't come with any Shiatsu massage technique, so this won't replicate the movements of a real massage therapist. Nevertheless, this percussion model has received plenty of rave reviews, especially since it comes with a 3,700 RPM motor.
Pros
Convenient handheld design
6 different massage heads
Comes with a rechargeable battery
Slim, lightweight, and portable
3,700 RPM percussion motor
Cons
Doesn't have heat, nor a Shiatsu massage technique
Read More: MIGHTY BLISS Deep Tissue Cordless
5. Exerscribe Personal Percussion Massage Gun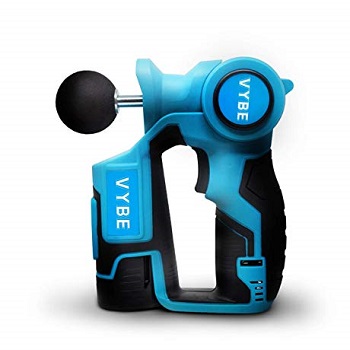 If you're one of those people who don't like gentle and soothing massages, perhaps this model might be the right one for your requirements. It is among the most powerful alternatives out there as it comes with a percussion vibration that gives you between 500 and 2400 strokes per minute. You can select the right speed as per your personal preferences, though, so that's reassuring.
One of the most significant benefits you'll get with this model is its handheld design. It allows you to run its massage head over any body region. However, the same aspect is also a disadvantage, since it basically calls for the assistance of someone else.
There are three massage tips included in the box – a large one, a cone (for deep tissue massages), and a standard one (for small muscle groups). The cordless design is a benefit in itself, and the unit includes not one, but two rechargeable batteries.
Pros
Powerful motor can deliver 500-2400 strokes/minute
Comes with an ergonomic handle
Includes 3 different massage tips
Cordless design and 2 included rechargeable batteries
Cons
Calls for exterior assistance to massage your whole back
Read More: Exerscribe Personal Percussion Massage Gun
6. Naipo Shiatsu Massage Pillow Back Massager with Heat
As another highly affordable option, the Naipo Shiatsu choice is a massage pillow that does its job just like it is supposed to. It comes with an ergonomic shape that conforms to your lower and upper back, as well as your abdomen, thighs, and even your neck. You'll feel like your knots and aches are relieved, and your tension and stress will effectively go away.
The product comes with four massage nodes that rotate clockwise and counterclockwise, so they imitate a real massage. The node direction changes every minute. Similarly to some of the other units made by the same company, this one boasts a 20-minute automatic shut-off feature. This means that the device gets to retain its performance and safety over time.
As for the heating options, you'll be happy to know that this one heats up to 112 degrees Fahrenheit. Needless to say, the Napoi unit will help you wind down at the end of the day, and also say goodbye to back pain.
Pros
Soothing heat up to 112 degrees F
20-minute automatic shut-off
4 kneading massage nodes
Ergonomic design conforms to your body shape
Cons
It might make a weird sound while in operation
Read More: Naipo Shiatsu Massage Pillow
7. VIKTOR JURGEN Back Massage Pillow with Heat-Relaxation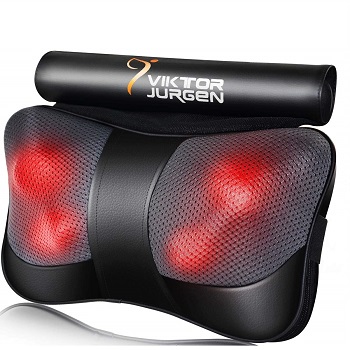 This unit might make a great gift for your mom or dad since it's easy to use, versatile, and also convenient. It comes with powerful rotating massage nodes that boast deep-kneading Shiatsu massage. The heating function of this model is somewhat gentle, so the user's back is not going to feel like it's on fire.
As is the case with some of the other models showcased here, this pillow is ergonomically designed. Therefore, it fits the natural contours of your body. You can use it to massage your shoulders or your lower or upper back, depending on where you feel the most amount of pain.
It does come with a drawback, though. It can't be used with batteries, and this aspect largely affects its portability. However, your purchase will include an AC and a DC adapter, so it can be used in the car. The corded hand control is very easy to use even if you are tech-savvy or not.
Pros
Powerful deep-kneading Shiatsu massage
Gentle heating function
Comes with both an AC and a DC adapter
User-friendly controls
Cons
The rotators can be too powerful for people with sensitive backs
Read More: VIKTOR JURGEN Back Massage Pillow
Types of Back Massagers
There are roughly two types of back massagers currently available for sale. Some are electric whereas others are non-electric, so they can be considered manual. Let's look at how they are different and what they can help you with.
1. Electric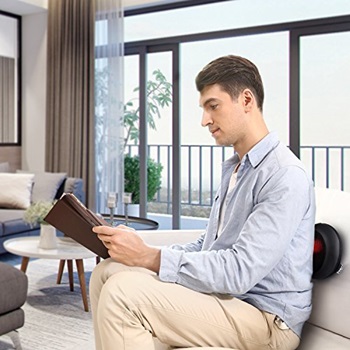 You can either get a massaging chair, which is an actual piece of furniture, or you could get a chair pad, which you should attach to a regular chair.
Full-size chair massagers resemble recliners and come with more than enough options – both in terms of techniques and when it comes to versatility. You can simply place them in front of the TV or in a reading nook. Sit back, relax, and enjoy your time, and get a nice massage with almost zero effort on your behalf. The downside to these models, however, is that they are not budget-friendly.
Chair pads are also effective, although they do come with fewer functions compared to their full-size counterparts. They are somewhat effective and have the same coverage in terms of your back. Just attach the unit, connect the hooks, and you're ready to go.
TENS stands for Transcutaneous Electrical Nerve Stimulation. These models are made to alleviate chronic pain conditions, as well as nerve-rated acute issues. They stimulate various nerve groups by sending out electrical impulses through your nerve strands.
On the one hand, the stimulation makes it impossible for the pain signals to be sent out to your brain. On the other, the nerve stimulation makes your body release more endorphins, which basically act like natural painkillers. The models in our TENS unit reviews come with electrodes, so they look a little more high-tech compared to their regular counterparts. However, they are quite easy to use, although not necessarily affordable.
Top-rated handheld massagers look like wands or pads, so you will have to use some elbow grease to maneuver them yourself. However, the best thing about this type of option is that it can be used in other body regions, not just on your back. This wouldn't happen with a chair back massager, for example.
Massage cushions are great choices especially for people who experience lower back pain. They can be fastened to your chair, or you can even sit your back down on them if they're thin and comfortable enough. They come with plenty of massage functions, but in most cases, they have massage nodes that rotate clockwise or counterclockwise.
Belt massagers are virtually incapable of giving a full back massage, but they can be wrapped around the area where you experience pain. This can mean either your lower back or your neck and shoulders. It's rather difficult to use them in your thoracic area, however.
2. Non-electric
These are merely designed to reach specific spots on your back. They do a good job providing you with some pain relief, but they do require some elbow grease.
Similarly to their cane counterparts, S-shaped units are also to be used on a specific pain point. However, the difference consists of S-shaped choices boasting feature nodes that need to be particularly placed so that you maneuver them over the right place in your back.
These are among the most basic options that we have come across. They have to be run over your skin surface. They effectively rub the area in an attempt to release the tension and provide relief. The downside to this type of product is that you will require external assistance. Most aren't made to be handled with ease and over your entire back.
These can be quite effective when it comes to working out your muscle tension and knots, but they are handheld and compact. Therefore, they can't be used properly for massaging your whole back, especially if you don't have a helper. There are 3-prong electric models, as well.
This is another type that might be a little complicated for you to use. The roller needs to be placed on the floor or a hard surface, in any case, and you have to run your back over it. By rolling it up and down your skin, you get to target a pretty decent surface area.
The problem is that, as you can expect, you can't use a foam roller for too much time — it would just be too tiring. Foam rollers come with either a hard or a soft exterior, depending on your personal preferences.
Is Back Massage Good for Back Pain?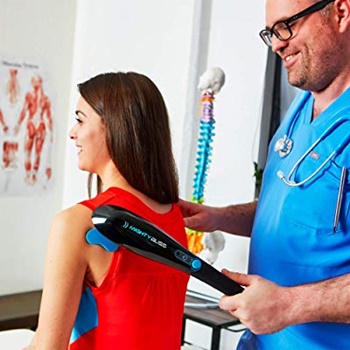 Yes, it is.
A study performed by researchers from the University of Kentucky and Indiana University showed that getting a regular back massage can help with alleviating the symptoms of lower back pain. 104 individuals were in the study, and each person got a professional massage consisting of 10 sessions over a 12-week period. More than 50% of the study participants reported improvement, with 7% of them noting that they felt better even after 24 weeks had gone by since the beginning of the study.
Another 2011 study looked at 401 people who reported having chronic back pain. Individuals were split up into three treatment groups. One part received a structural massage, another got relaxation massage, and the third got physical therapy combined with pain medication. Believe it or not, both massage groups had better effects compared to typical physical therapy.
Therefore, science itself has shown that a heated back massage can help you with back pain. If you can't go to a massage therapist (especially since massage sessions can get quite expensive), just get a back massager, instead. You'll get the same pain relief benefits in the comfort of your home.
Back Massager Buying Guide
What features make a back massager truly the best? Well, the first thing we have to get across is that you need to look at the specs of the device, but also match them to your specific needs. Without further ado, let's look at some of the essential aspects that you should pay attention to when you're in the market for a good back massager.
1. Type of Massage
The type of massage you will get is by far the most important factor to take into account. Many massagers utilize Shiatsu techniques, and these are the most realistic ones, as they resemble the movements of a massage therapist.
There are also deep tissue massagers. These usually rely on a kneading motion to get rid of the knots in your back. Vibration features can help you get relief from that pesky back pain that has been bothering you. Percussion models are designed for people who prefer a high-intensity massage.
TENS units are extremely effective since their electrodes can be placed on various pain points, therefore stimulating them in particular. Their massage is somewhat unique when compared to that of other models as it is based on stimulating specific muscles instead of a group in an area.
2. Power Source
If you choose an electric back massager, you will have to look at the way you can power it. There are roughly two ways of doing so. You can either use batteries or the outlet. However, things aren't as simple. Some models can come with DC outlets designed specifically for your car. Others can work with built-in batteries whereas some units actually call for AA or AAA batteries. Choose the one that best suits your needs.
3. Portability
Both the power source and the design of the back massager impact its portability. The lighter and more compact it is, the easier it will be for you to take it with you everywhere. The operation of a model that needs to be connected to a power outlet at all times involves portability limitations.
By contrast, battery-powered units can be used anywhere and anytime, so long that you have disposable batteries or you charge the built-in one.
4. Ease of Use and Convenience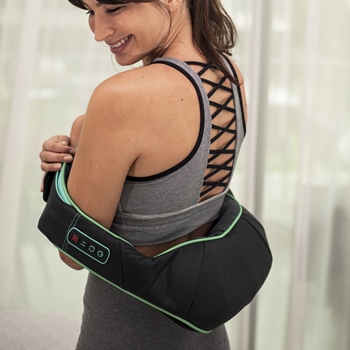 How difficult is the model you've set your eyes on to utilize? While this aspect might be less important for a person who's tech-savvy, it will most certainly matter a lot for a senior or for someone who's not in tune with highly technical things.
Ideally, the unit should come with an easy-to-use control panel designed either with push buttons or rotary dial. Switching between the speed and intensity settings should be done effortlessly.
5. Additional Features
Some models come with massage nodes, and it would be great if you got one that comes with several. Heat functions are to be preferred in some cases, as well, especially in the cold season.
Automatic shut-off is another feature you should be after, especially if you intend to go to bed while utilizing the device. It needs to turn itself off at one point so as to avoid causing muscle damage.
6. Adjustability
A unit that is highly adjustable is far better than any that comes with just one operating setting. You ought to look at two things. If there are massage nodes and they rotate clockwise or counterclockwise, you need to check whether you can customize their speed. The intensity needs to be adjustable, as well.
Right after you purchase your back massager and when you start using it for the first time, you should always begin with the lowest intensity. This will avoid causing you too much pain, and it will also prevent you from getting scared. Some people can be so put off by the high intensity of some models that they might end up abandoning them somewhere in the house and never using them again.
7. Design
We've gone through some of the types of back massagers that are available for sale nowadays, and the two main ones are electric and non-electric. However, there are a lot of variations within these two categories.
Do you prefer a handheld unit? Would you find it more convenient since it could be used in other body regions? Or would you rather get a massager particularly made for your back? These are all questions you should answer to find out what design meets your personal preferences.
8. Memory Settings
Some people have specific pain points. For instance, if you have a health issue in your spine and it's localized in your thoracic or lumbar region, you definitely want to get a massage on those back regions.
As such, it would be great if you could customize the device once and for it to recall this setting for future uses. The memory/recall function makes the unit to remember your specific settings, so it is a feature to look for in some back massagers.
9. Attachments
If you choose a handheld model, you will have to look at the number of massage heads included in the purchase. Some can even be adapted to be used in various other body regions, including your face. Look for these extras if you intend to make the most of your back massager.
Pillow vs. Shiatsu Back Massagers
1. Pillow Models
These are typically small pillows that must be placed between your back and a plane like the back of a chair, your bed, or a wall. Most pillows can vibrate or pulse, allowing you to benefit from much-needed pain relief. Regular units offer low to medium-intensity massaging. Some can have heating functions and other convenient features, and the best thing about them is that they are portable and can be used by several people in your household.
2. Shiatsu Models
Shiatsu massagers, no matter if they are made specifically for your back or some other body regions, imitate the movements that a professional masseuse would use. As such, they combine techniques such as tapping, kneading, or stretching so as to alleviate your discomfort. These units can make a difference when it comes to helping you deal with chronic back pain. That happens because the type of massage they provide is a little deeper.
There are some massage pillows that come with Shiatsu techniques nowadays, but they are a little more expensive compared to their regular counterparts. However, many Shiatsu models can come in several shapes and sizes, and they can even be in the form of a chair pad.
How To Use Back Massagers
1. To Do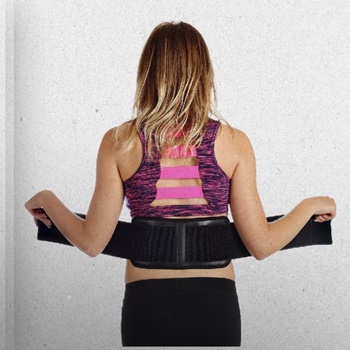 No matter the type of model that you have ended up choosing, you need to make sure that you read the instruction manual before starting to use the device. There could be important information you're missing, especially when it comes to safety.
Use your massager whenever you feel you need it, but make sure you follow the general guidelines provided by the manufacturer. This includes the recommended amount of time you should utilize the device for.
Make sure that the massager does its job on the specific areas where you feel pain, as well as tension. Finally, massage the spots of various chronic injuries, but don't use too much pressure or too high intensity in those injured regions.
2. Not To Do
You should never use your massager on body parts that are not noted in the instructions.
Avoid using your device all the time or for long periods of time. Overuse can lead to significant muscle harm. You'd effectively make your pain worse instead of alleviating it.
If you notice more pain, stop using the massager. Take a break or get in touch with your physician, or just refer to the user manual once again.
Back massagers should never be used on fresh injuries. You should wait for a while so that the injury recovers, at least in part, and only then should you try massaging that area.
FAQs About Back Massagers
1. How long can I use a back massager for?
Most full-body massages can last between 30 to 90 minutes, and there's a good reason for that. If the massage doesn't last for enough time, it can only offer a couple of health benefits. However, if it is too long, it might actually make you groggy and maybe a little cranky.
Plus, many back massagers come with heat functions and it's not recommended for you to use them for too long. In short, we would recommend utilizing your device for a couple of 15 to 20-minute sessions throughout the day. For example, you could use it in the morning and then in the evening, before you go to sleep.
2. Can I use a back massager if I'm pregnant?
Generally, it is safe to use your back massager while you are pregnant. Massage during pregnancy offers lots of benefits from improved relaxation and a sense of wellness to better sleep. However, there are some techniques and trigger points in your body that can cause contractions, as well as premature labor.
Have a talk with your doctor before you decide to use a back massager if you are pregnant, and always make sure you use the lowest setting for limited amounts of time.
3. Can I sleep on my back massager?
The short answer to this question is no. Depending on its intensity and settings, a back massager can hurt your back muscles if it is used for a long time. Nevertheless, since most models nowadays come with automatic shut-off features, you might even find it hard, if not impossible, to try to sleep on your back massager as it will turn itself off. That's a good idea since it prevents you from hurting your back without realizing it.
4. Can I take a back massager on a plane?
It depends. If your back massager is battery-powered, you will simply have to remove the batteries and you're allowed to take it in your carry-on luggage. As for your cabin luggage, you can rest assured that you aren't going to have problems with security. Just make sure to check your airline's website for more information, and even place a call to its representatives if you aren't sure.
5. Can I use a back massager while driving?
It is generally acknowledged that using a back massager is not a good idea while you are behind the wheel. This is because you might get tired of the vibration or heat at one point, and you might want to fiddle with the controls of the device. As such, even for a limited amount of time, you'll have to look somewhere else instead of focusing on what's happening on the road.
If you're resolute about getting a massage while driving and you haven't purchased a car, look into car chairs that have these features built-in. If that's the case, the controls will be on the board in front of you, so they're much safer to use.
Wrap-Up
We hope we've gone through all of the aspects that you should consider when you're in the market for the best back massager. As you might have noticed, we included all the pros and cons of each product in our back massager reviews.
Since back pain affects so many people every year, we suggest you consider getting a device that can help you live better and have a more fulfilling lifestyle overall.
See also: head massager reviews – foot massager reviews