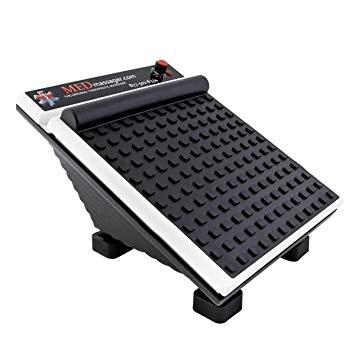 Foot massagers have become more and more popular over the past decade as people find it harder and harder to go to a massage therapist on a regular basis. Plus, many of us stand on their feet at work for many hours on end, so it goes without saying that getting a foot massage can be a rather relaxing and pain-relieving experience in the evening.
If you have been searching the market for a good device in this line and you're finding it hard to settle on one model, you'll be glad to know that this MedMassager Foot Massager Review will tell you all you need to know about its pros, cons, and performance.
Features and Benefits
Since the MedMassager model comes with as many as 11 different speeds and is capable of producing up to 3,700 rpm, it can be utilized with great results for stimulating your local blood circulation and easing your pain. One of its core advantages is its power. Many of those that have opted for it say that it effectively numbs out their pain with just a 20-minute massage session.
The durable and rugged construction boasted by the product is another reason to keep it in mind. Needless to say, having been built using high-quality materials, it has a really good chance of standing the test of time.
Design
Another aspect that is worth noting about the MedMassager option is that it can be tilted and moved as per your needs. This means that even though it was primarily designed to massage the soles of your feet, there's nothing stopping you from utilizing it on other body areas. You can place your calves on it if you lay it on your bed, and you can do the same for your heels.
Boasting a user-friendly design, the MedMassager unit comes with an easy-to-read control panel. You aren't going to experience any nuisance in terms of turning it on or off, and you can use the controls to customize the massage as per your specific requirements and preferences. Feel free to change the intensity whenever you want to. We'd also like to add that this customization benefit makes it possible for your whole family to use it, not just one person.
Stability and safety are not two things you should worry about if you intend to choose this product. It comes with a kit that you can use for tiled and hardwood floors. The kit is fully capable of keeping the model stable on both of these surfaces, and it will also protect them against any potential damages such as scratches or marks of any other kind.
Specifications
Size: 16 x 12 x 9.5 inches
Weight: 11 lbs
Voltage: 110V
Frequency: 60Hz
What to expect from the MedMassager MMF06 Foot Massager?
Most of those that have bought this massager has nothing but good things to say about it, especially in terms of its performance and power. Since there have been some individuals who have complained about it being too strong for their liking, we'd like to ask you to read the user manual and start with the lowest setting available.
Since it doesn't come with a heating function, this one can even be utilized by people who have diabetes or neuropathy. We'd like to note that some people have reported having gotten rid of the pain by 80% in just one month of daily 15-minute massages with this device.
Pros
One of the most powerful options in this category
Very durable and rugged
Can be used on different body areas, not just your feet
Cons
It makes a little noise when it is in use
It costs a pretty penny
Wrap Up
If you're still feeling unsure about whether you should give a chance to this product or not, we'd like to tell you that it is backed by a 1-year extendable replacement warranty. We hope that this MedMassager Foot Massager Review has cleared some things for you and that you now know what to expect from this particular unit.