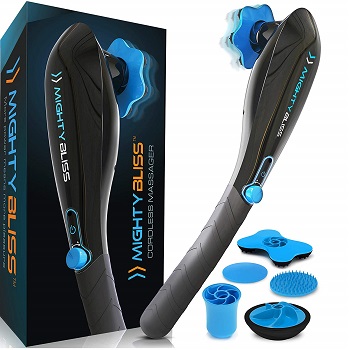 If you have been searching for the perfect back massager that also works on other body areas, you should definitely consider this Mighty Bliss alternative. This is one of the most critically acclaimed models that we came across, with hundreds of consumers saying that it has done wonders for them.
For more information on whether this product is truly worth investing in or not, we suggest that you take the time to read our MIGHTY BLISS Back Massager Review below.
Features and Benefits
These days, getting a good massage can set you back a lot of money if you want to go to a massage therapist. Worse yet, it takes time and fuel for you to get there, which means that aside from the money side of things, you'll also waste your most precious asset – your time. If you don't want to go through all that and you'd like to save some pennies, too, a body massager such as the Mighty Bliss option can be a life savior.
While it might be a little less budget-friendly when compared to some of the other choices out there, it is a clear winner in terms of performance. Its super powerful 3,700 RPM percussion motor manages to relax your muscles and lets you get rid of cramps, too. Some say that it can relieve pain in just a few seconds.
Another aspect that seems to set it aside from its competitors is that it comes with as many as six different massage heads. This certainly gives you a lot of freedom as you can utilize the one that best suits your momentary needs.
Furthermore, the device is both cordless and lightweight, which means that you can use it pretty much anywhere. It takes just about two hours to get it charged and the runtime that you will get for this charge time is estimated at 60 minutes.
Suggestions
You can adjust the intensity of the massage using the controls available on the unit. We would like to advise you, just as the user manual does, to start with the lowest setting and then increase the intensity if you find that it's too low for your preferences.
Also, avoid massaging the same body region for more than fifteen to twenty minutes, especially in the beginning. Keep in mind that this is a rather powerful massager and that you can cause light damage to your body if you overdo it.
Maintenance
While the massage heads of this device are made of plastic, we couldn't find any information according to which the main unit is waterproof. Therefore, we suggest that you clean it by simply wiping it with a damp cloth.
However, the massage heads can be cleaned separately with warm water and mild soap. As they have no electrical components, there is nothing stopping you from submerging them in water, if that's what you need to do.
Specifications
Weight: 3.5 pounds
Cordless: Yes
Massage Heads: 6
Motor: 3,700 RPM
What to expect from the MIGHTY BLISS Back Massager?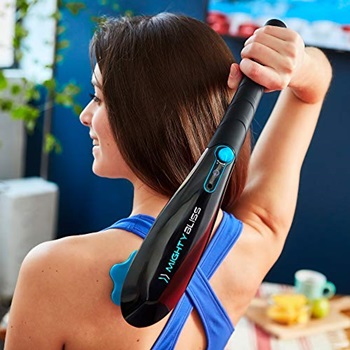 Despite it not being the most affordable model in this line, the MIGHTY BLISS device seems to have won its customers. There are literally hundreds of people who have expressed their complete satisfaction with the way this product works. Consumers seem to like the fact that you can adjust the speed level and the number of massage heads it comes with.
On the downside, it doesn't come with a heating function and it does cost a pretty penny, but the investment makes sense if you're in the market for a cordless back massager that actually gets the job done as it is supposed to.
Pros
Plenty of versatility thanks to its many massage heads
Lightweight and convenient
2 hour charge time and 1-hour runtime
Powerful and dependable motor
Cons
It can feel a little cumbersome and awkward to massage your back with this device
Despite being really lightweight compared to others, it gets heavy if you hold it for a long time
Wrap Up
This model is powerful, easy to charge, comes with plenty of different attachments, and it feels very good on sore spots. It is less budget-friendly than other options, but it is also among the most effective options in its category. We hope that our MIGHTY BLISS Back Massager Review has given you a clue as to whether you should try it or not.