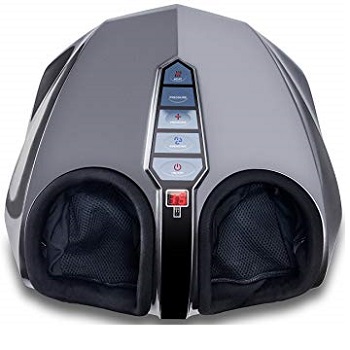 With so many products available for sale nowadays, you might not know whether the Miko model is the right one for you. Well, this Miko Shiatsu Foot Massager Review is going to allow you to understand whether you need this unit in your life or whether you should opt for something different in the same line. Here's everything you should know about this handy device.
Features and Benefits
This particular model relies on five different pressure settings so as to target and massage specific points in your feet where you might feel discomfort or pain. The unit seems to be fairly good at relieving your pain and relaxing your muscle tissue. It comes with as many as two individual remote controls for easy use and it doesn't usually raise technical difficulties to anyone, whether tech-savvy or not.
The control panel boasted by the unit is straightforward and easy to understand, and you can customize the settings as per your specific requirements. There are soft-touch buttons located on the panel, and the controls are illuminated, so you always see the settings that you have chosen. The remote control allows you to shift from one function to another without having to bend down.
Suggestions
As the user manual will suggest, it's often a good idea to start with the lowest setting and massage your feet for just ten to fifteen minutes. Since it might be difficult for you to track time when you're pleasantly relaxing, you'll be happy to know that this unit comes with a 15-minute timer.
On the one hand, the timer is a safety feature as it prevents the device from overheating. On the other hand, it avoids putting too much pressure on your feet and making you uncomfortable.
Another aspect worth noting about this product is that its foot chambers are separated, so your feet will be properly massaged on every side. The unit is also rather stable, so you don't have to worry about it tipping over or getting damaged on account of slipping on the floor.
If portability is a concern for you, you might want to know that this is a really lightweight foot massager. It can be carried from one room to the next easily and conveniently, and you can always store it away when it's not in use.
Maintenance
As for maintenance, you don't have to worry about anything in this sense. It comes with a zippered cloth cover that can be removed and cleaned in the washing machine. The massager's outer shell is also rather easy to clean and to do so, you will only need some warm water and mild soap.
Specifications
Weight: 12 lbs
Size: 43 x 40 x 20 cm
Voltage: 110-240V
Frequency: 50-60Hz
What to expect from the Miko Shiatsu Foot Massager?
Based on the reviews acquired by this product, it certainly seems that it is a good option. It comes with as many as five different pressure levels that inflate and deflate the airbags as per your preferences. The deep-kneading massage nodes that the unit is outfitted with will work your soles and relax your foot muscles.
Since this particular massager comes with heat, it's a great choice for those cold winter months when you just want to get cozy with a cup of tea and while sitting in your favorite recliner. The heated feature can be turned on and off independently from the other functions.
Pros
Comes with two wireless remotes
Great adjustable pressure
Lightweight design makes it highly portable
Separate massage chambers for both of your feet
Miko contact page seems responsive
Cons
This massager doesn't target your heel at all (unless you have particularly small feet)
Some buyers note that the heating function could have been a little better
Wrap Up
If you have been searching for a foot massager that actually does what it's supposed to do, you should consider this model as it comes with most of the features you might need. We hope that our Miko Shiatsu Foot Massager Review has assisted you in telling whether it is worth investing in or not.