Getting the perfect back massager nowadays can be a true challenge, mostly because there are so many models that you should consider. In this article, we will look at the pros and cons of one of the most popular options out there. Read the Naipo Back Massage Pillow Review below to find out whether it's worth investing in or not.
Features and Benefits
Even though it might seem a little basic when compared to the array of high-performance back massagers currently available, the Naipo unit gets the job done exactly how it is supposed to. It is lightweight, convenient, and ergonomically designed, which means that it fits your body curves perfectly. You can use it on various body regions, not just on your back – from your neck to your thighs and calves.
Having been outfitted with as many as four kneading massage nodes, the model is quite effective when it comes to relieving pain, aches, knots, and tension that might have accumulated in your muscles. The Shiatsu massage boasted by this model means that you can truly make the most of it as you will feel like a real massage therapist is the one giving you the massage, not a device.
The nodes boasted by the massager rotate clockwise and counterclockwise, and the best thing about them is that they change direction every minute. This means that you can truly get the most benefit from the massage experience.
Another aspect that's worth noting about this unit is that it comes with heating, which automatically sets it apart from many others. The heat is capable of penetrating your muscles and with the pressure applied, they end up relaxing a lot better.
For safety-related purposes, the manufacturing brand has included an automatic shut-off feature in this device. After 20 minutes of use, the massager will simply turn off on its own. This prevents overuse and it also lets you know that the area was massaged enough. Keep in mind that massaging a body region for more than 20 minutes is risky and can lead to injury.
Suggestions
Since this model doesn't come with adjustable speed, it might be a good idea to place a towel between your body and the device when you use it for the first time. Otherwise, you might find the intensity of the massage too powerful. Before utilizing the massager, we suggest that you take some time to read the user manual.
Maintenance
Since things are bound to get a little sweaty when you use the massager, especially with the heating turned on, we suggest that you never use it directly on your skin. Otherwise, your sweat will build up on the PU leather cover of the device.
Unfortunately, we did not find any info according to which the cover is removable, so the only option that you have in the way of cleaning it is to wipe it with a damp cloth.
Specifications
Size: 14.2 x 5.5 x 7.1 inches
Weight: 3.9 pounds
Massage nodes: 4
Heating: Yes
What to expect from the Naipo Back Massage Pillow?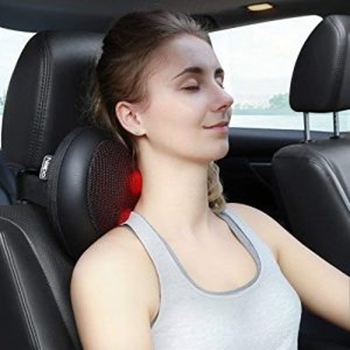 Most of the reviews that we have stumbled upon with regard to the performance of the Naipo model are favorable. Many people say that it is quite powerful and at the same time, it doesn't feel too strong when it's operated. The mesh components of the cover make it soft to the touch and they also ensure breathability, which is a plus.
This is not a cordless option, which can be seen as a drawback, but it does come with a car adapter. There is no internal battery option, unfortunately.
Pros
A high-quality rotating shiatsu massage experience
Can be strapped onto any chair or car seat
Works well on different parts of your body
Cons
It's not rechargeable, so it needs to be plugged into an outlet all the time
It's a little smaller compared to others
Wrap Up
As you might have noticed from this Naipo Back Massage Pillow Review, this is a pretty basic, user-friendly, and highly convenient device. It doesn't come with some of the high-tech features of more advanced models, but it is a winner in its own line. It doesn't even make a lot of noise, so you can use it in many situations.