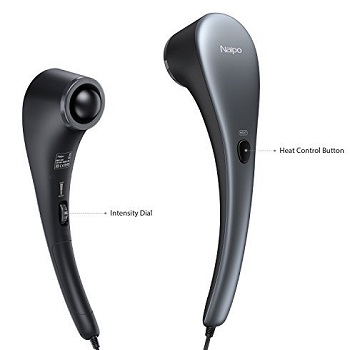 The handheld massager by Naipo is a well-designed unit that has acquired quite a bit of appreciation on the part of those that have given it a shot. It comes at a decent price and it is outfitted with every feature that you might want to look for in a device in this line.
If you're curious to know more about the benefits that this massager can offer you, be sure to check out the Naipo Handheld Massager Review that we've put together below.
Features and Benefits
One of the first benefits that you will get to enjoy if you opt for this choice is that it comes with as many as 3 massage attachments. Every attachment head provides specific benefits and replacing one with the other can lead to a quite enjoyable experience on the whole.
The circular massage node has been uniquely designed to offer you a mild and comfortable massage. You can surely use it after you have spent a whole day working. It's a winner when it comes to lowering your stress levels and relaxing your muscles, too.
Additionally, the model is accompanied by an intensive massage node that's specially made for targeting larger body areas. This attachment can be utilized with excellent results to massage your shoulders, your entire back, or your legs. Moreover, it can prove to be useful if you want to get a thorough foot massage and you're somewhat in a hurry. If you believe that the intensive node is too rough on your feet, you can switch to the circular one.
On top of everything, the Naipo alternative comes with an accurate massage node that's made to target smaller areas in your muscles. For example, you can utilize this attachment to relax your muscles by focusing on the places where you might have knots or where tension may have accumulated. Based on the info that we came across, this particular attachment is better suited for deeper massages.
Changing the massage heads can be done in a very short amount of time, with many customers claiming that they managed to do so in less than thirty seconds.
The heated feature of this massager is another reason to consider it. This function is particularly helpful for people who want to relax at the end of a hard day, and the higher temperature is capable of increasing local blood circulation. Better blood flow means that your body's tissues are going to benefit from an increase in nutrients and oxygen.
Furthermore, with this massager, you get the ability to customize the speed of the massage. This means that you can even share it with other members of your family, for example. As the user manual page of Naipocare suggests, when you use the device for the first time, start with the lowest setting.
Specifications
Size: 17.5 x 3.7 x 3.7 inches
Weight: 2.6 lbs
Voltage: 110V
Cordless: No
What to expect from the Naipo Handheld Electric Deep Tissue Massager?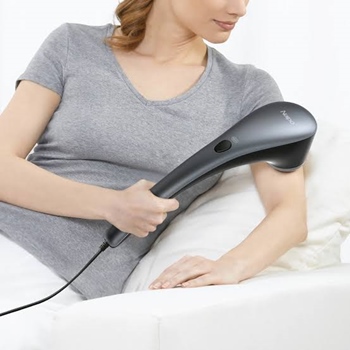 Most of the individuals who have decided to invest in this choice seem to have nothing but good things to say about its performance. It works great, is convenient, versatile, and user-friendly, and it even has a handy design. It's also backed by a 24-month warranty, so if you don't like how it works, you can simply return it to the manufacturing brand.
Some users note that thanks to this percussion massager, they can finally massage their feet after standing for a whole day. It's got varying speed control that they can change based on their needs, and the heat feature is fantastic on the soles of their feet. By comparison, getting a massage from a therapist is expensive.
Pros
Comes with a heating feature
Includes three massage heads
With its assistance, you can reach your shoulders and lower back
Cons
Since it's a little on the bulkier side of things, it can be cumbersome to hold it for a long time.
Wrap Up
With its wide range of speed, its simple rotary control, and a customizable intensity, the Naipo device should be jotted down your list. We hope that our Naipo handheld massager review has managed to clear some things out and that you now have an idea of whether this model might be a good option for you or not.