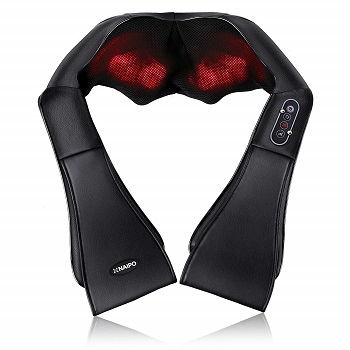 If you have been searching for a back massager that soothes tired and aching shoulder and neck muscles and that can be used easily and conveniently whenever you need it, it's a good thing that you are reading this article. From what we have noticed, this Naipo model is among the most critically acclaimed devices in this line.
Check out the Naipo Shiatsu Back Massager Review that we have put together below to find out what makes it stand out from the crowd.
Features and Benefits
While sometimes you might need a gentle massage, other times you might want a more powerful one. This is the area where the Naipo unit is a winner as it comes with 3 separate settings that enable you to customize the massage experience as per your needs.
The more intense the setting that you have chosen, the faster and firmer will the roller nodes rotate inside the mesh pouch. The eight roller nodes have an average size, meaning that they are suitable to use on a variety of muscle groups. Therefore, this device is also versatile since you can use it on other body parts where it will give you a nice back massage.
Adjusting the three intensity settings is made easy by the controls that can be found on the upper left side of the model, right next to where your left shoulder is. It's also worth noting that this product comes with a heating element. This means that your local circulation will be stimulated appropriately and that your cells and tissues will get more oxygen and nutrients.
As for safety, you will be happy to know that the device is equipped with a twenty-minute automatic shutoff function, which effectively cuts the power to the heat. You can, of course, use it for longer than twenty minutes, but if you do a bit of research, you'll learn that this is the maximum amount of time recommended by specialists.
Suggestions
Since the nodes can give you a pretty vigorous massage, we suggest not overdoing it. You will find that some of the people who have opted for this product have complained about its massage being too strong for their liking.
As the user manual advises, you should always start with the lowest setting. If it's still too powerful, place a towel between your body and the massager.
Maintenance
This Naipo massager features a cover made out of leather, mesh cloth, as well as flexible fabric. All of these materials are winners in terms of durability and they ensure a long life span of the product. To clean the massager, all you need is a damp cloth to wipe it. After you have done that, just leave it somewhere to air dry.
To make sure that you do not cause damage to the internal components, avoid soaking the device in water or using an extremely wet cloth on it.
Specifications
Size: 15.8 x 6.3 x 8.4 inches
Weight: 4.4 pounds
Nodes: 8
Car adapter: Yes
Cordless: No
What to expect from the Naipo Shiatsu Back Massager?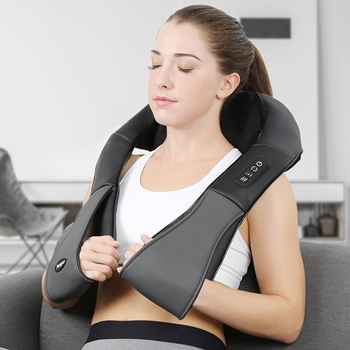 Most of those that have given this model a shot seems to have nothing but good things to say about its performance. Its U shape is extremely convenient, so many people use it to get a massage while working in front of the computer, for example. Most of the individuals that have experienced issues with the device have received replacements from the brand.
While some people say that it is a little strong, others say that if you have a little patience and use the lowest setting, you will soon get used to the pressure applied by the device.
Pros
Sturdy construction and reliable performance
Lightweight and ergonomic design
Comes with three adjustable intensity settings
User-friendly controls
Cons
Sensitive people might not appreciate the pressure of this massager
Wrap Up
As you might have noticed, one area where the Naipo device takes the cake is convenience. Its user-friendly design is definitely worth bearing in mind when you are deciding between this product and other models.
We hope that our Naipo Shiatsu Back Massager Review has assisted you in telling whether it is a massager that you need or not.