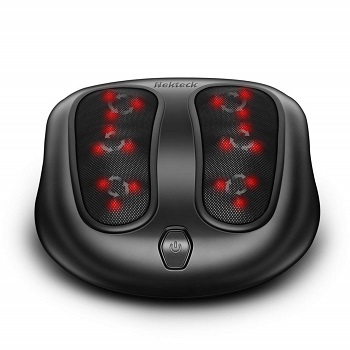 Finding the right kind of foot massager nowadays can be a challenge, especially since there are so many models to choose from. You might feel a little unsure about what features you need and which ones you can gladly do without.
If you've been browsing through some models online and you haven't made up your mind on one, then you should probably read this Nekteck Foot Massager Review. In it, we have highlighted both the positives and the negatives of this device so you get all the info you need.
Features and Benefits
One of the reasons why you should consider this model is that it comes with as many as eighteen massage nodes that are capable of working your foot muscles. The device relies on three massage heads for each foot. Each of these massage heads is outfitted with three massage nodes, which means that each of your foot soles will be massaged by as many as nine massage nodes.
The massage ensured by the Nekteck model makes it possible for your local blood circulation to be improved significantly and it will also allow you to say goodbye to the tension that might have accumulated in your foot muscles throughout the day.
As for the design of this option, it's worth noting that it is wider and lower compared to some of the other units available nowadays. It's also pretty stable, meaning that you will keep your feet in a comfortable position. Let's face it, the fact that it remains in one place even when used on a shiny floor surface is a benefit in itself.
Silence
Given that the Nekteck massager works silently, you can use it in the same room with a sleeping baby, for example. You can even get yourself a nice foot massage when you're at the office and working on the computer. No one will notice that you're using the massager.
Ease of use is not something that you need to be concerned about with this model. It has two buttons – one at the front, which you can use to turn the device on and off, and another, smaller one, that's closer to you and that can be used to customize the settings.
What's worth noting about this choice is that it comes with a heating function. The heated massage can spread comfortably and pleasantly across your soles. It takes just a couple of minutes for the surface of the massager to warm up. Needless to say, this can be a great feature for those cold winter evenings when you want a good massage and some warmth, as well.
Additionally, there are three height levels to which you can customize this massager depending on your own body height or the chair you're sitting in. The overall compact and small design of this massager means that it is easy to store in your home and even take with you if you travel out of town and need it for your every night massage.
Specifications
Size: 40.5 x 36.5 x 12 cm
Weight: 7.2 lbs
Voltage: 120V
Frequency: 50-60Hz
What to expect from the Nekteck Foot Massager?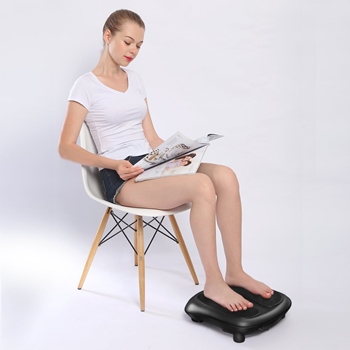 Since it's considerably more affordable compared to other types of foot massagers out there, this one has gathered thousands of reviews at various online marketplaces. Most of the people that have invested in it seem to be perfectly satisfied with the way it works. Apparently, it is entirely worth the money and it provides pain relief to individuals who have plantar fasciitis or are just experiencing tired feet every evening.
Most of the customers describe it as easy to use. However, we would like to suggest that you do take some time to have a look at the user manual before you use it for the first time — just to be on the safe side of things.
Pros
Effective heating function
A comfortable and thorough massage
The small design makes it portable
Cons
Since some users argue that the massage can be too strong for their liking, if you're bothered by this, we suggest placing a towel in between the device and your feet.
Wrap Up
All in all, the Nekteck seems like a pretty good foot massager that's at least worth bearing in mind. It doesn't cost a fortune and it comes with most of the features you might want from a device in this category. It doesn't make a lot of noise, it's lightweight and convenient, and it's also quite user-friendly.
We hope that this Nekteck Foot Massager Review has helped you understand whether you'd like to give it a try or not.