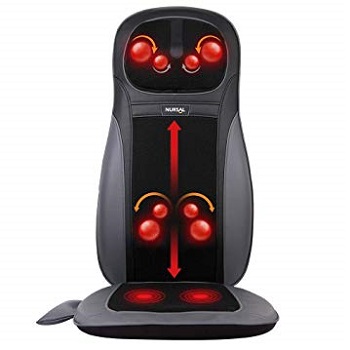 With its slim design and excellent features, the NURSAL massage cushion is a user-friendly device that can relax you at the end of a hard day. You can install it on a sofa, in an office chair, or even in your car seat.
Described as one of the most effective models in its line, it's certainly worth considering if you're in the market for a good massage cushion. For more information, we suggest that you take the time to read the NURSAL Massage Cushion Full Back Review that we have showcased below.
Features and Benefits
One of the first things that are worth mentioning about this model is that it is equipped with four massage rollers in the back and neck area. This means that the cushion is fully capable of providing you with decent and thorough massages, no matter if you choose to get them on your back or other body areas.
Additionally, the product has a heated massage feature that's also worth writing home about. The heat is able to stimulate your local cells and tissues and make them capable of getting more nutrients and oxygen.
However, you will have to wait for a little while before you can feel the warmth in your back area. Once this happens, the massage will be a really soothing and comfortable experience. The heating function can be turned on or off separately as per your momentary needs.
On top of everything, the NURSAL model comes with several different massage techniques. For example, the rollers are capable of performing a deep-tissue kneading massage, but they can also offer you a rolling massage. They can rotate both clockwise and anti-clockwise, which means that your massage sessions will be diversified.
While the seat section doesn't come with any rollers, it is worth noting that it does have a vibration feature. The intensity of the vibration can be customized, and you have as many as three levels to choose from. In a nutshell, this model can stimulate your local blood flow even in your bottom.
Suggestions
You can conveniently utilize the remote control to access all of the features and functions of this unit. What's also neat about this massage cushion is the fact that it boasts an automatic 15-minute shut-off system. This means that it will turn itself off after a quarter of an hour, and that happens for two reasons.
On the one hand, doing so protects the model over time since it doesn't overheat. On the other hand, your muscles are protected, as well, and you aren't going to sustain any injuries. As the user manual suggests, always start with the lowest setting possible (in terms of intensity) to avoid getting yourself injured.
Maintenance
The material that the massage cushion is manufactured of makes it possible for you to clean it with as little effort as possible. All you need is a damp cloth to wipe the surface material and you'll get it looking as if it were brand new.
Specifications
Weight: 13.7 lbs
Voltage: 110V
Car adapter: Yes
Seat vibration: Yes
What to expect from the NURSAL Massage Cushion Full Back?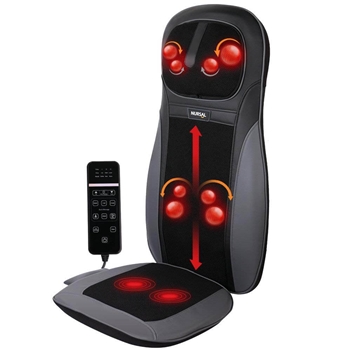 From what we have gathered by going through the reviews garnered by this model, it seems to be worth investing in. It is effective, convenient, and the remote is very easy to use. After you plug the model into the outlet and the power button on the remote stops flashing, you can use all of the functions.
Some customers have noted that the unit provides a deep therapeutic massage, not a relaxing one, so you might end up feeling a little sore after the massage session.
Pros
Offers great value thanks to its mix of functions and features
Can massage both your back and your neck
Can be used in the car
Performs an invigorating therapeutic massage
Cons
The massage rollers can feel a little too hard against your body, especially if you're sensitive
Wrap Up
As you might have noticed, this massage cushion seems to be a pretty decent alternative to going to a real massage therapist. It's comfortable and easy to use even by people who don't have advanced technical skills. We hope that our NURSAL Massage Cushion Full Back Review has given you a clue as to whether you should give it a shot.