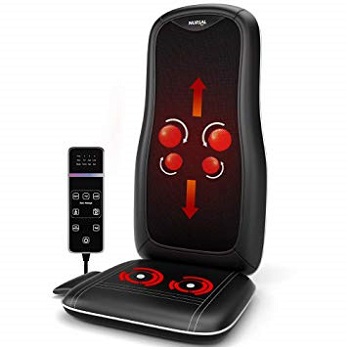 Getting the perfect massage cushion for your specific needs nowadays can be more or less challenging, especially if you're on a budget. You might have noticed that most of the models that can actually live up to the customers' expectations tend to cost a pretty penny.
But we managed to come across one that might meet your requirements even if it doesn't break the bank. For more information, we suggest you take the time to go through our NURSAL Shiatsu Massage Cushion Review.
Features and Benefits
One of the first things worth mentioning about this unit is that it is outfitted with four Shiatsu rolling nodes. They can travel up and down and massage a broader area on your back. The pressure point massage boasted by this model enables you to select from a full back massage, an upper back one, or a lower back massage.
On top of everything, this is one of the few massage cushions that come with a heating function. The seat cushion is designed with heat so that it warms up your tissues and muscles, and also makes it possible for them to receive more nutrients and oxygen.
When you're trying to make the difference between one type of massage cushion and one of its competitors, it is a good idea to look at the materials that it is made of. We'll put your mind at ease by telling you that the NURSAL option can definitely stand the test of time. It is made of premium quality leather, which means that it will look as if it were new for a long time.
The seat doesn't come with any massage nodes, but it does include the vibration. That, combined with the heat, is what makes it possible for you to relax even in your bottom area at the end of a hard day. You'll be happy to know that the intensity of the vibration can be adjusted, so you can choose between high, medium, or low as per your needs.
Suggestions
While this massage cushion does an excellent job of mimicking the vigorous kneading that a massage therapist would use on your body when performing a massage, it can be a little too rough for some people.
To avoid injuring yourself, we advise you to start with the lowest possible intensity. Take some time to get the instruction manual, if you have time, as there might be important information in it.
Maintenance
We didn't come across any info according to which the cover of this massage cushion can be removed and cleaned separately. However, since the surface is faux leather, there's nothing stopping you from utilizing a damp cloth to wipe it clean.
Specifications
Weight: 9.6 pounds
Seat Vibration: Yes
Voltage: 110V
Car Adapter: Yes
What to expect from the NURSAL Shiatsu Massage Cushion?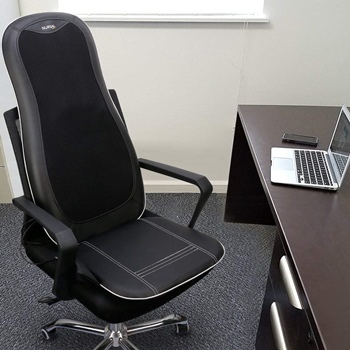 If you have been experiencing back pain for one reason or the other, the NURSAL option should be right up your alley. Based on the feedback that it has garnered over time, it seems to be quite effective. The provided electric cables are reasonably long, and since it comes with a remote, you will find it quite easy to adjust its settings.
It has loads of functions for back massage (including different modes), seat massage, time, and heat. The maximum length of each massage session is 15 minutes.
Pros
Affordable and convenient
Easy to use even by less tech-savvy individuals
Can help with chronic back pain
The heated feature is extremely effective
Cons
Some users say that they would have liked it if the unit came with vibration in the back area, as well
Wrap Up
While this product might seem rather basic when compared to some of the others currently available, the fact of the matter is that it does what it is supposed to do. It is convenient, comfortable, and can be installed on almost any chair, and it heats up quickly and provides you with a nice back and bottom massage.
The only area where the NURSAL isn't a winner is the neck area since it doesn't come with any nodes in that section. We hope that our NURSAL Shiatsu Massage Cushion Review was able to inform you with regard to the most important things that you should know about it.