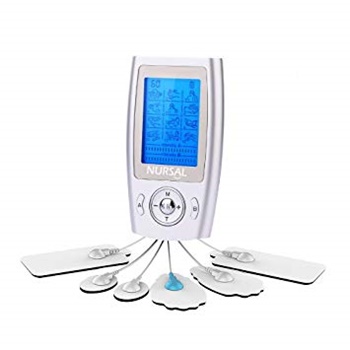 TENS units have become more and more popular over the years, and that's because they do a great job when it comes to alleviating pain. They are easy to use, convenient, and versatile, so that's how you might find yourself interested in trying one out.
If you've taken the time to browse through some of the most popular models out there, you might have come across this NURSAL one. But is it worth investing in or should you consider a different product? Find out the answer to this question by reading the NURSAL TENS Unit Review below.
Features and Benefits
One of the coolest features of this model is that it comes with as many as eight electrode pads. Each of the four pairs has a different design and you're more than free to utilize them for various applications.
The larger pair can be used to cover sizable body regions, so you can safely use it on your back muscles or your chest. You can even use it on your thighs and hips, too.
As for the medium-sized pads, they are quite effective when it comes to working for specific muscle groups. They deliver a powerful massage to narrower muscle groups, so you can use them on your lower back, specific areas in your legs, or anywhere else where you might feel pain or strain.
The small pair of electrodes can be used for targeting aching muscles or painful compact areas that you'd have a hard time massaging otherwise.
Additionally, you might want to know that the NURSAL option comes with as many as sixteen different modes. This effectively gives you the freedom to pick the one that best suits your preferences and needs. Plus, there shouldn't be anything stopping you from sharing it with other members of your family, for example.
Every massage mode can stimulate your muscles differently. The best way to make the most of this TENS unit is to alternate between the modes so that you get as thorough a massage experience as possible.
Another aspect to take into account is that the remote control of this product is very user-friendly. The display is large and backlit, and you get to see every setting that you have selected. This makes it possible for you to choose the right one with a minimal amount of effort.
So, when it comes to user experience, this is among the top-rated TENS units currently available.
Suggestions
Since this product comes with an adjustable massage intensity feature, we suggest that you start with the lowest one first. You have complete control over the power of the massage through the pads and also in terms of their location. It's a good idea to avoid overdoing it, though.
Usually, TENS units receive both positive and negative consumer reports. Some people say that a unit is too strong whereas others don't feel like they're getting enough intensity. Check the user manual for more information on using this device correctly.
Maintenance
Since good skincare is critical when it comes to you using the device comfortably and making the most of it, we suggest ensuring that it's clean of body lotion and dirt.
The electrode pads can be wiped with a basic sanitizing solution at the end of every massage session. We recommend doing this particularly if you intend to share the same device with other individuals.
Specifications
Technology: TENS, EMS
Battery: Built-in Lithium
Weight: 0.8 lbs
Pads: 8
Massage modes: 16
What to expect from the NURSAL TENS Unit?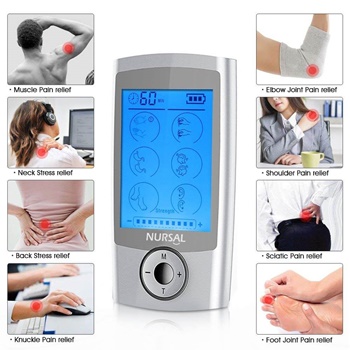 From what we have gathered, most of the reviews that the NURSAL has acquired over time are favorable. People seem to speak highly of its excellent performance. Some customers actually say that they have managed to quit taking pain medication upon starting to use this device.
This unit also seems to help with sciatica issues. The flexibility of the settings and the end result of muscle relaxation and improved range of motion are some of the most praised aspects in the reviews.
Pros
Good quality, reusable pads
User-friendly, minimalistic design
Up to 10 hours of continuous (cordless) use
Cons
The instruction manual provided in the box could have been a little better, especially since the font is very small
You might have to replace the pads after a year or so
Wrap Up
Hopefully, this Nursal TENS Unit Review was straightforward enough for you to tell whether it is worth investing in or you can do without it. As you might have noticed, this device seems to do precisely what it's been designed to do, meaning providing you with the pain relief and relaxation that you need.
In the end, you have to consider that this is not a traditional TENS unit per se — rather it's a small massager that works with electrode pads. In any case, try it if you have the chance, especially since it's backed by a 2-year warranty.