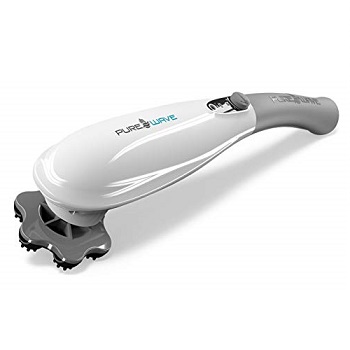 The Purewave CM-05 is a great option for people who want to say goodbye to the pain that they have been trying to manage in different body parts. It's cordless, so it's great to use under a wide array of circumstances and even when you are traveling, whether for business or for pleasure.
To find out whether you should consider investing in this alternative, read the PADO PUREWAVE CM-05 Handheld Massager Review below.
Features and Benefits
One of the best things about this choice is that it comes with a powerful percussion motor that operates on a maximum of 3,700 rotations per minute. This is more than enough for a massage, and some people might even find this unit to be a little too aggressive for their liking. Nevertheless, the magnitude of the rotation makes it possible for the tensions and knots in your muscles to be relieved conveniently and efficiently and in a timely fashion, too.
Another aspect that you will appreciate about this handheld massager is the fact that it boasts an ergonomic and well-thought design. Besides being visually pleasing, the model is particularly useful when it comes to eliminating tension and stress in any part of your body. The handle is easy to hold in your hand and most importantly, it's not going to slip as you operate the device.
It's also worth noting that the speed and massage mode of the product can be adjusted depending on your momentary needs. This versatility makes it possible for you to use the massager along with other members of your family, for example.
The cordless design boasted by the choice is a benefit in itself as you will be able to use it anywhere in your home or outside of it. You can even take it with you if you often go out of town or if you suffer from chronic pain and have no other way of managing it than by getting regular massages.
Given that it relies on a 2200 mA Lithium battery to do its job, this device is capable of offering you several 20 to 30-minute massage sessions per day. However, we would like to note that the recommended massage time for every session is about 15 minutes, so try to avoid going beyond the 20-minute threshold.
On top of everything, every massage attachment that accompanies the main unit has a different purpose. For example, the six-head stick can cover larger body areas in a short amount of time. This means that it is the best choice when it comes to massaging your back and thighs. It can also be utilized for motion stimulation, increasing flexibility, and stretching your muscles.
The point stick attachment, by contrast, is suitable for relieving muscle pain, as well as breaking up knots. You'll be happy to know that the Pado unit also comes with an air cushion attachment that provides a soothing experience. This makes it the perfect alternative for people who hate getting rough massages.
Specifications
Size: 14.75 x 2.75 x 4 inches
Weight: 1.65 lbs
Cordless: Yes
Battery: 7.2 V Lithium-Ion 2200mA 18650 x 2 cell
What to expect from the PADO PUREWAVE CM-05 Therapy Massager?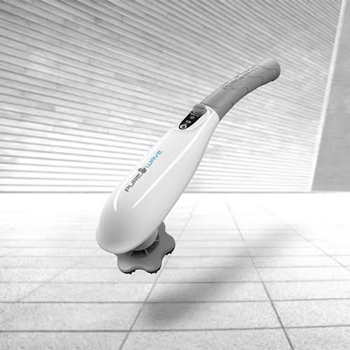 Based on the consumer reports that we have come across when trying to tell whether this unit is worth investing in, it seems that it can offer you a good bang for the buck. We've noticed that people who have plantar fasciitis, fibromyalgia, and pain in their sciatic nerve have nothing but good things to say about this model.
However, since every person is different, we strongly suggest that you take the time to refer to the unit's user manual before using it for the first time. As we have noted already, this is a percussion massager, which means that it might be rougher than others you might be used to.
Pros
Suitable for both personal and professional use
Cordless design makes it highly convenient
Reliable Lithium battery
Quite powerful when put side by side with many of its competitors
Cons
You can't use this device to massage more sensitive parts of your body, such as your face or your scalp
You have to charge the device for a whole night before using it for the first time
Wrap Up
If you like stronger massages and you've noticed that other handheld devices can't satisfy your needs in this sense, you should definitely check out the CM-07. It comes with multiple massage attachments and the speed and massage mode can be adjusted, which means that several people can use it, not just one.
In any case, we hope that our PADO PUREWAVE CM-07 Handheld Massager Review has helped you tell whether it's worth considering for your specific needs.