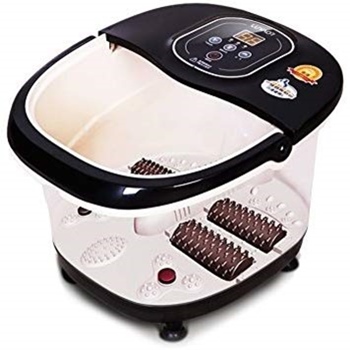 The WW-51 model by PowMax is a foot spa that you should keep in mind if you are looking for a full-featured unit that can help you relax at the end of a difficult day. The option comes equipped with almost every feature you might have ever wanted in a foot bath. It features infrared heat, vibrating massage, air bubbles, and it offers a variety of benefits. Let's look at all of them in this PowMax Foot Spa review.
Features and Benefits
First of all, the size of this product is definitely something to take into consideration. It is among the largest models currently available for sale. Not just the width is enough, though, but also the height, which means that it massages not only your feet but also part of your calves. The model is made with an overheating protection system and this feature basically expands the life span of the unit.
You might want to know that the PowMax Foot Spa is equipped with as many as four massage rollers on the bottom. It also releases air bubbles as the water begins to heat up. This means that you will be able to benefit from improved metabolism, excellent local blood circulation, and your feet will feel like they are brand new.
Using a foot bath can sometimes be dangerous, but that doesn't have to be the case if you get this model. In fact, it is outfitted with non-slip feet, so it stays put wherever you decide to place it. The top comes with an LED screen and intelligent buttons, which make it very easy for you to customize the device and choose the right settings.
If the design of the product seems to be too complicated for you, make sure you have a look at the user manual before starting to use the footbath for the first time.
Easy To Transport
Another aspect that is worth noting here is that this foot spa is equipped with a handle and that makes carrying it a breeze. As you can expect, due to its capacity and design, when it is filled with water, it can get a little heavy. That's where the handle comes in handy. You'll be able to pour the water out conveniently and then clean the unit.
Whether you're planning to get it for yourself or for someone you care about on their birthday, we say that the PowMax alternative makes both a great gift and an excellent addition to any household. It is one of the most complex and feature-packed choices out there.
Specifications
Size: 42 x 37 x 28 cm
Depth: 18 cm
Water capacity: 10L
Power: 500W
Power cord length: 1.8m
What to expect from the PowMax Foot Spa?
Most of the feedback acquired by this choice is favorable, at least judging by what we have gathered by going through dozens of reviews. The vast majority of customers appreciate the air bubbles and the ability to set the temperature depending on their needs. Others describe the unit as comfortable and simple to use.
There were even cases where various individuals have reported getting rid of swollen feet after starting to use this model.
Pros
This foot spa can massage both your feet and your calves
Easy to use and convenient
The integrated handle makes it easy to carry
High-temperature resistance ensures durability
Cons
Some users note that they would have liked it if the water got even hotter.
Wrap Up
Since it is a high-quality foot spa that's capable of excellent performance, the PowMax should undoubtedly be borne in mind. It comes with lots of helpful features that can help you get a soothing massage at the end of the day that you've spent standing or working in front of the computer.
The foot bath can help you relax and wind down and it can also enable you to finally say goodbye to foot pain or local inflammation if you're experiencing any of them. We hope that our PowMax Foot Spa review has helped you understand its characteristics and the benefits that it can offer you.