If you don't have the time or the money to go to a massage therapist at least twice a week, you're probably interested in getting a good handheld massager. Well, if that's what you've been searching for, you should read our PUREWAVE CM-07 Handheld Massager Review as it is packed with all the info you need to know about this unit. You'll learn everything about its features and the benefits that it can provide you with.
Features and Benefits
This model falls within the range of premium body massagers, despite fitting in the palm of your hand. The device is capable of saving you heaps of time, but it can also make you self-sufficient. It comes with a speed controller and it has as many as six different massage heads that are able to deliver one of the most soothing and powerful massages.
Being equipped with a powerful motor, this unit operates cordlessly for a long amount of time. It also comes with a fast charger and based on the reviews that it has gathered, it seems to have rather long battery life. You can put it to charge when you go to bed and use it magnanimously on the next day.
It's worth noting that the minimum charging time is 60 minutes and it's advised that you charge the massager at least three times in the course of a week. What's also worth noting about the device is that it comes with pads that can reduce the tension in your facial muscles. That's right — this handheld massager can't be used only on your muscles. It can also be used on your face.
Versatility
Since it has both percussion and vibration massage capabilities, the model is without a doubt a winner in terms of versatility. Most of its competitors will only offer one or the other, but not the two of them. The percussion massager is equipped with a handy speed dial, which means that it can be utilized even by people who aren't tech-savvy. Use the dial to customize the speed of the massage as per your specific needs.
When it comes to performance, it's no wonder that this alternative is among the most critically acclaimed ones that we have come across. Its motor has an operating range within 1500 and 3700 percussions per minute, which means that the device can undoubtedly offer both deep and intense massages and relaxing ones, just as well.
The handle is another feature worth taking into account. It's non-slip, so it's quite safe to hold, and due to its length, it will allow you to massage even harder to reach body areas. The slight curve design of the unit helps a lot in this sense, meaning that you can target the entire surface of your legs and back without requiring the assistance of a helper.
Since it weighs in at less than 2 pounds, it's pretty safe to say that this device is among the most portable ones in its line. Besides all that, it's cordless, which means that you can take it with you when you travel, no matter if you do it for business or pleasure.
Specifications
Size: 16.7 x 2.8 x 3.5 inches
Weight: 1.75 pounds
Cordless: Yes
Number of attachment heads: 6
What to expect from the PUREWAVE CM-07 Therapy Massager?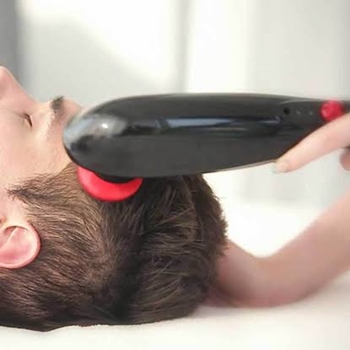 The amount of appreciation gathered by the CM-07 is downright impressive. Even though it is most definitely not the most budget-friendly massager in its category, it has received mostly favorable reviews. It's even FDA registered, which is reassuring to know, and the fact that it is a professional grade and backed by a 90-day satisfaction guarantee adds to its value.
As the user manual suggests, since this model can be quite powerful, especially when performing deep-kneading massages, it's a good idea to start with the lowest possible setting.
Pros
Innovative slim design backed by ease of use and a lightweight construction
Can be used to perform facial massages
You can adjust its speed and switch between the six available massage heads
Cons
It costs a pretty penny
It's not a good option for people who have recently suffered injuries as it might be too powerful
Wrap Up
Despite not being too affordable, this unit is entirely worthy of your consideration as it seems to meet and even exceed the expectations of most of those that have tried it. It's durable, versatile, portable, as well as reliable, and it can be used for a variety of types of massages.
We hope that our PUREWAVE CM-07 Handheld Massager Review has helped you understand whether this model addresses your specific needs and preferences or whether you should opt for a different one.