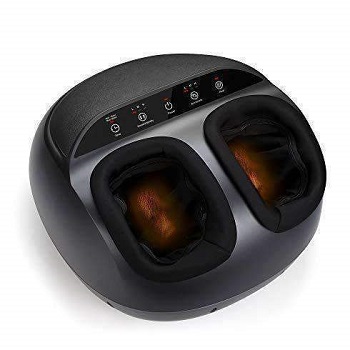 If you have been searching the market for a highly effective foot massager that winds you down and helps you get rid of the pesky pain that you've been feeling in your feet, the Renpho model should be right up your alley. In this RENPHO Foot Massager Review, we'll look at its features and benefits so that you get a good picture of whether it speaks to your needs or not.
Features and Benefits
One of the neatest things about this particular unit is that it is capable of massaging both the soles of your feet but also their sides, as well. As you might have noticed if you have looked at the picture of the model, this one features a closed design, so the heat remains inside its structure.
When it comes to the features that make this option stand out from the crowd, you will be glad to know that it has an ergonomic design that allows for a quite comfortable and thorough massage. It comes with as many as three kneading intensities and has three air pressure levels, and they can be set as per your personal requirements.
The heating function boasted by the RENPHO choice is very soothing and relaxing, and it allows you to wind down at the end of a hard day spent on your feet. It's also worth noting that the touch panel that this unit is outfitted with is very easy to control using just your toes.
Cleaning and Maintenance
If you are worried about how you're going to clean and sanitize this massager, we'll put your mind at ease. It is equipped with a removable and washable cloth in the foot chambers, which means that you can always keep them clean. The device is easy to use, hygienic, as well as healthy, and it speaks to the needs of almost anyone, whether they are tech-savvy or not.
On top of everything, the foot massager is quite sizable, which means that being roomy, it even addresses the needs of people who have big feet — up to men's size 12.
Whether you are looking to use it yourself or share it with the rest of your family, or you're considering purchasing it for your parents or grandparents, the RENPHO is definitely worth looking into thanks to its user-friendly features and performance.
Specifications
Size: 16.8 x 15.3 x 9.8 inches
Weight: 11.02 pounds
Voltage:  100V-240V
Frequency: 50/60Hz
Adapter Output: DC12V 2.5A
What to expect from the RENPHO Shiatsu Foot Massager Review?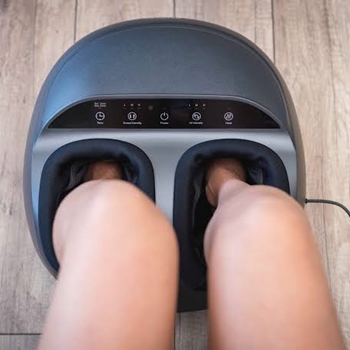 Based on the reviews that this model has gathered over time, it undoubtedly seems capable of doing what it is supposed to. Customers describe it as being effective and strong, and the neat thing about it is that it offers separate kneading and compression. As the user manual suggests, you should start with the lowest setting first so as to customize the settings as per your needs.
The manufacturing brand recommends using the massager for as many as thirty minutes on a daily basis. There are people who say that they have started with just fifteen and have gradually increased the massage session time. In any case, the feedback suggests that it is so relaxing that you aren't even going to tell when 30 minutes will have gone by.
Pros
Removable cloth lets you clean its interior
Comes with a large design (can accommodate up to US men's size 12)
Easy-to-use touch buttons
Heating, deep kneading, and foot reflexology
Cons
It doesn't really massage the heel area
Wrap Up
Even though it might not be the cheapest one in this particular category, the RENPHO option is undoubtedly worth considering. It is feature-packed and its performance has been praised time and again by those that have used it in the past. Plus, it can make a great gift for someone you care about, such as a parent or a grandparent.
We hope that our RENPHO Shiatsu Foot Massager Review has assisted you in telling whether you need this device in your life.