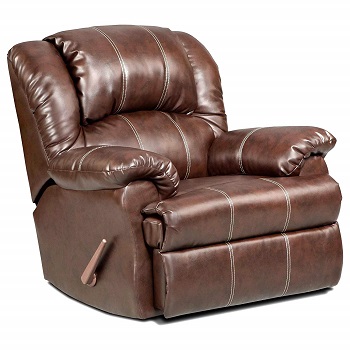 Finding a decent recliner nowadays is made difficult by the plethora of products currently available and by the many features they come with. If you have taken the time to do a bit of research on the topic, you might have stumbled upon this model by Roundhill.
After all, it is among the most critically acclaimed options currently available for sale. If you'd like to know what makes it stand out from the crowd, be sure to have a look at our Roundhill Furniture Rocker Recliner Review.
Features and Benefits
Recliners are one of the best ways of relaxing once you get back home from your hectic schedule. Such a model can assist you with loosening up your muscles and it can also help you get rid of your daily fatigue.
This unit is different from most other typical designs that you could have come across by now. The manufacturing brand has adopted a unique approach, one that is contrary to the traditional design with a seat and a frame. That's how this unit ended up looking more like a sofa chair rather than a recliner.
The back of the unit is softer and better padded, so even children, people with back issues, or seniors can easily enjoy resting in the chair. Additionally, the color it is available in will make it easy for you to place it in your home — since it matches pretty much any type of interior design.
Assessing the durability of a recliner before you invest in it is a good idea, especially since these products tend to cost a pretty penny. You'll be happy to know that this one can stand the test of time since the material that has been used for the upholstery is the highest quality of leather.
The hardwood frame, along with the rocker base and springs made of steel, can give you another pointer as to whether this chair is going to last or not.
Suggestions
Since there is no weight capacity specified by the manufacturing company anywhere, we advise you to avoid exceeding 300 lbs. So, if you're heavier than that, you should maybe pick a different chair.
Putting this comfortable recliner together can be done effortlessly, but to make sure that you don't waste too much time on that, read the instructions provided in the box.
Maintenance
Bonded leather is a little more demanding compared to other types of materials or fabrics, particularly faux leather. Bonded leather consists of leather particles that were combined from other materials so as to form a new one. It's smooth and feels like real leather.
Because of this, it is highly recommended that with this recliner, you use only cleaning solutions designed for leather. Otherwise, you might risk damaging the upholstery ahead of time, and you wouldn't want to do that since it's not the cheapest chair ever to have seen the day.
Specifications
Size: 39 x 39 x 41 inches
Weight: 100 pounds
Frame: Hardwood
Material: Bonded leather
Rocker base: Steel
What to expect from the Roundhill Furniture Dual Rocker Recliner?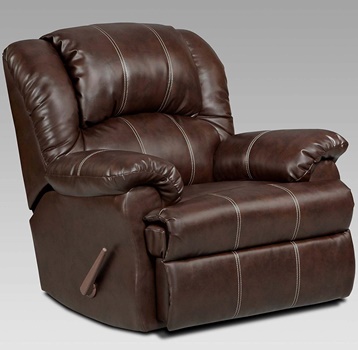 While many of the consumer reports received by this unit are favorable, we noticed that there were several complaints expressed by some customers. Generally, this unit is described as soft and comfortable, with good-quality upholstery. It makes the perfect choice for people who have knee or back problems.
It might take you a little time to break it in, though. Also, the seam of the leg rest between the 2 main panels might come apart sooner rather than later. These reports date back from a few years ago.
Pros
Easy to use, even by people who have little to no technical skills
Very comfortable
It's one of the biggest recliners available, so everyone fits in it — from children to tall adults and seniors
The lever mechanism works smoothly
It looks luxurious
Cons
Since several issues dealing with the durability of this product were reported over time, we advise you to have a look at the return policy and make sure that you get this chair from a trusted online marketplace.
Wrap Up
As you might have noticed from this Roundhill Furniture Rocker Recliner Review, this is a convenient and relaxing alternative, especially when put side by side with some of its competitors. It's made of decent materials and it doesn't cost as much as others, so you should give it a go if you haven't made up your mind just yet.