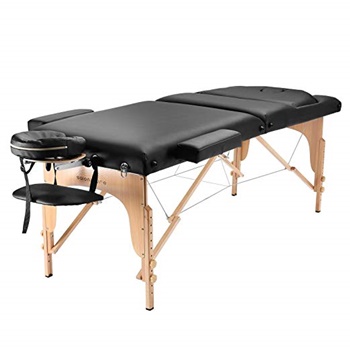 This Saloniture model can make a good option for both professionals and amateur massage therapists. It is built of good-quality materials, which is what you would expect from a high-end professional portable massage table.
For more information on the features, benefits, pros, and cons of this product, we suggest that you take the time to read our Saloniture Portable Massage Table with Backrest Review.
Features and Benefits
This massage table comes with deluxe cushioning, which automatically sets it aside from many of its competitors. Both the tabletop and the armrest wings are composed of a plush, two and a half-inch layer of high-density foam, which means that the client is going to feel quite comfortable while lying on the table. The face pillow boasts a 3-inch layer of foam, as well, and it has a removable cover.
What's also worth noting about this great massage table is that it comes with a tilting backrest, as well as a plush bolster for lumbar support.
Another reason to consider this model is its quality. The table is made with premium-grade materials. It features rugged steel support cables and a hardwood frame, and the whole construction can accommodate a weight capacity of up to 450 pounds.
The headrest is adjustable and it also features high-quality composite support that puts up with bending and warping. As for the table legs, you will be glad to know that they are non-slip, secure, as well as non-marring, so no accidents are likely to happen if you use this massage table.
Weighing in at 35 pounds, this product is a little heavier compared to other portable massage tables. However, it's still lightweight enough to be carried with ease, and its sturdy and easy-to-use construction recommends it. It can be assembled and disassembled in a timely fashion.
Suggestions
While it is true that the PU synthetic leather that covers the foam layer is oil-resistant and waterproof, we advise you to avoid exposing the table to all sorts of spills, especially if they involve hot liquids.
Another piece of advice that we can give you (and one that you're likely to find in the instruction manual, too) is to avoid exceeding the weight limit. If you do, you are effectively endangering your patient and affecting the durability of the table.
Maintenance
Since the table cover is draped in PU leather, you don't need a lot of things to get it clean and looking as if it's brand new. You will need a damp cloth to wipe it clean, but you can also use sanitizing wipes or sanitizing spray. Besides, most of these products usually smell nice, which adds to the experience of the client.
Specifications
Size: 36" x 28"
Headrest: 37"
Adjustable height: Yes
Weight: 43 pounds
What to expect from the Saloniture Portable Massage Table with Backrest?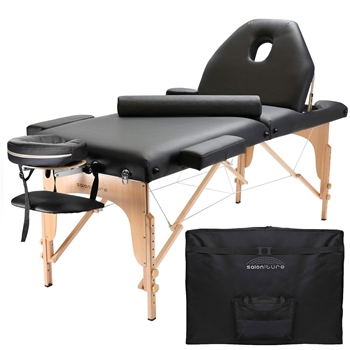 Most of the reviews that the Saloniture model has acquired over time are favorable, with people saying that it is a solid, quality massage table that stands the test of time. It's also easy to set up and the arms slip in and out with ease. It's not wobbly at all and some of the customers' patients have reported that it's comfortable.
However, we did find some consumer reports from folks saying that it can be too heavy, especially if you're not particularly strong or you're petite and not used to exercising.
Pros
Comes with removable winged armrests for extra customizable comfort
Provides luxurious comfort to all clients
Ultra-padded with high-density foam
Heavy-duty support cables ensure ruggedness and stability
Saloniture contact page is responsive
Cons
It can be too heavy for some people
Wrap Up
As you might have told from this Saloniture Portable Massage Table with Backrest Review, this is a model that's worthy of your consideration. If you don't like carrying heavier equipment, it might not speak to your preferences, but if you have nothing against it, it'll definitely meet your expectations.