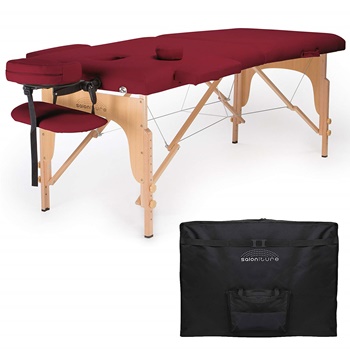 Massage tables, whether portable or not, come in many shapes and sizes nowadays. That's why you might find it difficult to pick the right one for your needs, especially if you intend to shop online. You have to browse through as many models as you can, and you should also look at some consumer reports, as well.
One of the units that we have found to be worthy of the critical acclaim that it has received is this Saloniture option. If you'd like to find out more about its features, pros, and cons, we suggest that you read the Saloniture Professional Portable Massage Table Review below.
Features and Benefits
The construction quality of this model is one of the first reasons why you should consider it. It is made of high-quality materials, featuring a hardwood frame, as well as rugged steel support cables. The tabletop, as well as the armrest wings, are equipped with a 2-inch plush layer of high-density foam while the face rest has a layer of 3 inches of foam and it even comes with a removable cover.
You'll be glad to know that the weight capacity of this model is 450 lbs, so it can be used with a variety of clients. The headrest is adjustable and it features premium composite support which is resistant to warping and bending.
Moreover, the table legs have non-slip and non-marring feet, which means that the table is going to remain in one place while in use. The floor isn't going to have any marks, either.
Weighing in at 37 pounds, this massage table is a little heavier compared to some of the others that we have come across. However, this aspect should also give you some reassurance as heavier massage tables are usually safer and sturdier. The fold-and-carry design of this unit makes setting it up and taking it down easy and convenient.
The cover of the table is made from high-quality PU synthetic leather which feels good to the touch and it is also quite easy to clean. It doesn't have any unpleasant smells and it is waterproof and oil-resistant, as well.
Suggestions
While the weight limit of this massage table is 450 lbs, that can actually mislead you. As the instruction manual will inform you, the table has 300 pounds of total downforce on the table, which means that this is the amount of pressure that can be applied on a particular spot at one point. As such, using this table for clients who weigh less than 250 pounds might be a good idea.
Maintenance
The PU leather can be cleaned effectively and conveniently. You can sanitize it with a spray or wipes and you can wipe it clean with a damp cloth. You can use a cloth and a special product for caring for wood for the framework.
Specifications
Size: 36" x 7-1/4″ x 28"
Weight: 36.8 pounds
Height adjustable: 24-1/2″ to 34-1/2″
Carry case: Nylon
What to expect from the Saloniture Professional Portable Massage Table?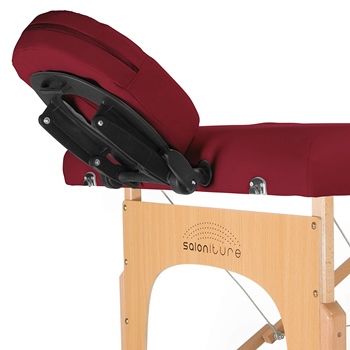 Even though the vast majority of those that have given this product a try praise its performance and quality, there have been some complaints from several customers. Apparently, it's not a good idea to use it with extremely heavy patients.
The brand seems to have made some improvements on the model over the years as the more recent consumer reports don't mention any issues regarding durability. Most of the individuals who have purchased the massage table in the past two years speak highly of the value that it offers for the money.
Pros
It breaks down and has all the compartments for the accessories in the right place
Highly recommended for lash techs
The padding feels great and is soft
Fairly lightweight – you can carry it from your car to the client's home
Cons
While the side wings add to the table width, they do not support any weight
Wrap Up
If you need a dependable, convenient, and easy-to-assemble massage table that doesn't cost an arm and a leg, this one might fit the bill and meet your expectations. In any case, we hope that this Saloniture Professional Portable Massage Table Review has given you a picture of what it might offer you.