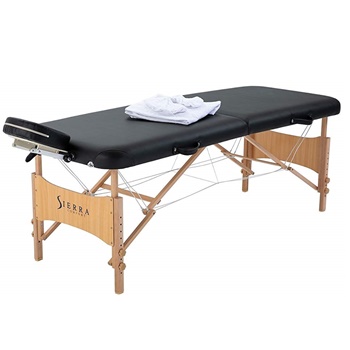 If you have been tossing and turning about picking a great portable massage table and you still haven't made up your mind, it's a good thing that you've ended up here. We've gone through a lot of information to make sure that our research is as in-depth as possible.
In the end, we came up with a Sierra Comfort Portable Massage Table Review which can let you know what the pros and cons of this model really are. It can also give you a clue as to whether you should invest in it or not. So, give it a go and keep on reading.
Features and Benefits
One of the first things that are worth noting about this model is that has very good construction. The beech hardwood used for the framework renders the unit quite sturdy while also keeping its weight within a decent limit. Additionally, the model boasts steel support cables which are widely known for offering more stability and also increasing the overall durability of the product.
The working weight of this portable massage table is estimated at 450 lbs, so that's something worth bearing in mind. The deck of the table is made from a layer of 2.5 inches of high-density foam, so it feels cushiony enough for most patients. It's comfortable and the upholstery is soft to the touch.
You might also want to know that the surface of the table is both oil and water-resistant, so it can put up with a lot of abuse over time. If you do spill something on the table, you can just wipe it clean with a cloth.
As for stability, you really have nothing to worry about with this product. It has adjustable legs and you can set the height as per your needs using the two adjustment knobs that the model is outfitted with on each leg. The legs are equipped with non-slip feet that make it possible for the massage table to remain in one place.
This product uses 3 hinges to be folded and unfolded and they work quite smoothly. The neat thing about it is that you don't have to take out the accessories when folding the unit.
Suggestions
Since the table is accompanied by a variety of accessories, you aren't going to have to invest in them separately. It comes with a semi-circular bolster, a towel hanger, an oil storage pouch, as well as an arm shelf.
Make sure that you avoid exceeding the weight capacity advertised by the manufacturing brand — this is something that the user manual advises against, as well.
Maintenance
Getting this portable massage table clean is quite easy as all you have to do for the purpose is to use a damp cloth and a sanitizing spray. You can also use disinfectant wipes, as well. Just make sure that the sanitizing solution can be used on this type of upholstery so that you don't accidentally damage the top.
Specifications
Size: 72 x 28 x 33 inches
Weight: 37 pounds
Weight capacity: up to 450 lbs
What to expect from the Sierra Comfort Portable Massage Table?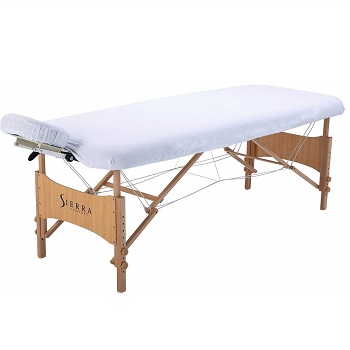 Although it's slightly less affordable compared to a wide variety of other products in the same line, the Sierra Comfort massage table has received a wide range of favorable reviews.
Over one thousand customers say that it has met and even exceeded their expectations. It's lightweight, easy to put together, well-made, and comes with a face cradle. What more could you want from a portable massage table?
Pros
Comes with more than enough accessories
The framework is stable
Can be assembled and disassembled conveniently and quickly
Very comfortable and easy-to-clean upholstery
Cons
Some users have noted that the side armrests can be a little flimsy and they can even bend during the massage
Wrap Up
Since it seems to be one of the most effective, durable, and convenient models in this category, we say that the Sierra Comfort unit might be worth giving a shot. After all, it is backed by a 5-year warranty, which is a reassuring aspect to consider.
We hope that our Sierra Comfort Portable Massage Table Review has assisted you in telling whether it might be a model suited for your needs.