Getting a top-rated portable massage chair in this day and age can be quite a tricky endeavor, and that's because the market is overflowing with all sorts of alternatives. If you know what you're supposed to look for in such a unit, you can select the perfect one quickly and conveniently. But if you don't, you should check out as many models as possible.
This post is a STRONGLITE Portable Massage Chair Review which contains all of the important information that you might want to be aware of if you're feeling tempted to invest in it.
Features and Benefits
One of the main characteristics of this product is that it is manufactured from upgraded aluminum, which means that it is highly portable. It can be carried with ease from one patient's home to another, so you don't have to worry about anything in this sense. The aluminum utilized in its construction has been heat-treated, so this chair can stand the test of time, as well.
Additionally, the Stronglite alternative is manually adjustable. You can alter and adjust the positions so that the chair caters to a variety of body frames. With this chair, you can elongate the armrest or the footrest, but you can also tilt and slide the chest rest. The face cradle position can be modified as per the patient's needs, as well. The massage seat is height adjustable.
You might also want to know that this unit is a winner when it comes to convenience, too, since it allows massage therapists to completely remove the leg pads for patients who've suffered from leg injuries, for example.
What's pretty neat about this unit is that it weighs in at around nineteen pounds, which means that it can be carried more or less conveniently. It can also be assembled and disassembled comfortably and in a timely fashion, allowing you to be more efficient.
Suggestions
The weight capacity of this product is 350 pounds — it has a total weight capacity of 600 pounds, but this is the working weight. We suggest that you avoid exceeding the weight limit to protect your patient and make sure that the chair doesn't become unsafe.
This is something that's suggested in the instruction manual, as well. The manual also contains information regarding the assembly of this product, so you needn't worry about anything in this respect.
Maintenance
The cover is made of PU leather, which means that it can stand the test of time and that it's also easy to clean. The material has both water and oil resistant capabilities, which means that you aren't going to have to stress out about affecting its durability or looks. To get it clean, just use a damp cloth often and pair it with a sanitizing solution once in a while.
Specifications
Size: 32x19x45 inches
Weight: 24 lbs
Weight capacity: 600 lbs
Material: PU Leather
What to expect from the STRONGLITE Portable Massage Chair?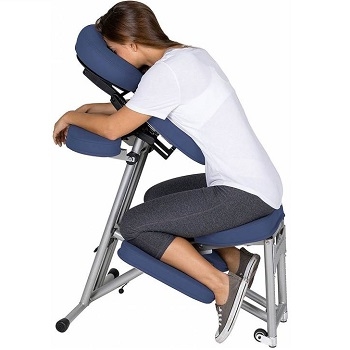 Described as a very nice and functional chair, many of those that have decided to invest in this unit say that it has met and even exceeded their expectations. However, there have been others who say that it's slightly squeaky but quite comfortable.
It does tend to cost a pretty penny, though, which might make it unsuitable for some prospective buyers. But since you get what you pay for, it's a good investment because it offers great value.
Pros
Very generous weight capacity
Covered by a 3-year full warranty
Weighs in at just 19 lbs, which is impressive for the weight that it can handle
Available in a very broad range of colors
Cons
The chest pad has been described as being a little flimsy compared to the rest of the chair
Wrap Up
If you have been searching the market for a rugged, easy-to-use, and very convenient product in this category, you should definitely look into trying this one out. After all, it's got a nice warranty, and you can always get in touch with the brand's representatives if anything goes wrong.
Hopefully, our STRONGLITE Portable Massage Chair Review has informed you with respect to most of the essential features that this unit can offer you.