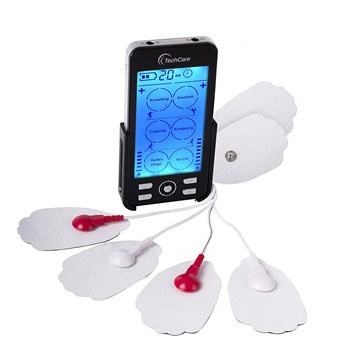 TechCare is a company that has been gaining a lot of momentum over the past couple of years, and that's because it seems to specialize in manufacturing good-quality products that don't break the bank.
If you've been searching the market for the perfect TENS unit and you're having a hard time selecting the right one, it's a good thing you are reading this post. We did a lot of research to bring you this TechCare TENS Unit Review so that you can tell whether you should consider investing in it or not.
Features and Benefits
This incredible TENS unit comes with as many as twenty-four modes that you can choose from. They are categorized by groups, with each one having four individual modes that you can pick. The groups are named Swedish, Kneading, Scrapping, Cupping, Reflexology, and Tai-Chi.
Selecting the perfect one boils down to your personal needs and preferences. Testing out the different modes first to find out what you favor is the best way of going about things.
The dual-channel design boasted by this choice recommends it, as well. There are two pads per channel, so you can utilize it either with two electrodes or four. The best thing is that each channel has independent intensity control. For instance, if you have back pain and you are using two pads on each of your back's sides, you can either increase or decrease the intensity on either side.
There are as many as twenty intensity levels that you can choose from. When it comes to ease of use, this device certainly seems to be a winner in that respect. It comes with five keys, one for mode, one for the timer, another for selecting the channel, and another two for increasing and decreasing the intensity.
The buttons are easy to push and have more than enough space between them, so you don't risk pressing two at once. As for the LCD display, it's sizable and convenient, and it shows you everything you need to know in terms of the selected settings.
Suggestions
Allow the unit to charge for a couple of hours. Then take every lead wire and plug it into the inputs that can be found at the top of the device. Adjust the time as per your requirements and do so by pressing the bottom left button. Use the 2 buttons on the right side to increase or decrease the intensity.
The left top button can be used to toggle between 24 different modes, so just pick the one that suits you the most. The device will turn itself off when the preset time expires. For more information, check the instruction manual that accompanies the main unit.
Maintenance
While most of the parts of the device are fairly easy to clean, when it comes to real maintenance, you will have to care for its battery. The battery is rechargeable and it will work with just 20 minutes of charging time, but it will be less capable of excellent performance as time goes by.
To avoid any mishaps and to protect the life of the battery, we suggest that you leave the device to charge for at least 24 hours upon getting it delivered to your home. Around 20 hours of charge will give you 20-minute daily use for up to two months.
Specifications
Weight: 13 ounces
Size: 3.75 x 1.9 x 3.3 inches
Channels: 2
Rechargeable battery: Yes
What to expect from the TechCare Massager TENS Unit?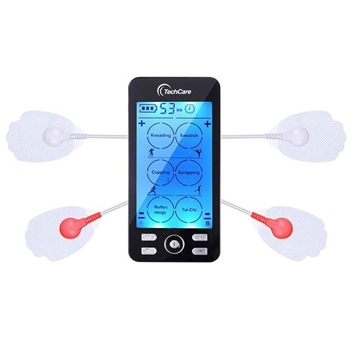 We were pretty surprised to see the amount of appreciation received by this model. People describe it as being a little better than a physical therapist in that they can use it in the comfort of their own home and they don't have to pay for each session, either.
Most of those that have given it a shot have experienced a quick improvement in their pain levels. Also, many speak highly of the convenience offered by the charging options that you have available with this model. Apparently, if you have a cable and a USB port available or a power bank, you can charge the unit even from these sources.
Pros
Very budget-friendly, especially for the features it comes with
You can run different intensities and modes with the two outputs
A large, easy-to-read LCD display
You can use two pads for your lower back and other two for your shoulders, for example
Cons
It doesn't have a belt clip
The display isn't a touchscreen
To get to the mode you want, you need to scroll through the entire sequence
Wrap Up
Hopefully, this TechCare TENS Unit Review was clear enough for you to tell whether this device might help you or not. It's pretty good for the cost and it can offer you pain relief and also relax you at the end of a hard day. We say it might be worth giving a shot.