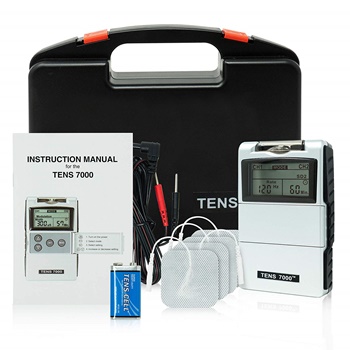 TENS units are made to relieve pain, so they don't look like fashion accessories. If you're interested in getting such a device and you've already come across the one that we're discussing in today's post, you might have noticed that it looks like it's an old-fashioned radio.
But is it capable of meeting and even exceeding your expectations? Find out the answer to this question by reading the TENS 7000 review below.
Features and Benefits
There are as many as five different modes to choose from on this device: burst, normal, modulation, SD1, and SD2. Along with these available modes, you'll find that there are three other settings that can be adjusted — pulse width, intensity, as well as frequency.
The combinations of the modes and customizable settings gives you a lot of flexibility and freedom in terms of how you can make the most of the therapy. Most other models available out there don't offer half as much versatility. The TENS 7000 model, on the other hand, allows you to tweak the controls until you find the best setting for your needs and preferences.
Another neat feature boasted by this option is the timing function. You can adjust the time of each session in 5-minute increments, and the best thing about it is that you can use the product for as many as 60 minutes. Most of its competitors come with automatic shut-off systems that make the devices turn off after 15 or 20 minutes.
This budget-friendly model comes with a dual-channel design, so it can be used with two or four pads at a time. Therefore, you can treat two areas or both sides of your body at the same time.
When it comes to the intensity levels available, you can select the one that you prefer within the range of 0 to 100 mA. You have 8 levels to choose from. We suggest that you start with the lowest one possible when you use the device for the first time.
Suggestions
Operating the device can be very easy, especially since it has a variety of settings that can be customized. The instruction manual that accompanies the TENS unit clearly explains what you're supposed to make of the modes and functions available.
The control buttons are easy to see, clear and easy to press, and there are just 6 with the help of which you can adjust all of the features. There's a countdown timer available on the interface and you might also want to know that the screen of the unit is backlit.
Maintenance
Cleaning the unit can be done effortlessly. You can simply use a damp microfiber cloth or a sanitizing solution and a paper towel. You don't have to do anything about preserving the life of the battery since this product comes with a built-in one, not a rechargeable one.
This means that you'll get more battery life out of it over time. On the other hand, it can also be a disadvantage since you can't benefit from the same portability as with other models.
Specifications
Size: 8.8 x 2 x 7.8 inches
Weight: 1.20 pounds
Pads: 4
Therapy Modes: 5
Cordless: No
What to expect from the TENS 7000 Digital TENS Unit?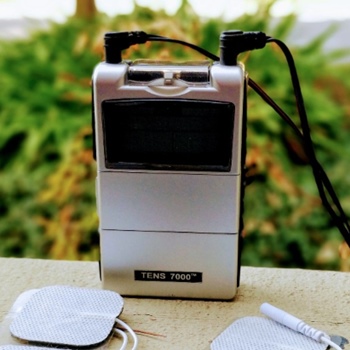 Despite being one of the most budget-friendly models that we came across, the TENS 7000 alternative has received favorable reviews from those that have given it a shot. It's generally described as being powerful, easy to use, and actually capable of easing pain.
There have been some complaints that we stumbled upon and according to which the unit stopped working after about 2 to 3 months following the purchase. However, the brand took care of all of these issues and provided replacement units.
Pros
Easy to use and convenient design
Comes with more than enough modes and settings
You can control the frequency, intensity, and pulse duration
The stimulation is quite powerful
Cons
Some concerns regarding the durability of this item were expressed in the user reviews, so make sure that you get in touch with the brand's customer service as soon as you notice something suspicious.
Wrap Up
Hopefully, our TENS 7000 review helped you tell whether you should give this model a chance or try out something different. In our opinion, the device offers good value for the money, and since it's one of the most affordable choices out there, it's worth considering.
It might also make a great option for someone who isn't accustomed to the way TENS therapy works or someone who's not feeling prepared to make a huge investment in a high-performance unit.