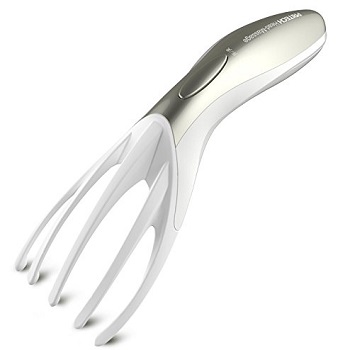 If you are looking for the right head massager for scalp relief and you're tired of losing a lot of time on doing your own research, you've come to the perfect place. We have analyzed a lot of information regarding the Tezam model to see whether it's actually worth considering or not.
Read the Tezam Head Massager Review below if you would like to find out everything you want to know about its pros and cons and the way other customers regard it.
Features and Benefits
The Tezam model works as a hand stimulation massage and it is fully capable of offering as many as 8,500 micro-vibrations per minute that goes by. The unit also features dual motion, along with tapping, as well as vibration. It is basically designed to replicate the finger movement of a real massage therapist, and it manages to raise up to par, based on the info that we have found about it.
One of the reasons why it should be jotted down on your list is its lightweight and portable design. Unlike some other handheld massagers, this one works with batteries and it can be turned on easily and conveniently, with just the push of a button. Under the usual circumstances, this model has a runtime of about two weeks.
As we might have mentioned in the introduction of this article, we have gone through hundreds of models before bringing you this information. Well, while doing so, we also noticed that this product has a drawback.
Versatility
If you are a fan of versatility and you're looking to get the most out of your head massager by using it on other body regions, as well, you might want to know that this product doesn't come with different massage head attachments. There's nothing stopping you from using the device as it is since it can offer a pretty good massage, but you aren't going to be able to benefit from what other accessories might give you.
The massager does a good job when it comes to stimulating your scalp circulation, which is why it is considered a great tool for people who want to boost their hair growth. Being capable of relaxing you at the end of a hard day, we'd like to note that this model has received favorable reviews with customers saying that it has helped them get rid of headaches and tension.
Additionally, this head massager isn't as strong as some of its competitors, which is why we found it hard to discover many complaints about the massage being too powerful. It definitely speaks to the needs of people who appreciate mild and gentle head massages.
Specifications
Weight: 0.1 pounds
Power source: AAA batteries
Design: Cordless
Waterproof: No
What to expect from the Tezam Scalp Massager?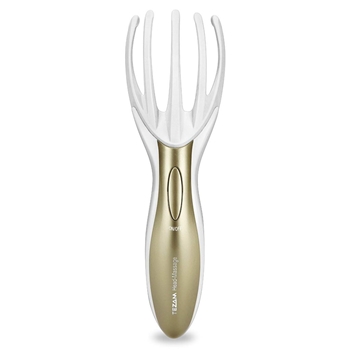 Most of those that have opted for this device seems to have nothing but great things to say about its performance. Many customers describe it as sturdy, easy to clean, convenient, and user-friendly, and it is also comfortable to hold in your hand. It doesn't tangle your hair or pull on it, which is an advantage in itself.
However, this is not a high-performance handheld massager, as would be the case with other products. The user manual suggests avoiding getting the device in contact with water so as not to affect its construction. Other drawbacks are that it can be rather loud and its fingers do not move.
Pros
Handy portable design
Cordless construction makes it easy to use anywhere
Great for people who suffer from migraines
Stimulates hair growth
Cons
The vibration intensity might not be enough if you're used to getting strong head massages
Wrap Up
If you are in the market for a pretty basic, affordable head massager, this one is worth bearing in mind. It gets the job done and it has good performance, but you can't make the most of it by using it on other body regions, for example.
In any case, we hope that our Tezam Head Massager Review was clear enough for you to tell whether it might benefit you or not.