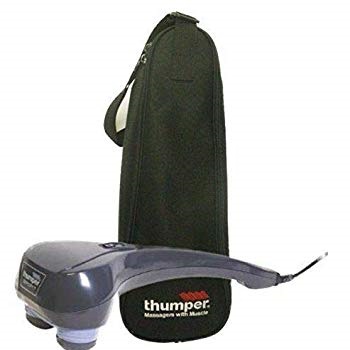 The Thumper Sport Percussive Massager is a handheld unit that can be bought for a decent price. The model is capable of transmitting energy deep into your muscles through its patented percussive technology. To find out more about it and how you can benefit from it, read our comprehensive Thumper Handheld Massager Review below.
Features and Benefits
One of the most significant features of this alternative is its technology. It has excellent performance and is known for relaxing you at the end of a long and hard day spent at work. Besides, it has variable speed control, which means that you can customize the functions of the device as per your personal needs.
The speed control varies within the 20 to 40 pulses per second range. This means that the Thumper model is able to promote the natural healing of your muscle tissue since this frequency matches the normal healing frequency of your body muscles.
Another benefit ensured by the design of this product is that its system prevents low-speed stalls. Therefore, it creates a quite pleasant massage experience without suffering from interruptions.
If you are worried about reliability, we'll put your mind at ease by telling you that the unit is outfitted with a heavy-duty motor that keeps the unit functioning whenever you want. The solid and consistent performance ensured by the product means that you can rest assured that you are going to benefit from its service for a long amount of time.
Additionally, the massager comes with interchangeable spheres that let you adjust the experience depending on how you want it to be. You can use this massager to loosen up your muscles after an intense workout or just wind down at the end of the day. It works for all of your body regions, so you can conveniently utilize it on your neck, back, or shoulders, for example.
It's also worth noting that the unit comes with a long, ergonomic handle that makes it easy for you to maneuver it across all of the body regions that need soothing. Even though it has a somewhat basic appearance and a set of simple settings, this handheld massager matches the performance of more expensive options.
It's also quite easy to use, no matter if you are tech-savvy or not, since it has an adjustable dial with the help of which you can set the right speed.
Specifications
Size: 19.5 x 5.8 x 6.5 inches
Weight: 3 lbs
Voltage: 120V
Cordless: No
What to expect from the Thumper Handheld Massager?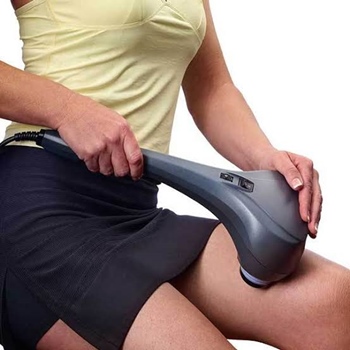 From what we have noticed, most of the people who have opted for this product have nothing but positive things to say about it. Customers are quite happy with the way it works and how it can relax them and reduce their muscle pains. Others note that they've learned to use it properly only after reading the user manual from Thumper's official website.
As for the value offered by the Thumper, many consumers note that it is worth every penny. It is a little on the heavy side of things, though, so it might not be suitable for travel. Some of the reviews note how the percussive massager works great for all types of muscles and ligaments, including the psoas muscle. Several owners have even used it for weight loss, combined with exercise.
Pros
Deep percussive vibration that loosens up tight muscles and alleviates soreness
User-friendly design makes it easy to hold
The easy-to-use rotary dial allows you to set the right settings
Cons
Can be too strong for some customers
Some buyers have complained about the power cord is too short
Wrap Up
This unit is a massager that delivers plenty of relaxation and pain relief to a variety of muscles in your body. It is fully capable of helping you get rid of stress and aches, and its user-friendly design allows you to utilize it without encountering too many difficulties.
It's also worth noting that it is backed by a two-year warranty, so if you run into any problems, you can just get in touch with the manufacturing brand's representatives.
We hope that our Thumper Handheld Massager Review has assisted you in understanding whether this model addresses your needs or not. As a final note, we would like to suggest that you spend some time browsing through other models, as well, to compare them as best as possible.