Getting a head massager these days can be a bit of a challenge, especially since the market is overflowing with all sorts of products. If you have done a bit of research, you might have already come across the TOUCHBeauty model.
If you're still having trouble telling whether it addresses your needs or not, we suggest that you take the time to read our TOUCHBeauty Head Massager Review. We made sure to include in it all the information that you need to be aware of.
Features and Benefits
The TouchBeauty unit is basically a brush that relies on sonic vibration to do what it is supposed to. The best thing about it is that it is fully capable of alleviating headache symptoms and allowing you to get rid of the tension that might have accumulated in your head area throughout a hard day. The device's primary function is to help you wind down and relax.
It can also improve your local blood circulation, which means that you'll notice that your hair will look healthier and shinier, and it will also grow faster. This is all due to the fact that with the scalp stimulation comes the skin's ability to get more nutrients and oxygen from the local blood circulation.
Moreover, the TouchBeauty alternative comes with three different attachments. While one head attachment is made of silicone and is designed for massaging your scalp, there is another that is plated and a lot firmer. Needless to say, the latter speaks to the needs of people who appreciate a firmer head massage.
Extra Features
While it is true that the product is incapable of imitating the moves that an actual massage therapist would use when giving you a head massage, it still vibrates nicely against your scalp. The third attachment included with every purchase is the facial cleansing brush head. The facial cleaning function is comfortable, as well as gentle, and it undoubtedly allows you to make the most of it in the long run.
With the help of this product, you can get rid of product buildup in your hair, but also in your face. It removes dirt from your face and when used on your scalp, it can also allow you to gradually get rid of dandruff.
If you decide to stick with the silicone head attachment, you'll be happy to know that you can use it on other body areas – your back, your neck, or your shoulders. It's true that the model might be less powerful compared to other massagers, but it still vibrates enough to give you a good massage.
Specifications
Size: 50.8 x 24.8 x 22.8 inches
Weight: 15.7 ounces
Power: 3V/2.4W
Batteries: 2 AA
Design: Cordless
What to expect from the TOUCHBeauty Scalp Massager?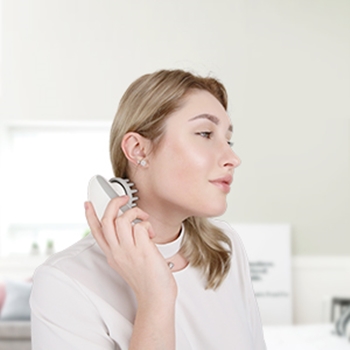 Most of those that have chosen this product seems to have favorable things to say about it. It works well, it can be used on multiple body regions, and it also boasts a cordless design, which means that you can take it anywhere. For more information on how to properly use the product, we suggest taking the time to read its user manual.
What's also worth noting about the TOUCHBeauty option is that it is backed by a 1-year warranty and a 30-day return guarantee. Therefore, if you fail to be satisfied with the model, you can simply get in touch with the company's customer support and return it.
Pros
Can be used on other body parts, not just your head
Comes with two massage heads
Cordless design makes it portable
Cons
This one can be a little noisy, especially if you use a higher intensity.
Wrap Up
As you might have noticed, this product has received plenty of favorable reviews from those that have given it a try. It's effective, convenient, and portable, so you can use it anywhere you go. It can even be used as a facial cleansing brush.
In the end, we hope that our TOUCHBeauty Head Massager Review has assisted you in telling whether you'd benefit from giving it a shot or not.