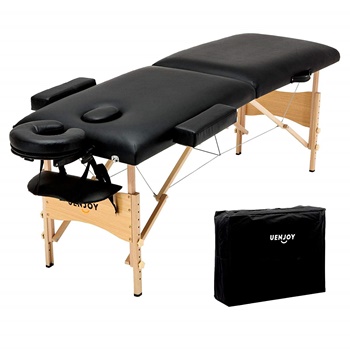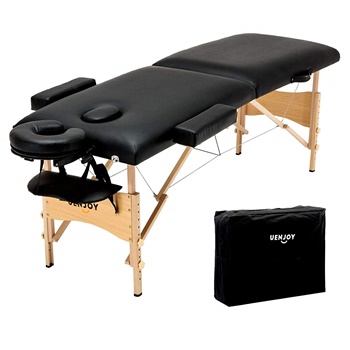 Getting a sturdy portable massage table can be paramount if you are a massage therapist and usually do your sessions at your clients' homes. But choosing the right model can be time-consuming and challenging since there are so many options available for sale.
We've noticed that this Uenjoy model has acquired a lot of appreciation, so we decided to put together a Uenjoy Portable Massage Table Review. Keep on reading to find out whether this unit offers good value for the money.
Features and Benefits
Despite being one of the most affordable products in this category, the Uenjoy alternative is entirely worth considering. It has a weight capacity of 500 lbs, so it is a lot sturdier compared to some of the other choices out there.
The 23.5-inch width makes it beautiful and comfortable, and the nice thing about it is that it can accommodate a variety of body shapes and sizes.
It's also worth noting that this massage table comes with waterproof and oil-resistant PVC covering. The table boasts a 1.57-inch layer of high-density foam, which means that it is cushiony enough and that it offers plenty of support to the person lying on it.
As for installation, we'll put your mind at ease about this aspect. This table is very easy to install and you aren't going to need any tools for the job. You can simply open and unfold it right from the middle and its legs will automatically fall into place. The table comes with a detachable headrest and armrest, and you need to remove them to pack the product.
Additionally, another neat thing about this unit is that it is height adjustable from 22.8 inches to 33.5 inches. The total weight of the portable massage table is 37 lbs, so it is a little heavier compared to some of the others you might have come across.
Suggestions
Even though it is marketed as having a weight capacity of around 500 lbs, we would advise being extremely cautious when using this product. There haven't been any complaints regarding its durability, but you do have to add your pressure force to the weight of your client. This is what the user manual recommends, as well.
Maintenance
Since this one has a PVC covering, it is very easy to care for this massage table. We do recommend using either disinfectant wipes or a disinfectant spray once in a while to make sure that you sanitize it properly. Other than that, if you cover it with large towels, you can simply remove them in-between clients and clean the covering with a damp cloth and some alcohol.
Specifications
Size: 84" x 27.5"
Height adjustable: Yes
Weight: 37 lbs
Sponge width: 2.75"
What to expect from the Uenjoy Folding Portable Massage Table?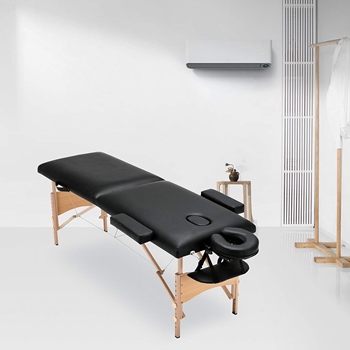 The majority of the individuals who have taken the time to write reviews of the Uenjoy model seem to have only positive things to say about it. It's easy to put together and can be used both at a salon and at home. There are lash technicians that have gotten a lot of value out of it over time.
It looks quite luxurious, based on the feedback of some people. Some have noted that it might be a little narrow compared to what they had expected.
Pros
Easy to set up and disassemble
Can be cleaned with as little effort as possible
Hardwood frame renders it durable
Doesn't cost an arm and a leg
Cons
Some customers have reported that the foam can feel a little too hard against your body
Wrap Up
If you have been searching for a budget-friendly unit and you've failed to find a model that meets your expectations, this Uenjoy one might be right up your alley. We hope that our Uenjoy Portable Massage Table Review informed you with regard to all of the features and benefits that you should know about this product.