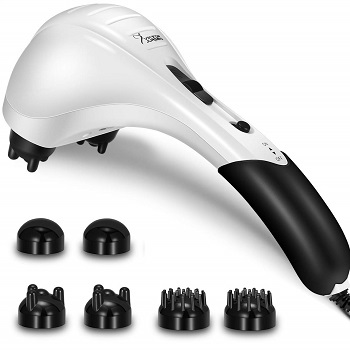 If you've been searching for a good handheld massager, but you haven't managed to find the right one just yet, the Viktor Jurgen alternative might be right up your alley. It comes with most of the features that you'd want from such a product, and what makes it incredibly appealing is the fact that it's outfitted with dual head attachments.
To find out more about how this unit can help you get rid of muscle strain and pain, read the Viktor Jurgen Handheld Massager Review below.
Features and Benefits
The neatest thing about this model is that it combines various movements with pressure so as to mimic the moves of an actual massage therapist. Besides, it comes with as many as three sets of massage heads, so you can simply use the one that best suits your momentary requirements.
The durability of the product is another aspect to bear in mind. After all, you wouldn't want to spend your hard-earned cash on a model that doesn't stand the test of time and that forces you to get a replacement too early. The sturdy double construction of the unit makes it reliable, and the two massage nodes on the main attachment take the experience to a whole new level.
You also have quite a bit of freedom in terms of the types of massage that you can opt for. For example, you can pick intensive massage, circular massage, or opt for the deep tissue option. Another benefit that's worth considering is that you can customize the settings by choosing the right speed. Since the motor is rugged and capable of supporting up to 3,350 pulses per minute, you don't have to worry about it not being too strong.
Customizing and Design
If you're having trouble telling what features you're supposed to utilize to adjust the settings as per your personal needs, just refer to the user manual. Generally, most of the people who have chosen this product say that customizing the speed and intensity is really easy.
Since this is a handheld unit, it comes with an ergonomic design, which means that it is easy to hold in your hand. The handle is non-slip, so you aren't going to drop the device on the floor and risk damaging it.
While this is not a cordless alternative, it does come with a cord that measures 71 inches. This gives you some freedom in terms of where you position yourself in the room where you're going to give yourself the massage. With this versatile and functional model, you can get rid of some of the pain and discomfort that you might be feeling on a daily basis.
Specifications
Weight: 3.35 lbs
Size: 6.7 x 5.5 x 14.6 inches
Cord: 71 inches
Voltage: 110-240V
What to expect from the VIKTOR Jurgen Handheld Massager?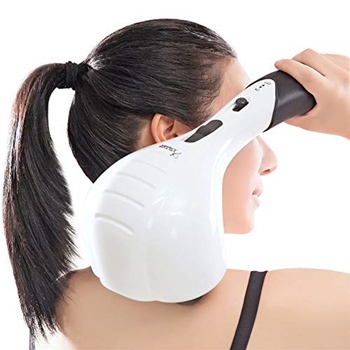 From what we have noticed by going through the reviews gathered by this unit, it seems to be worthy of your consideration. It has been used by people experiencing different types of pain and in various body areas, so it is a winner in terms of versatility. The cord is longer than what most consumers had expected it to be.
Despite boasting a somewhat large operating head, the massager is truly ergonomic, which means that you aren't going to find it difficult to hold. Some users have recommended that you avoid using it for more than a quarter of an hour, though, due to the risk of getting it too hot and damaging it.
Pros
The double head covers a bigger body area compared to other massagers
The long cord gives you freedom of movement
It's quite efficient since it boasts a copper motor
Cons
Since the nodes are made out of plastic, they might not feel very good on body areas with sensitive skin
It is on the heavier side of things, but its ergonomic design makes handling easier
Wrap Up
Given the value that it offers and its cost, as well, the Viktor Jurgen model is definitely worth taking into account. We suggest that you take some time and read some consumer reports, but on the whole, we hope that this Viktor Jurgen Handheld Massager review has helped you understand whether you might benefit from using it on your achy body areas.