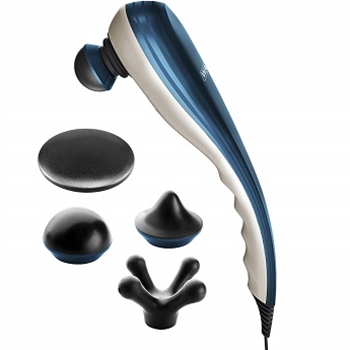 The Wahl 4290-300 model is among the most popular handheld massagers currently available, but we know that it can be difficult for you to understand whether it actually does a good job or not. Often times, the product description at various online marketplaces can be too positive, in that you aren't going to find out about any of the drawbacks that the device might have, as well.
To find out whether this product addresses your requirements, we suggest you take some time and read our Wahl Handheld Massager Review below.
Features and Benefits
One of the first things that you will notice about this model, especially if you compare it to others available for sale these days, is that it comes with as many as four different massage heads. Each of them is designed for a specific task, so you can conveniently utilize them so as to customize your massage experience. This means that you can make the most of the unit every single time.
For example, the four-finger flex attachment is made to mimic the hand movements that a massage therapist would use in real life. This head attachment can provide a soothing massage, and you can utilize it on any body part without worrying about getting it sore.
On the other hand, the deep muscle massage attachment can be utilized to massage your tired muscles. Due to its design, it applies more pressure, so it is recommended for areas where you have more muscle tissue — such as your legs, for example. This attachment is capable of stimulating your muscles, improving your flexibility, and also boosting your local blood flow.
Additionally, the model is accompanied by an Acupoint massage head, as well. This one is also made to provide you with a deep tissue massage. It is outfitted with a narrow tip, so it's better suited for specific pressure points. You can undoubtedly use this attachment to provide relief to muscle tension knots that you might have developed over the course of a long day spent working or doing chores.
It's also worth noting that the unit comes with a wide flat disc, as well. While this one might look a little strange, it is the best when it comes to covering a wider area (such as your back or your legs, for example). You can even massage the soles of your feet with this one.
In any case, to find out how you're properly supposed to use the device, make sure that you refer to the instruction manual provided by the brand.
Specifications
Size: 16 x 6.5 x 10.9 inches
Weight: 3 lbs
Voltage: 120V
Cordless: No
What to expect from the Wahl Handheld Massager?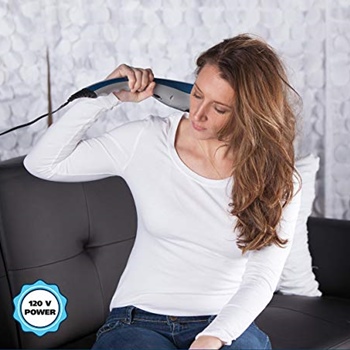 Based on the reviews acquired by this option, it seems to be pretty reliable. Without a doubt, this is due to the fact that the massager is equipped with a rugged and dependable motor, which is capable of producing up to 3,350 pulses per minute. Besides, you can adjust the intensity of the massage, which is a net benefit since some people are more sensitive, whereas others prefer a rougher massage.
While this is not a cordless alternative, it is worth noting that it comes with an 8-foot power cord. This gives you a little freedom in terms of where you might want to sit in your room. Plus, you will have to move the unit around depending on the area you're looking to massage, so the longer cord helps with this, as well.
Pros
Plenty of massage attachments for every need
The ergonomic design makes it easy to hold in your hand
Allows you to customize the massage as per your specific needs
Cons
It makes some noise
Some customers have reported that this massager can be a little too strong for them, so start with the lowest setting first.
Wrap Up
For a unit that doesn't cost a fortune, the convenience and performance of this device is quite impressive. It is capable of relieving pain in your back, shoulders, neck, legs, and everywhere else, and it can even be used on the soles of your feet.
We hope that this Wahl Deep Tissue Massager Review has helped you understand whether you need this user-friendly model or you should choose a different one.