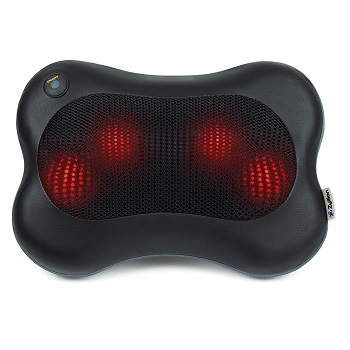 These days, due to the wide variety of products that are available for sale, you might not know which massager works best for your needs and preferences. You might have come across this Zyllion massage cushion during your research.
If you haven't been able to tell whether it addresses your requirements or not, take some time to read our Zyllion Shiatsu Back Massager Review. You'll find all of its essential features, pros, and cons described below, and we'll even give you some advice on how you're supposed to make the most of this unit.
Features and Benefits
One of the first things that make this model stand out from the crowd is that it comes with Shiatsu back massage. This feature is a benefit in itself as it effectively imitates the finger pressure that a massage therapist would apply when massaging your body. Shiatsu is said to improve your circulation and flexibility, boost your immune system, and eliminate toxins from the local tissues.
Additionally, you might want to know that this model comes with a built-in infrared heating function. Heating is extremely useful when it comes to relaxing your muscles and it can also improve your local blood flow, allowing your cells and tissues to receive more nutrients and oxygen so that they can recover.
As for safety, this model comes with built-in overheat protection, which means that it will shut down when it gets too warm. There's no need to worry about the unit getting damaged since this setting makes this impossible.
In case you didn't know, most massage therapists and doctors recommend massage sessions that last for twenty to thirty minutes tops. This is especially true when you use a massager at home. Well, luckily for you, this device comes with an automatic shut-off after twenty minutes, which means that you can both protect your muscles indirectly and do the same for the device.
The ergonomic design boasted by this model is another thing worth writing home about. It's lightweight and convenient, so you can use it pretty much anywhere, whether at home or at the office.
Suggestions
As the user manual suggests, it might be a good idea to start with the lowest setting first. There have been some reviews from people according to which the massage can feel too hard on their backs. If this happens, we suggest that you place a towel between the massager and your body to feel less pressure.
You aren't restricted as to where you can use this massager. Since it basically looks like a pillow, you can use it on your neck, upper back, abdomen, calves, or thighs.
Maintenance
To clean the device once in a while, just use a damp cloth. We couldn't find any information according to which the leatherette pouch that covers the massager is removable, so make sure that you use protective materials in between your body and the device so as not to get it very dirty.
Do this especially if you intend to apply anti-inflammatory gels on your back before using the massager.
Specifications
Size: 13 x 9.5 x 3.5 inches
Weight: 4 pounds
Car adapter: Yes
FDA listed: Yes
Rechargeable: No
What to expect from the Zyllion Shiatsu Back Massager?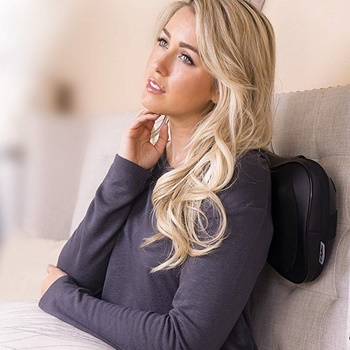 Most of the feedback received by this model is favorable, with consumers saying that it has exceeded their expectations. Many individuals note that they have gotten rid of chronic pain after starting to use this massager regularly. As for durability, there were people that have used the model for more than 4 years without experiencing any issues with it.
Pros
Ergonomic design with an ultra-slim body
Adjustable straps so you can fasten it to your favorite chair
Heating and Shiatsu massage
Plenty of adaptable functions
Cons
The intensity of the massage can be too much for some people, which is why we recommend using the lowest possible setting when you utilize the device for the first time
This is not a cordless product
Wrap Up
If you're looking for a massager that is compact, lightweight, and above all, versatile, this one should fit the bill. We hope that our Zyllion Shiatsu Back Massager Review was able to tell you everything you wanted to know about its advantages and disadvantages and that now you have a good idea of whether you should give it a try.