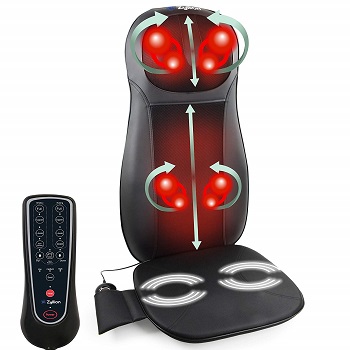 With its simple design and user-friendly features, this Zyllion model could be a massage cushion that you might have come across while doing your research.
If the information that you have stumbled upon until now has been insufficient, we suggest that you take the time to read our zyllion massage cushion review. We made sure to include the pros, cons, and everything else you might want to know about this unit.
Features and Benefits
The versatility and adjustability of this model are among the most important features that you ought to consider. You can select to focus the massage on your lower back or shoulders as per your momentary needs. You can just as well decide to massage the whole length of your back.
The rollers of the cushion are capable of massaging your back from different and multiple angles, which means that you will get to benefit from a unique and effective massage cushion experience. The vibration function boasted by the product is another thing worth writing home about.
While the seat cushion is not outfitted with any rollers, it can rely on the vibration to massage your lower back and bottom. This feature comes with as many as three intensity settings, and as per the user manual, it might be a good idea to start with the lowest one first. It's also worth noting that the vibration can be turned on and off independently.
As for the massage techniques boasted by this choice, the Zyllion alternative will definitely meet your expectations in this respect. The unit is capable of performing as many as three different types of massage. You can choose from Shiatsu, rolling massage, or a combination of the two.
Additionally, the massage cushion comes with heating, a feature known for being capable of stimulating your local tissues and cells so that they receive more nutrients and oxygen. You can take the massage to a whole new level while using the heating, too, by opting to have the rollers move up and down your back.
Suggestions
It's a good thing that this product is outfitted with overheat protection as this will make it possible for you to enjoy it for a longer amount of time and it will also prevent your muscles and tissues from getting injured. It's not a good idea to use the cushion for more than fifteen minutes, anyway, so it's reassuring to know that it will automatically shut itself off after that time span.
You can adjust the settings of the massage cushion by using the remote control with as little effort as possible.
Maintenance
Fortunately, the materials that this massage cushion is made of make it very easy to clean. All that you will have to use to get it to look as if it were brand new is a damp cloth or a pack of wipes. We advise against using harsh detergents or disinfectants as they might affect the look and feel of the product in the long run.
Specifications
Size: 30 x 16.5 x 7.9 inches
Weight: 15.5 inches
Voltage: 100-240V
Car adapter: No
What to expect from the Zyllion Shiatsu Massage Cushion?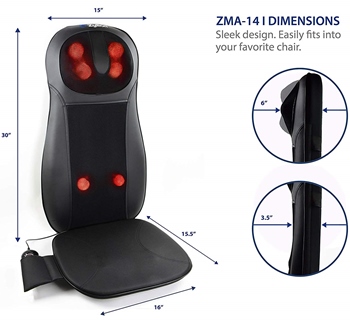 Most of those that have decided to invest in this product seems to have nothing but positive things to say about the way it works. It's good quality and durable and it works for people who are quite tall. If you have been experiencing knots and sore muscles, you should definitely give this one a try.
Also, if you work in front of the computer for several hours every day, you might also benefit from regular 15-minute massage sessions with this product.
Pros
Reliable performance
Easy-to-use thanks to the remote control
Incredible customer service – the brand apparently replaces any faulty products without asking any questions (90-day window)
Cons
This massage cushion is virtually incapable of massaging your whole back as there is a space between the lower and the upper rollers where you aren't going to feel any pressure whatsoever.
Wrap Up
If you are in the market for a safe, dependable, and very user-friendly massage cushion, it might be a good idea to consider this particular one. In any case, we hope that our zyllion massage cushion review was able to inform you with regard to the most important features that you should know about this model.