People who love aromatherapy or just want to keep their living environment smelling nice will want to look for the best incense sticks. Incense has been used since ancient times for prayer, meditation, relaxation rituals, and aromatherapy. It can even be used as an insect repellant, or simply a source of a nice smell in your living room.
If it just so happens that that's what you're searching for, you'll be glad to know that you've ended up in the perfect place. Our article contains a lot of information like what incense sticks are, whether they offer any benefits, what they're made of, as well as other things you should know. But first, let's look at some incense stick reviews of some options that are widely popular nowadays.
See The Quick Comparison Chart
Benefits of Incense Sticks
Some types of scents can have different responses on the part of people. They can encourage relaxation, promote concentration, aid sleep, increase motivation, stimulate creativity, and even heighten sexual desire. Furthermore, incense has been used in the past for a wide array of religious, practical, and aesthetic reasons. Specific fragrances can be utilized for specific purposes. Let's look at some of the benefits of burning incense sticks.
1. Reduce Stress and Anxiety
Fragrances such as sandalwood, rosemary, and lavender are the best when it comes to making you relax and helping you wind down at the end of a hard day. If you also get a nice massage in the meantime, you will finally be able to say goodbye to the anxiety and stress associated with your daily activities.
The scents that we've mentioned can reduce body activities like your heart rate or breathing. If you don't have the option of getting a massage, at least you can sit back and relax in a comfortable recliner.
2. Relax and Unwind
Curl up on the sofa with a cup of your favorite tea, a book, or some chilled-out music in the background and let your incense stick get the job of relaxing you done. You can also run a bath while burning incense cones or sticks or use a zero-gravity massage chair to get rid of the tension.
Some of the best fragrances for relaxation are cedarwood, frankincense, as well as sandalwood.
3. Spirituality
Burning incense can be a doorway to spirituality, whether formal or informal. Incense has been utilized for thousands of years in many religions across the world from Hinduism and Buddhism to Christianity.
4. Meditation
Incense can be used to deepen attention, uplift one's spirit, or heighten your senses as you practice meditation. Typically, the passing of time isn't measured when you meditate, and this can be quite difficult for someone who has a hard time winding down. Some of the best fragrances for meditation are sandalwood and lotus.
5. Mindfulness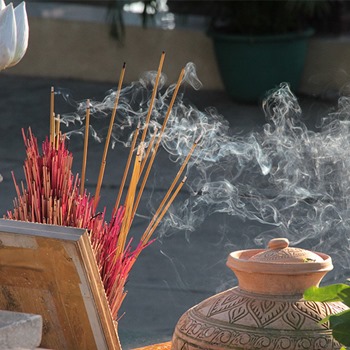 You create good Karma if you take an incense stick and light it. It's a simple way of doing something without any expectation in return. It's also a mindful activity that can help you take time in preparation, the selection of your incense stick, and then lighting it.
6. Stimulate Creativity
There are many fragrances that can be utilized to enhance your abilities, improve your mental performance, and stimulate ideas. Some uplifting fragrances range from lemongrass and geranium to citrus scents, aloeswood, and ylang-ylang.
7. Aid Sleep
More and more people have a hard time falling asleep or wake up in the middle of the night. In this day and age, we are often so overcome by the daily stressful activities that we might end up suffering from insomnia. Burning an incense stick can have a subtle effect on the mind and body, which means that they are associated with sleep improvement. Chamomile, vetiver, as well as lavender, are some of the best fragrances for this.
8. Yoga Practice
Incense has been used in yoga practice for hundreds of years. Burning an incense stick can help you get mental focus and get your body ready for yoga. Just make sure you don't use artificial fragrances, as they can be so strong that they might disrupt your yoga session.
9. Air Purification
There are some floral-based ingredients in incense sticks that have antibacterial properties. Using incense can be done for improving the quality and smell of the air in a room. If you want to get rid of unwanted household smells from cooking, damp clothes, or pets, you can use potent fragrances such as myrrh, cedar, or citrus.
10. Medicinal Purposes
Good aromas generated by incense sticks can raise serotonin levels in the brain. This means that these products can be used as an alternative to taking traditional pharmacological drugs. An increase in serotonin is synonymous with a better mood.
Incense is a natural mood stabilizer that helps with eating, sleeping, as well as digestion, and that regulates anxiety, reduces depression, and also reduces headaches. We recommend rose incense sticks for this purpose.
Best Incense Sticks Comparison Chart
PRODUCT
DETAILS

HEM Incense Sticks Best Sellers 6 Boxes X 20 Grams

Price: $
Customer Rating: 4.4
Length: 4.75 inches
Burn Time: 30 mins
Number Of Sticks: 600

View On Amazon

Chakras Incense – 140x Sticks lasting 60+ minutes each

Price: $$
Customer Rating: 4.4
Length: 11 inches
Burn Time: 1h
Number Of Sticks: 140

View On Amazon

Nippon Kodo Kayuragi Incense Sticks – Sandalwood, Japanese

Price: $
Customer Rating: 4.4
Length: 6.5 inches
Burn Time: 25 mins
Number Of Sticks: 40

View On Amazon

Gonesh Incense Sticks Variety Value Pack (100 Sticks)

Price: $
Customer Rating: 4.4
Length: 12.2 inches
Burn Time: 1h
Number Of Sticks: 100

View On Amazon

Juniper Ridge California White Sage Large Incense Smudge Wand

Price: $
Customer Rating: 4.5
Length: 11.9 inches
Burn Time: 1h
Number Of Sticks: 1

View On Amazon

Plant Guru Unscented Incense Sticks, 1000 Pack

Price: $
Customer Rating: 4.1
Length: 11 inches
Burn Time: 45 mins
Number Of Sticks: 1000

View On Amazon

Nippon Kodo Morning Star Incense – 12 Fragrance Assortment

Price: $$
Customer Rating: 4.2
Length: 4.75 inches
Burn Time: 30 mins
Number Of Sticks: 600

View On Amazon
Best Incense Sticks Reviews
1. HEM Incense Sticks Best Sellers 6 Boxes X 20 Grams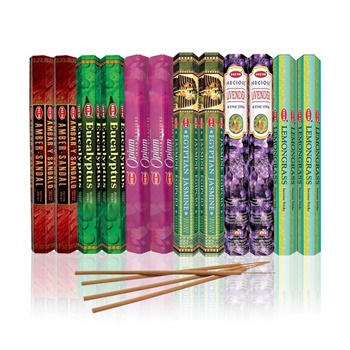 HEM is one of the most popular brands that offer fragrance oils and incense sticks. The company is based in Bangalore and Mumbai, India, and it exports to more than seventy countries across the world. It has over 20 years of experience in the industry of manufacturing incense products.
The sticks are handmade. Based on the information that we have found about them, they seem to measure approximately 9 inches in length. As such, they can offer a burn time of about thirty minutes each.
This particular product is a mix of synthetic perfumes and natural ingredients, and that's possibly the reason why it is budget-friendly. The boxes included in the deal, which in this case are as many as six, come with 20 sticks each.
Every box has a unique scent. For example, in this particular offer, you'll find flavors such as eucalyptus, Egyptian jasmine, opium, amber sandal, precious lavender, as well as lemongrass.
Pros
Handmade incense made in India
Hand-rolled using high-quality ingredients
Can be used even if you have a smoke detector installed
Incense is rich and burns slowly
Cons
There's no burner included
2. Chakras Incense – 140x Sticks lasting 60+ minutes each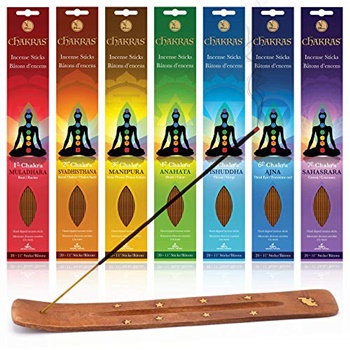 Chakras is another highly popular brand that offers high-quality incense sticks. The versatile package showcased here includes several different incenses that have unique scents. These are ylang-ylang, frankincense, patchouli, sandalwood, as well as others. It's also worth noting that these sticks are handmade, as well.
Given their length and the characteristics boasted by the sticks, it seems that they are capable of burning for around sixty minutes. Best of all, there is a burner included with every purchase, so if this is the first time you're getting incensed, it's a good idea to go for this option.
Probably the most important factor that you should take into account when shopping for incense is whether it is natural or synthetic. Well, you will be glad to know that these sticks are entirely natural and free from chemicals, charcoal, as well as any other potentially harmful substances. So, it really does make for a great option for meditation.
Pros
The sticks don't contain any toxic ingredients
Each stick can burn for a whole hour
Suitable for Reiki, yoga, or meditation
A mantra is included
Cons
Not all aromas are pleasant
3. Nippon Kodo Kayuragi Incense Sticks – Sandalwood, Japanese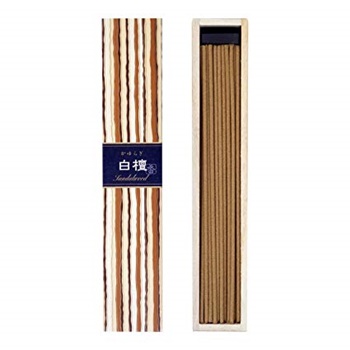 Since we have already showcased some Indian incense sticks, it would be only fair to describe some that come from Japan, as well. The Japanese are widely known for making some of the best (and most natural) incense sticks in the world. This product is no exception to the rule. In fact, Nippon Kodo has been making incense since 1575.
The sticks are hand-rolled and don't come with a bamboo core. They burn quite clean, and they are fully capable of giving you a pure scent of sandalwood. Each box comes with as many as forty sticks. Every stick measures approximately 6.5 inches and it has a burn time of about 25 minutes.
You will be glad to know that there is a small-sized ceramic holder included with every purchase. This is a good product for someone who doesn't know whether he or she likes the scent of sandalwood.
Pros
Fairly priced
No bamboo core
The scent is clean and pure
Great for relaxation, stress reduction, reading, and meditation
Cons
4. Gonesh Incense Sticks Variety Value Pack (100 Sticks)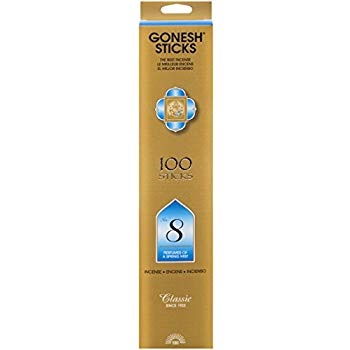 Based on the reviews that this product has acquired, it definitely seems like the incense sticks smell great. However, the problem with these is that there isn't a lot of info provided by the manufacturer, either on the packaging or at various online marketplaces.
The package doesn't say that they are organic, so the natural assumption is that they are made out of compressed carbon. They might be worthy of your consideration, though, since the pack includes as many as five different packages with different scents. For example, if you choose this one, you'll get fragrances such as sandalwood, spring mist, orchard and vines, and lavender.
Probably one of the most important attributes of this particular choice is that it is capable of neutralizing any odor present in your home. Some of the customers have reported that the sticks might not speak to the needs of people who are down to earth since their perfume is quite intense.
Pros
Strong and rich fragrances
You get 100 incense sticks for the price
They take a long time to burn
Convenient and inexpensive
Cons
The smell can be a little overbearing
5. Juniper Ridge California White Sage Large Incense Smudge Wand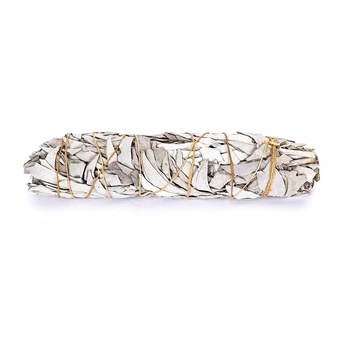 A smudge stick consists of a selection of dried herbs, but in most cases, sage is the one that's often utilized. The herbs are tied into a bundle and then burned. It is recommended that this happens for a limited amount of time. You could burn the smudge wand for several minutes every morning, while you go from one room to the next.
Sage has many medicinal purposes, but the most important one of all seems to be the fact that it can relax people when they are feeling stressed. Native Americans used to believe that it also improved wisdom and promoted healing, as well as longevity.
Juniper Ridge is a brand which harvests sage sustainably. The stick is made using leaves that are obtained from privately-owned properties in California. It doesn't contain any synthetic fragrances whatsoever, so it is significantly healthier compared to other types of products. It even has antibacterial properties.
Pros
Made of 100% natural ingredients
Clears the air in your home
Manufactured using sustainably harvested sage
Great for meditation
Cons
You might have to take it apart for a full burn
6. Plant Guru Unscented Incense Sticks, 1000 Pack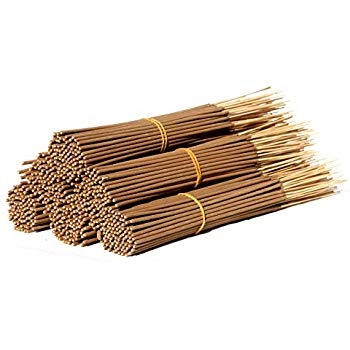 There are people who would much rather make their own incense sticks if they have the opportunity. Well, if you are one of these individuals, you're lucky because Plant Guru makes these unscented sticks just for you. All you have to do is to infuse the powder on the sticks with one or more of your favorite essential oils, or even your favorite fragrance.
Needless to say, one of the most significant advantages of making your own is that you know what you've put in them. Plus, you can also mix the fragrances as per your personal preferences.
If you are wondering what actual customers are saying about this product, we'll put your mind at ease by telling you that it has mostly garnered favorable reviews. Even people who say that they have used other brands in the past claim that this one hasn't caused any issues with uniform shape or consistency.
Pros
They don't have any scent so you can add your own
They are made of natural ingredients
They burn evenly
Each stick burns for about 45 minutes
Cons
Inconsistency might be a problem with some sticks
7. Nippon Kodo Morning Star Incense – 12 Fragrance Assortment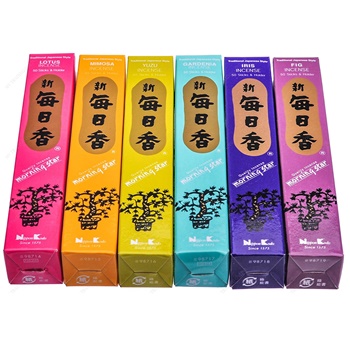 The brand Morning Star has its roots in Japan, back in the 1960s. These incense sticks are supplied by Nippon Kodo, however, a company we've showcased an alternative from in this selection, as well. The incense is great for daily use since it's not too strong and overbearing, but it still smells nice.
The offer includes as many as twelve boxes, but there are many more fragrances than you would expect. There are fifty of every fragrance, which makes up for a total of a whopping 600 sticks. You aren't going to run out of some anytime soon if you decide to go for this option.
Every stick measures approximately 4.75 inches in length and it has an estimated burn time of about 30 minutes. That might be less than the burn time of other alternatives, but since you have so many to choose from, you don't have to worry about this aspect.
Pros
Includes fragrances such as rose, amber, vanilla, pine, musk, green tea and more
Comes with a ceramic holder
Made with high-quality ingredients
No bamboo core, so no wood smell
Cons
The scent might not be powerful enough for some people
What Are Incense Sticks?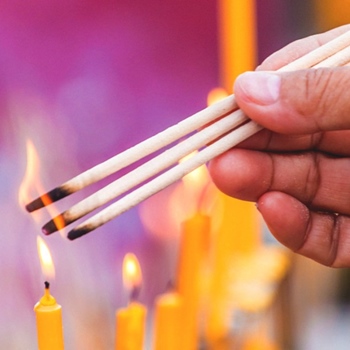 Incense is added to bamboo or regular wooden sticks to make up an aromatic material that releases a scent. It is often utilized in combination with binding material which holds the incense together in a particular shape. The aromatic materials utilized for making incense are usually plant-based and can include an array of barks, seeds, resins, flowers, and roots.
It goes without saying that the specific ingredients vary by manufacturer and even by region. Some examples of aromatic ingredients that you might find in an incense stick are cinnamon, musk, frankincense, patchouli, myrrh, or sandalwood.
An incense stick comes with a combustible binding material, and that's what ignites — not the incense itself. The high temperature allows the incense to burn and produce smoke and release the scent into the air.
Uses of Incense Sticks
Every fragrance can offer different benefits, and as such, it can have various uses. We'll go through some of the most common ones to see what they can be utilized for.
1. Cherry
The scent of black cherries helps with relaxation and is soothing. The fruit contains antioxidants that promote the reduction of inflammation in the body. Black cherry extracts are also used for their cough suppressing properties.
2. Cinnamon
Cinnamon has both aphrodisiac properties and antibacterial capabilities. It's an excellent choice for promoting energy and regulating the circulation.
3. Citronella
One of the most effective fragrances when it comes to its insect repelling properties is citronella. It's used in candles, incense sticks and cones, and many other types of products, especially during the summer. When used in safe spaces, it can even be utilized around children and pets.
4. Coconut
Coconut incense is a scent that reminds you of a tropical island vacation. It has a relaxing and calming effect on the body. The smell of coconut could help reduce stress, especially as you complete complex tasks.
5. Coffee
Historically used in divination spells, coffee incense is now utilized to cleanse your workspace and your home. It is also said to help people get rid of nightmares and sleep better overall.
6. Frankincense
This is a fragrance that can be used to treat anxiety and relieve stress. It's also useful when it comes to promoting tranquility and peace of mind.
7. Jasmine
Jasmine is a fragrance that has a rich sweetness that awakens the senses. It's a vital herbal remedy and has been used for hundreds of years. It helps people calm down, it relaxes tense muscles, and it is also said to relieve headaches. It's also believed to be an antidepressant and antiseptic fragrance.
8. Lavender
The relaxing and soothing smell of lavender has made it one of the most popular choices for dealing with stressful moments. It also promotes better sleep, which means that with its assistance, you can finally say goodbye to insomnia episodes.
9. Musk
Musk incense can be used to remove negative influences and restore order and balance. It is an extremely popular fragrance and it can be found in many types of perfumes. In some religions, it is associated with the afterlife.
10. Patchouli
The uses of patchouli incense consist of relieving the symptoms of fatigue, anxiety, muscle soreness, as well as depression. It contributes to your peace of mind and is also considered an excellent aphrodisiac.
Natural vs Synthetic Incense Sticks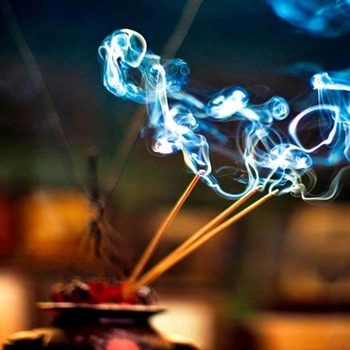 There is a lot more to burning incense than just lighting a stick and tending to your business. You should definitely learn the difference between natural and synthetic incense and how these two can affect your health. To help you make the right decision, we'll look at both.
1. Synthetic Incense Sticks
Any fragrance in an incense stick can be a result of combining natural aromatics with synthetics, but it can also be 100% synthetic. Breathing in smoke from synthetic materials time and again can be detrimental to your health. Some people find that they get headaches.
The strong and pretty scents of some synthetic fragrances can be deceiving. Often times, the more potent they seem to be, the more likely it is for them to be synthetic, not natural. If you love burning incense, it is a good idea to go for raw or natural brands and use the incense only in moderation. After all, smoke isn't good for anyone's lung health.
2. Natural Incense Sticks
The best way of making sure that you are going to invest in natural incense is to do a bit of research on the manufacturing company beforehand. If you're in a store, your nose might be able to help you out, as well. If the smell is extremely powerful or fragrant, you're probably risking buying the synthetic fragrance.
Natural incense is soft and subtle. Among the most recommended natural incense types are woods, dried herbs, as well as resins. Resin is considered to be the purest form of incense — it's dried sap and solidified oils from trees and plants. True resin incense types are copal, cedarwood, palo santo, frankincense, white sage bundle, as well as sweet grass.
Japanese incense sticks are excellent. They are often made of just three ingredients – wood, herbs, as well as spices. Tibetan incense is natural and pure and it mostly comprises dried herbs.
Incense Sticks Buying Guide
Have you ever wondered what the most important features that you should consider really are when it comes to picking the right incense sticks? If you have, we suggest you have a look at the comprehensive buying guide that we have put together. Check it out below.
1. Design
Even though they are all called incense sticks, these products actually come in two different designs. Some are cones and some are actual sticks. So, what's the difference between one and the other? With a cone, the fragrances are usually more concentrated, in that it's thicker. It also burns differently, so you aren't going to be able to use the same type of burner.
Incense sticks are quite popular because the burners for them have become well-known across the world. They tend to take some time to burn, but they might also offer a somewhat less intense scent compared to their cone-shaped counterparts.
2. Length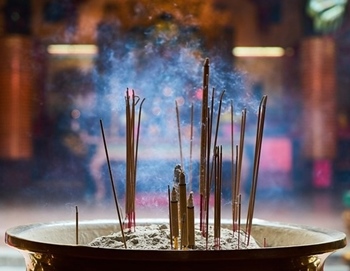 The length of the stick can, in fact, determine the amount of time it will burn for, as well as how long the fragrance is going to linger in the room. Sticks that are about 8 inches in length can burn for as little as 20 minutes. The longer ones, on the other hand, measure about 12 inches in length and they are often capable of burning for a whole hour.
If you are looking to just try a scent and you're feeling unsure whether the product could end up being a repeat purchase for you, you should pick a set of shorter sticks. The longer ones also tend to cost a little more compared to their shorter counterparts.
We'd like to note that there are many variations in terms of stick size since some can measure just 3 inches in length and others can be even 14 inches long.
3. Number of Sticks in The Package
While buying in bulk is always a good idea since you usually get a good price for all of the sticks, sometimes this might not be a good solution if you're trying new scents. If you have bought incense sticks from the same brand before, you can definitely get them in bulk. While some packages come with just ten or twenty sticks, some can include as many as three hundred.
4. Different Scents
The scent is probably the most important reason you're interested in buying incense sticks in the first place. Well, here, too, things are different. Some packages come with different scents, but there are others that can come with just one.
If you haven't yet decided which fragrance you prefer and you're still looking to experiment for a bit, you should pick an option that comes with as many different scents as possible. If, on the other hand, you know for sure what your favorite scents are, feel free to pick a package of incense sticks in bulk with those particular scents.
5. Purpose
As we might have mentioned, incense has been used for many years for both spiritual and health purposes. Incense sticks were burned to help people meditate, pray, or just relax. People can use them to set a routine and make a room smell nice. But as you might have realized by now, each scent has a particular purpose.
Some of the ones that promote relaxation are lavender, jasmine, lemongrass, chamomile, pine, as well as vanilla. Those that promote spirituality are myrrh, patchouli, musk, frankincense, sage, sandalwood, as well as eucalyptus. Finally, those that are commonly utilized as air fresheners are rose, citronella, cherry, cinnamon, vanilla, coconut, or even strawberries.
6. Natural or Synthetic
As we have already pointed out in another section of this article, natural incense sticks are always better compared to synthetic ones. In fact, the latter contains lots of chemicals, as well as glue, which means that you're effectively putting your health in danger by lighting up a synthetic incense stick.
This is especially true for people who have issues with their breathing, such as those that have asthma or lung problems. Besides, synthetic choices can be quite dangerous for pets and kids, too, since they are more sensitive to the substances that they contain.
7. Budget and Recommendations
In most cases, incense sticks are pretty budget-friendly, but you might notice that there is a considerable difference between synthetic and natural alternatives. It goes without saying that the latter is more expensive than the former. Some of the cheapest products are priced at around twelve to thirteen dollars, but there are varieties that can go beyond twenty, especially if they are made of good materials.
As for recommendations, it might be a good idea for you to take some time and browse through the reviews that the incense sticks you're thinking of buying have received. After all, you'd do the same when shopping for a top-rated facial steamer, so why not do the same for this type of product, as well?
How to Burn Incense Sticks Properly?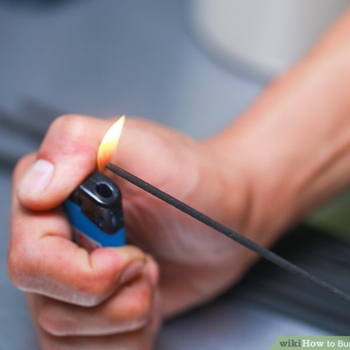 Even though learning how to burn incense sticks can sound simple to most people, it could be a little more complicated than you might think. Misusing incense can even be dangerous since, after all, the sticks catch fire and could come in contact with nearby objects. Incense burners are made to securely burn various types of incense, and they often look good.
1. How To Burn Stick Incense
You have less to worry about in terms of flammability if you choose incense sticks instead of cones. They don't come with the incense clumped and sitting on a platform, so they are a lot safer. To burn an incense stick, you will need the product itself, a lighter or a match, as well as a holder. Most burners in this category are equipped with holes where you can stick the incense in.
If you don't want to purchase a burner, you can also use a DIY solution. Fill a small container with some sand and stick the incense there. Once you've correctly set it up, light the tip of the incense stick using a lighter or a match. Let the tip burn for five to ten seconds before blowing it out. The end should smolder and begin to release smoke. Should the flame not catch and the incense goes out, you should light it up once again.
Some cheaper alternatives can go out, which means that you will have to light them up time and again. Usually, incense sticks tend to burn from anything between twenty and thirty minutes.
2. How To Burn Cone Incense
To burn cone incense, you will need a safe incense burner, incense cone, as well as a match or a lighter. There are special burners available for sale out there, but if you don't want to invest in one, you can use the same solution that we've mentioned in the section dedicated to properly burning an incense stick.
Once the cone catches fire, let the top burn for five to ten seconds and then fan the flame out. Most incense cones don't burn longer than half an hour.
FAQs About Incense Sticks
1. Are incense sticks safe?
The answer to this question is a little complicated. It boils down to how many incense sticks you burn per week and the amount of time you do it. For example, if you only burn an incense stick once a week and you're not even sitting in the room where this happens, you probably have nothing to worry about.
However, a study performed in 2009 has found that some of the matters in some types of incense sticks are carcinogenic. Other studies have revealed a connection between cancer and incense sticks to the point that burning the latter might be more dangerous than smoking a cigarette. According to the EPA, exposure to incense smoke can be linked with asthma, lung inflammation, and cancer. Long-term exposure is related to a higher risk of developing upper respiratory cancers.
2. What are incense sticks made of?
Some incense sticks are manufactured using only natural materials, but there are many others that are not. They can be made of bamboo, regular wood, fragrance oils, and a lot of other substances. Some choices have the upper portion made with a paste composed of sawdust and glue.
3. Is burning sage bad for your lungs?
Burning sage for a limited amount of time can be beneficial for a number of reasons. However, doing so for a long time can be detrimental to your lung health. If you know that you have lung problems or you suffer from asthma, make sure to talk to your physician before you decide to start burning safe.
4. Will burning an incense stick trigger my smoke detector?
As you might know, smoke detectors can become activated due to cigarette smoke, especially if they are particularly sensitive. Therefore, burning incense sticks can do the same thing. The alarm can be set off by ordinary fire smoke, but getting it activated can be very difficult if you have high ceilings.
By the time the smoke would theoretically reach the device, it would already be dispersed enough not to cause the alarm to go off. If you do have a smoke detector in your living room and you still want to burn an incense stick there, you should make sure that the room is properly ventilated. That does mean that the scent is going to be less intense, but it's better to be safe than sorry.
5. Can I use incense sticks if I have pets?
Since incense sticks are made with concentrated extracts from plants, domestic pets such as cats can dogs can have a hard time coping with the scent.
Some studies have suggested that cats, especially, can suffer from several types of unpleasant health symptoms such as vomiting or excessive drooling if they've come in contact with the smoke released by burning an incense stick. If you have pets, you might want to avoid using incense sticks.
Wrap-Up
Now that we've gone through the pros and cons of these products and the factors that you should keep in mind when shopping for the best incense sticks, we hope that we've helped you understand whether you should invest in any or not.
Keeping your health on par, whether on a physical or mental level, is often a result of leading a balanced lifestyle. For that reason, we suggest burning incense sticks only once in a while. Finally, before choosing a particular product, make sure you browse through some of the incense stick reviews that it has received. Other people can often let you know whether the sticks smell weird or whether they've encountered any issues whatsoever with them.