If you are interested in keeping your face skin health on par, getting the best facial steamer should be a priority for you. Facial steaming is a process that can help you clean your face a lot better and it can also promote the absorption of topical products. But with the wide array of options that are available for sale nowadays, it can be difficult to pick the right one.
If you have some time on your hands, we suggest going through the facial steamer reviews that we have showcased below. All of the units from our selection have been deemed to be safe, convenient, budget-friendly, and also particularly good at what they are supposed to do.
See The Quick Comparison Chart
Benefits of Facial Steamers
Why should you even consider getting and using a facial steamer? Can it make that much of a difference? If you have asked yourself these questions before, we're here to give you a hand with understanding the benefits of steaming your face.
1. Hydration
The steam produced by a facial steamer can help with the stimulation of oil production. Therefore, your face can get naturally moisturized without you making a real effort in this sense.
Hydration is extremely important for people who don't drink enough water or those who are older than 30. Collagen production decreases considerably as one ages, and that means that the skin starts to lose its elasticity. Keeping it well hydrated can prevent fast aging.
2. Better Skin Health and Look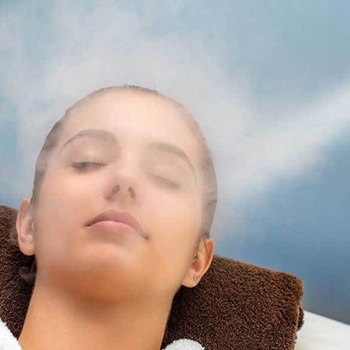 Since facial steaming is capable of increasing the local blood flow, that means that it also stimulates the production of elastin. This means that your skin is going to look better overall, and the added elastin will make it a little harder for you to get premature wrinkles or even acne.
By the way, since your pores are going to open due to the steaming process, you are going to be able to apply topical products to your skin and actually rest assured that they do their job.
Otherwise, when your skin is covered in oils and dust, beauty products can't do much of what they are supposed to do. Your skin absorbs products with ease after you go through a steaming session. That also means that you shouldn't use aggressive cleaning products for fear of damaging it.
3. Clearing Your Skin
Even if you use lots of products to clean your skin on a regular basis, you might still be left with clogged pores due to living in a polluted environment. Most people who live in cities have acne-prone skin or at least blackheads (comedo) since the dust and dirt get in the pores day in and day out.
By using a face steamer, you're making it so much easier for you to remove all the gunk that could be causing the black coloring.
4. Relaxation
While steam inhalation isn't the most relaxing thing to do in the world, especially when you are cold, with a facial steamer, you don't have to worry about getting uncomfortable. Especially during the winter when the thermometer drops and you're feeling less comfortable, you will find that using a facial steamer can be rather relaxing.
Naturally, face steaming is even better when done at the end of a hard day's work, since you can wind down and start saying goodbye to all the stress you've had to face.
5. Easy to Use
One of the best things about a facial steamer is that anyone can use it, whether they are tech-savvy or not. Most of the models that we came across while doing our research are user-friendly, which means that both young people and seniors can use them just as effectively.
Besides, if you take care of the device and clean it after every session, you might be able to share it with some of your other family members.
6. Affordable Pampering
Not all people can afford to go to a spa or even a sauna. Many individuals live in places that might be remote, and they might not even have access to spas, even though they'd like to get a good massage, whether on a portable massage chair and whether it might be performed by a therapist or not.
Since facial steamers don't tend to cost a fortune, they are available to almost anyone. And let's face it, nothing's better than having a nice pampering session in the comfort of your own home and knowing that you don't have to spend a lot of money to do it.
7. Prepare Your Skin for Extraction
Facial steaming is excellent when it comes to preparing your skin for removing blackheads. It opens up your pores and softens your skin, which means that you get rid of both with as little effort as possible. However, since using too much pressure on your facial skin right after steaming it is detrimental and can cause irreparable damage, we would advise that you be extremely careful.
Best Facial Steamers Comparison Chart
PRODUCT
DETAILS

NanoSteamer Large 3-in-1 Nano Ionic Facial Steamer by Pure Daily Care

Price: $$
Customer Rating: 4.3
Nano Ionic Steam: Yes
Weight: 2.5 pounds
Timer: No
Automatic Shut-Off: Yes

View On Amazon

Zenpy Nano Ionic Facial Steamer MK-FS60

Price: $
Customer Rating: 4.4
Nano Ionic Steam: Yes
Weight: 1.8 pounds
Timer: No
Automatic Shut-Off: No

View On Amazon

Conair Facial Sauna with Timer

Price: $$
Customer Rating: 3.8
Nano Ionic Steam: No
Weight: 2.5 pounds
Timer: Yes
Automatic Shut-Off: Yes

View On Amazon

Secura S-192 hair and Facial Steamer

Price: $$$
Customer Rating: 3.5
Nano Ionic Steam: No
Weight: 3.2 pounds
Timer: No
Automatic Shut-Off: No

View On Amazon

Beauty Nymph Spa Home Facial Steamer

Price: $
Customer Rating: 4.0
Nano Ionic Steam: No
Weight: 1 pound
Timer: No
Automatic Shut-Off: Yes

View On Amazon

KINGDOMCARES Hot Mist Facial Steamer

Price: $
Customer Rating: 4.0
Nano Ionic Steam: Yes
Weight: 1.3 pounds
Timer: No
Automatic Shut-Off: Yes

View On Amazon

Ecvision Nano Ionic Warm Mist Facial Steamer

Price: $
Customer Rating: 4.0
Nano Ionic Steam: Yes
Weight: 1.9 pounds
Timer: No
Automatic Shut-Off: No

View On Amazon
Best Facial Steamer Reviews
1. NanoSteamer Large 3-in-1 Nano Ionic Facial Steamer by Pure Daily Care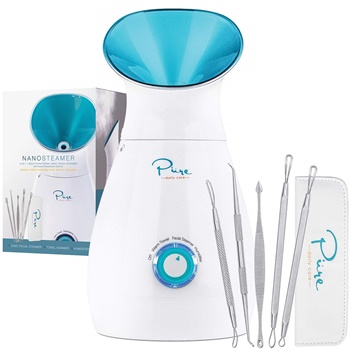 Loved by many consumers and experts alike, this model is undoubtedly one of the items that should make your list. It comes with all of the right features that you need in a convenient facial steamer that's easy to use and that is accompanied by all of the accessories that you might require.
The Nano Ionic technology boasted by this model makes it possible for the steam to penetrate your skin with ease. The skin becomes more receptive to the moisture, which means that you'll be able to enjoy plenty of moisturizing and hydrating benefits, also ensured by the Nano Ionic steam. In a nutshell, the unit lets your skin to absorb beauty products more effectively.
The fact that it is equipped with a 200-ml tank is another aspect to consider. It's going to be able to produce as much steam for as many as 30 minutes. Even though 30-minute sessions might be too long, it's still reassuring to know that your steaming sessions aren't going to be interrupted.
Pros
Comes with many extras
3-in-1 functionality
Compact and easy to carry around
Easy to use and convenient
Cons
You can't use it with any essential oils
2. Zenpy Nano Ionic Facial Steamer MK-FS60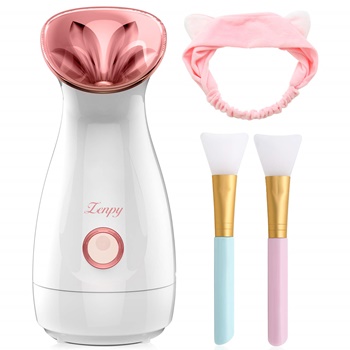 The floral design of this particular model allows you to place it anywhere in the house and enjoy its looks. It comes with an adorable cat ear headband, as well, which only makes it more adorable. In terms of performance, we couldn't help noticing that most of the individuals that purchased this option have nothing but good things to say about it.
After all, it is an ultrasonic vaporizer and it is also capable of releasing a moisturizing and deep-cleaning Nano Ionic steam. This means that the steam is going to be about four thousand times more effective compared to regular steam. Your skin will definitely thank you if you go for this choice.
The design of this unit is compact, and it's also been found to be quite easy to operate. You just have to press a button, wait for a little while for it to heat up, and then use it. What's worth noting about this one is that it is also accompanied by a blackhead extraction kit.
Pros
Comes with a dust cover
Includes an extraction kit
Compact and portable design
Doesn't cost a fortune
Cons
This one, either, can't be used with essential oils.
3. Conair Facial Sauna with Timer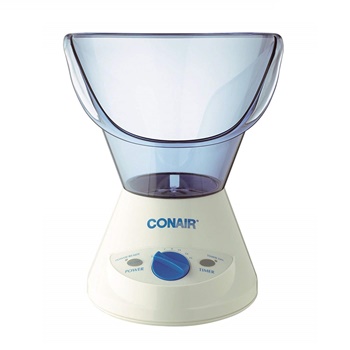 This is a more or less classic option compared to the others that we have showcased here. It comes with an easy-to-use dial, so it even speaks to the needs of people that aren't that tech-savvy. It's a good choice for most people looking for a decent facial steamer from a well-known brand.
The best thing about this unit is that it comes with lots of customization options. You can adjust the steam facials as per your personal requirements. You also have a timer setting available, so you can even set the time that you want the steaming session to last. The range is anything from 3 to 15 minutes, depending on what you want.
While it does come with an automatic shut-off feature, it's worth noting that it turns itself off after 45 minutes. Make sure to avoid forgetting about the unit while it is on, though, to prevent producing damage.
Pros
Various steaming settings to select from
Is accompanied by a facial brush
Budget-friendly
Comes with a nasal cone
Cons
It takes three minutes to heat up
It doesn't look as good as other models out there
4. Secura S-192 hair and Facial Steamer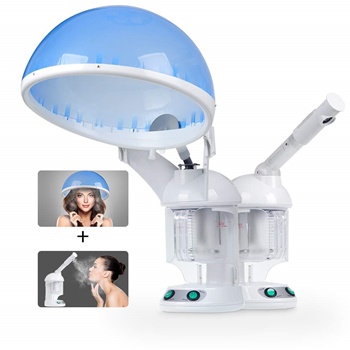 The 2-in-1 design of this choice is something worth writing home about as it can be used as an ultrasonic atomizer that moisturizes and hydrates your hair, but you can also utilize it as a tabletop facial steamer, as well.
With the assistance of this product, you'll notice that your conditioner or your other hair treatments are going to be able to do a better job. Your hair will become shiny and healthy-looking in no time. As for its facial steaming feature, you'll certainly enjoy this one as well, since it opens and unclogs your pores in an effective manner.
As such, you can remove grime, dirt, or oil from your skin. There is a facial spray rod attachment included and it increases the value offered by this product. This product is built according to the North American Electrical Standards and works at 120 volts. To put it together, you will have to follow the manufacturer's instructions step by step.
Pros
Weighs in at just 3.2 pounds
It's easy to shift between the facial steamer and hair steamer
Can also be used as a room humidifier
Features a built-in ozone generator
Cons
Can be quite noisy when it's in use
5. Beauty Nymph Spa Home Facial Steamer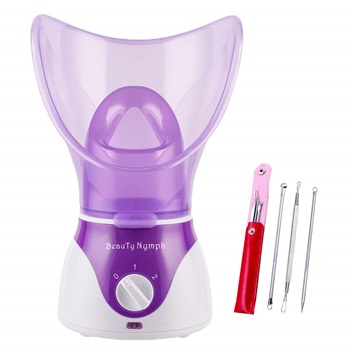 If you're on a tight budget and you don't want to spend a fortune on a facial steamer, especially if you aren't sure whether it might suit your needs, you'll be glad to know that this one fits the bill. It comes with most of the features you might want in a compact and lightweight alternative that you can take with you everywhere.
The manufacturing brand recommends using facial cleansers before utilizing facial steamer. An 8 to a 10-minute session is usually quite effective when it comes to opening up your pores. Something really neat about this choice is that you are allowed to put essential oils into the water tank, allowing you to get their benefits, as well as a nice scent.
If you have any respiratory problems, you will also be delighted by the way this unit works. It comes with a separate nozzle for your nose, so you will automatically breathe in some of the steam and improve your respiratory condition.
Pros
Secure aluminum vaporizer pot
Comes with automatic shut-off
Adjustable steam levels
You can also use it as a humidifier
Cons
The instructions could have been better.
6. KINGDOMCARES Hot Mist Facial Steamer
What's rather cool about the KINGDOMCARES alternative is that it looks as if it is a medical device rather than a beauty gadget. The fact that it is equipped with a 100-ml water tank that can run steam for as many as 15 minutes is a clear benefit.
Furthermore, this one relies on a ceramic heating element to create the Nano steam, making sure that your skin absorbs its output as best as possible. It's also worth mentioning that this one boasts an adjustable nozzle, which means that you can set the angle of the steam outlet exactly as you wish. You can even use it on other body parts if you have acne in other regions.
On top of everything, there is a mirror attached on the underside of the steamer lid, so you can look at your face as you steam it. Best of all, you are not going to have to hold it up, since it's a part of the construction of the unit.
Pros
You can adjust the steam outlet
Has a 3-in-1 functionality
Can be used as a humidifier
Nano Ionic steam
UV lamp sterilizes the steam
Cons
There is a smell of burning plastic when you use it for the first time.
7. Ecvision Nano Ionic Warm Mist Facial Steamer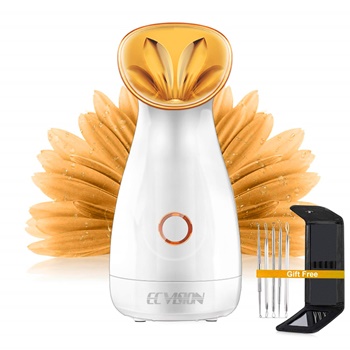 This is another choice that can offer you good value for every cent spent. It's a product that comes with all of the tools that you will require in order to extract blackheads and whiteheads. If this is one of your problems, the Ecvision alternative should be right up your alley. The blackhead removal kit comes with 5 extraction tools in different sizes and shapes.
The steaming device comes with a PTC ceramic heating element that produces Nano Ionic steam. This makes it quite easy and convenient for your skin to absorb the moisture, meaning that it is well hydrated and it can become significantly softer.
What's interesting about this product is that it is outfitted with a 70-ml tank. As such, it can only produce steam for 12 minutes. However, since longer sessions aren't recommended anyway, this should be enough for most consumers. It's backed by a 90-day money-back guarantee.
Pros
Nano atomizing technology
Steam reaches 104F and maintains its temperature
Eye-catching design
Can be used with ease
Cons
Smells like plastic the first few times you use it.
What is a Facial Steamer?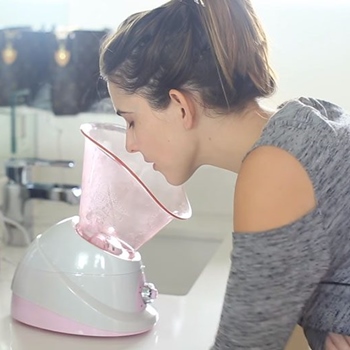 A facial steamer is a small-sized device that produces steam that's meant to envelop your face. The design of these products varies largely from one model to the next, but the purpose of a facial steamer, no matter how it looks, what features it comes with, or how much it costs, is to leave the skin smooth and soft.
Such a device also hydrates the skin and opens up your pores, making it possible for any products that you apply to the skin right after the steaming session to penetrate the epidermis a lot better.
Some facial steamers come with extraction kids, which means that the removal of dirt and blackheads is significantly easier. Keep in mind that extracting blackheads can be dangerous if you are not a professional or have no experience in this. You could end up producing irreparable damage to your skin.
How Do Facial Steamers Work?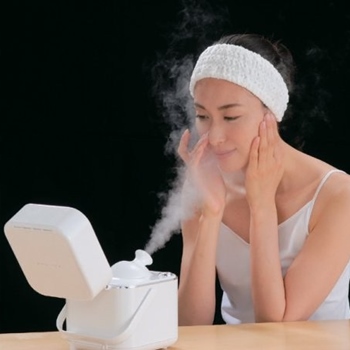 Understanding the parts and components of a facial steamer is key to know how do facial steamers work. Most facial steamers come with two core components. One of them is represented by the electrical part, where all the wiring is located, as well as some of the buttons or a dial. The controls are on the exterior of the unit.
There is another part that with some models, you will be able to remove. It's a container that you fill up with water. Some units don't come with a removable tank, so you can fill them up without doing this.
What a facial steamer basically does is to heat up the water to the point where it evaporates and is released through a nozzle. You should place your face directly in the steam flow, but make sure that you don't get it too close to where the steam comes out of the unit. If you don't sit at a distance, you might get your skin burnt. The temperature of the steam is very high since water doesn't turn into steam unless it reaches its boiling point.
Most facial steamers are made to cup your face and push steam more or less gently onto your skin. This means that the dirt can be removed from deep within your pores, which daily washing with water and soap can't do.
Types of Facial Steamers
There are several different kinds of facial steamers currently available for sale, whether in terms of design or actual features. Generally, they can be split up into two main categories – in-home models and professional units. In this article, we'll look at both and also discuss other design variations.
1. Professional Facial Steamers
This kind of facial steamers can usually be found in dermatologist offices, as well as professional spas. The units that your doctor utilizes are not available to the general public, but there are some companies that do get close to designing and selling professional models.
Quality professional facial steamers have a significantly different design when compared to models that can be used at home. They have a wider body and they almost always feature a lid that needs to be lifted off when the patient is ready for the steaming session.
A professional quality steamer can come with a cold and a warm feature, which you might notice that in-home models are incapable of offering. Professional units incorporate nano-ionic steam technology that provides a deep pore cleansing.
The ability to choose between hot and cold steam is an advantage. The warm steam can loosen your pores while the cold one can tighten your pores and effectively reduce wrinkles.
2. In-Home Models
Personal models can be found in people's homes. These devices are a lot cheaper compared to their professional counterparts, and they do get the job done in terms of providing hot steam. There are two types of facial steamers that are manufactured for personal use, and we'll discuss them below.
1. Flared Units
Flared facial steamers have a wide cone shape which fits the entirety (or most) of your face. You don't have to do anything but turn on the device and then wait for the steam to be released. The design makes it quite easy for the steam to target most of your face, and that can be quite effective.
There are facial steamers that are outfitted with taller cones while those of others are shorter. The taller cones don't force you to have to sit down in order to use the device. Shorter cones will do just that, so you need to make sure that you are comfortable before you begin the facial steaming process.
You can also get a higher-tech facial cleaner, which is generally equipped with not one, but two cones. One of the cones is wider to emit more steam and the other is narrower and it emits steam just for your nose.
2. Flower Design
The flower design has become quite popular, especially with people who don't want to be a little limited in terms of how they can sit or the moves they can make. Claustrophobic people can find it uncomfortable to use a flared unit, for example.
The flower design looks great and is somewhat more direct with its steam. The mouth of such a unit is narrower, so the steam hits your face with more force. There are facial steamers that do come with detachable cones, which makes the whole process a lot more comfortable. Thanks to this feature, you can also clean the device a lot better.
The drawback is that flower-shaped facial steamers don't come with any detachable cones. The only part that you might be able to remove, depending on their design, is the container where you will put the water.
3. Models with Magnifying Lamps
While professional units are very expensive and regular in-home models are quite affordable, somewhere in the middle are facial steamers that have magnifying lamps. The lack of this feature in standard in-home facial steamers is what makes them so affordable.
Magnifying lamps can ensure UV sterilization, which can provide tremendous benefits to your skin when they are utilized correctly. UV sterilization kills about 90% of bacteria, which means that you can effectively prevent and solve acne breakouts.
The magnifying lamps boasted by some facial steamers are adjustable, and the best thing about the UV bulb that they come with is that it can last for as many as ten thousand hours. This means that you won't have to get a replacement too soon.
Facial Steamer Buying Guide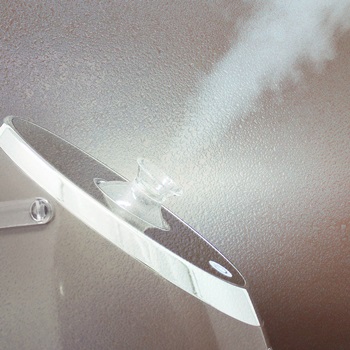 What are the essential features that you should be after when shopping for a new facial steamer? If this is the first model that you're thinking of purchasing, make sure to read our comprehensive buying guide. It contains most of the info that you should know about such an appliance.
1. Size and Weight
As we have already discussed, there are several types of facial steamers currently available. Most of the professional units tend to be bulky, and as such, they occupy a bit of space and they also weigh a lot.
If you are focused on portability and you want to take your device with you anywhere you travel, you should pick one that's as compact as possible. However, since most people go through facial steaming sessions at home, the size and weight might matter less to some individuals.
2. Water Tank Capacity
The model that you choose needs to handle a decent amount of water. Otherwise, you might have to stop, refill the water container, and then wait for another while for the unit to start producing steam.
Just as you would when shopping for a top-rated massage cushion or a top-rated back massager, we suggest that you check some of the reviews gathered by the unit you're considering. Lots of other customers can tell you whether a model comes with a tank that's sizable enough to accommodate your needs.
3. Heat-Up Time
In order to be able to create steam, the device has to first heat up. Some models can take a little more time to reach the right temperature that's required to produce the steam, so that means that you'll also need to wait for a while.
Others are made specifically with fast heat-up, and while you aren't going to be able to use them right away, you aren't going to have to wait for a long time. If you want to be as productive as possible and you're generally not the most patient person in the world, such a product might be what you need.
4. Controls
A good facial steamer should pose no technical difficulties to the user, no matter whether he or she is tech-savvy. Generally, the elderly have a harder time working with complicated controls, and the more buttons or settings a unit is equipped with, the more difficult it is for them to work with it. A rotary dial can be a little easier to use for some people.
5. Durability
You can't assess how long a facial steamer is going to last just by looking at some pictures of it online. There are many ways in which such a product can malfunction. Generally, it is a good idea to pick one manufactured in a country that you trust.
This can mean the United States, the United Kingdom, or virtually any other country located in Europe or even Australia. In this case, as well, we recommend having a look at the feedback acquired by the unit to make sure that you don't have to deal with any malfunctioning issues.
6. Quiet Operation
It's true that facial steamers aren't the noisiest electronics ever to have been invented, but they can still make some noise that could bother you. A quiet unit can allow you to relax better, and also be able to listen to a podcast or an audiobook or even your favorite YouTuber while you enjoy a facial steaming session.
7. Automatic Shut-Off
An auto shut-off feature is something to look for. On the one hand, the unit will turn off on its own when it's overheating, meaning that it doesn't run the risk of malfunctioning or becoming damaged due to overuse. On the other hand, it can also give you a pointer as to the amount of time that you have used it for. Facial steaming can be rather relaxing, so some people might inadvertently tend to overuse their devices and accidentally damage their skin. An automatic shut-off function can help prevent this.
8. Oil Compatibility
Some essential oils have antibacterial properties, such as cinnamon, eucalyptus, or citronella oils. These can be used to kill the bacteria on your skin and prevent acne breakouts.
If you are interested in using the device with any type of essential oils, make sure that you specifically look for a model that is compatible with them. Otherwise, you are not going to be allowed to put anything in the water tank other than just distilled water.
9. Nozzles
Some units will give you the freedom to set the right angle for the nozzle. As we have already mentioned in the section tackling the types of facial steamers available nowadays, some units come with two nozzles instead of one. Customizing the right angle for the nozzle can provide a lot of flexibility. You can sit more comfortably if you get a model with this feature.
10. Warranty
While it might not seem like the most important factor to bear in mind, the warranty is a good pointer as to whether the product will last or not. If the product is backed by a warranty, you will be able to return it or exchange it if it malfunctions. Never get a model that's not covered by a warranty, no matter whether it lasts for a year or more.
How To Use a Facial Steamer Properly?
Let's make you covered with the knowledge of how to use facial steamers.
1. Find Out If Facial Steaming Is For You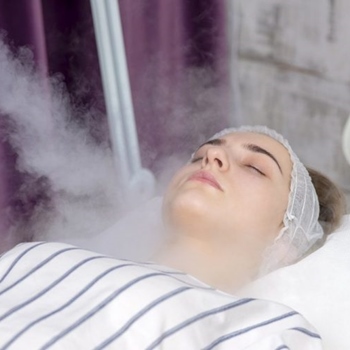 While facial steamers are generally looked at as being safe appliances, there are some risks involved in the process. Fortunately, the design of these devices makes it very difficult for you to burn your skin unless you use them incorrectly.
What's important to note here is that people who have vascular fragility or rosacea should never use facial steamers as the steam can make the issues worse. If you have any doubts about using a facial steamer, it might be a better idea to go to a dermatologist and have them assess your skin health and tell you whether this can be a good option for you.
Since heat can dry out parched skin, as well, it's not recommended to people who have eczema, either. The condition of all types of sensitive skin can be worsened by the hot steam, too. If you would like to benefit from steaming, however, you could go to a dermatologist and get regular cold steaming sessions. These are a lot safer. In fact, there are almost no risks associated with them.
2. Prepare Your Face
For the steaming session to properly clean your pores, you need to prepare your skin before you use the device. Dermatologists often recommend washing your face with a mild cleanser that doesn't contain any harmful chemicals.
If possible, go for an all-natural and organic alternative. Giving your face a pre-wash is a good idea as it can remove any excess oil, dirt, or even makeup that can be found on the skin. After washing your face, you can also use a gentle scrub.
3. Avoid Placing Your Face Next To The Nozzle
Excess heat can be very harmful. Many people think that the higher the temperature, the better it might be for their skin, but the truth is that it can lead to damage. The ideal distance between your face and the nozzle where the steam gets out from the device is a minimum of five inches. If you are not a fan of particularly high temperatures, you can also keep your face a little farther from the nozzle.
4. Follow The Manufacturer's Instructions
Reading the user manual is always a great idea, no matter the type of appliance you have purchased. If you skip this step, you might be missing important information, especially with regard to how you are supposed to use the device. As you might have noticed, there are some variations in terms of how facial steamers are designed and should be used, so make sure you always stick to the instructions provided by the manufacturing company.
5. Prepare The Facial Steamer
Even though each facial steamer works differently, most will have a chamber that can be located below the cone. This is where you should place your face. With an in-home model, all that you have to do is to remove the cap covering the chamber and then fill it up with approximately two cups of distilled water.
Using regular tap water is not recommended as some units can smell weird in this case. Also, the steam isn't going to be pure since regular tap water also has impurities and a good deal of chlorine.
Once you've filled up the container with water, you can turn on the facial steamer and let it sit for a while so that it heats up. Some models can take several seconds to do so, but others can require several good minutes.
6. The Facial Steaming Process
How can you know when the facial steamer is ready for use? There's a simple answer to this question. With most in-home models, you'll start noticing how steam begins to come out of the appliance. Place your face on the cone part of the model that emits steam. Don't put your face too close to the cone so that you don't cause swelling or even risk burning your face.
Most dermatologists recommend starting with three-minute steaming sessions. After each one, you should give your face a little break during which you can assess your skin's reaction. If your skin is used to the heat, you can have longer sessions, but make sure you never go beyond the 10 to the 15-minute limit.
7. After The Steaming Session
Following the face steaming process, you can use a mask, a very mild exfoliant, and finish everything off with a hydrating moisturizer. If you have no time for all of these, just make sure that you clean the moisture on your face with a lukewarm towel and then apply moisturizer.
Applying a mask is advised as this is the moment when your pores are loosened, so the mask can completely penetrate your skin without you having to roughly clean it before. Before using the face cream, try to splash some cold water on your face so that the pores close up.
FAQs About Facial Steamers
1. Are facial steamers safe to use?
Facial steamers are generally safe to utilize, so long as you use the necessary precaution measures. The vast majority of the units currently available for sale come with a user manual, and we suggest that you read it before using the model for the first time.
There can be important information in the instructions, especially regarding the time of use. The safest models are adjustable, allowing you to customize the amount of steam that comes out of the machine or the temperature to which the water can heat.
2. How long should a facial steamer treatment last?
The answer to this question is rather short. A facial steaming session can last anywhere from 5 to 15 minutes. The duration depends on how much water you have put in the tank, how much time you have available, and the condition of your skin, as well, and whether you've applied any products to it.
Nevertheless, it is generally acknowledged that shorter sessions are better and safer. If you have the time and get up early in the morning, it might be a better idea to use your facial steamer for 5 minutes in the morning and 5 minutes in the evening. This will make sure that your skin doesn't get too red or suffer from the heat too much. The steam will open your pores just as well during the 5-minute session as it would during a 15-minute one.
3. How often should you use facial steaming treatments?
It depends on the length of the sessions. If you prefer shorter sessions of just 5 minutes, you could use the device two to three times a week. If you prefer using it for 15 minutes at a time, we would recommend using it just once a week.
Overdoing it can lead to the development of skin imperfections, breakouts, and even rosacea-related issues. Most importantly, always set the temperature to be the lowest in the beginning and only then gradually increase it, so as to avoid damage to your skin.
4. When shouldn't you use a facial steamer?
If you have any open wounds on your face, if you've recently messed with a zit, or if you have rosacea, you shouldn't use steaming to clean your face. It's true that steaming is a great option for activating products on your skin or for opening up your pores. However, if you are prone to skin infections and you have highly sensitive face skin, steaming can do more harm than good.
Using a facial steamer can cause burns, which is why you should always keep at a distance from the steam source. In any case, the heat from the steam causes the blood vessels located in your facial skin to dilate, which means that you will experience redness following the treatment. This is, in fact, the reason why it's not recommended for people who have rosacea or vascular fragility in general.
5. Should you exfoliate after using a facial steamer?
If you have black spots or your skin is a little greasy on your face, you might feel tempted to use harsh exfoliants after you utilize your face steamer. We would recommend against doing that. You can use mild exfoliants, without a doubt, but scrubbing your skin aggressively after steaming can cause almost irreparable damage.
You'll make it flaky, remove some of the epidermises that might not even be dead, and cause a lot of redness. If you don't have greasy areas or blackheads that you need to remove, it might be a better idea to use a simple face wash and then hydrate as best as possible.
Wrap-Up
We hope that our tips and guide were particularly helpful and that you managed to understand what the essential features of the best facial steamer really are for you. As usual, we would like to end this article with the recommendation to take some time and go through as many facial steamer reviews as possible, especially before placing an order online.
If you live in an area where going to the store can be an option, you should definitely go and test out some models before making up your mind. Last, but not least, if you have a skin condition and you're getting treatment for it, make sure you have a talk with your dermatologist before investing in such a device and deciding to use it.
See also: incense sticks reviews