When you're a side sleeper, the best knee pillow is capable of acting much like a cushioning buffer, which prevents knee joints from rubbing onto one another. Many prefer to sleep with a pillow tucked in-between their knees as this helps them stay comfy throughout the night. Pregnant women, people who experience chronic back pain, as well as side sleepers all tend to do this.
But what makes the difference between a regular pillow that you'd use for the purpose and a specialized one you'd get on the market today? Well, specialty knee pillows are usually crafted from materials such as memory foam, which means that they provide better support. They also help alleviate some of that pesky back pain that has been bothering you. Have a look at the knee pillow reviews below to understand why these models are considered effective. All of them have acquired a lot of praise from the people who use them every night.
See The Quick Comparison Chart
Who Needs a Knee Pillow?
1. Side Sleepers & Back Sleepers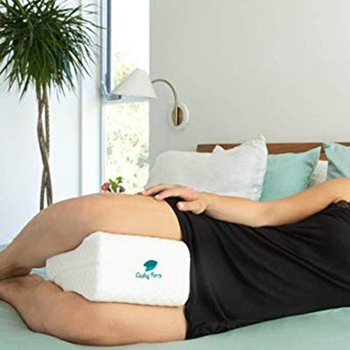 If you like sleeping on your side, waking up feeling rested can be a true challenge. Your knees can bump into each other, and that leads to friction.
Back sleepers have different issues. In theory, they should maintain the correct spine alignment throughout the night. However, that doesn't necessarily happen, and depending on how you keep your legs as you sleep, you could apply tension on your lower back. For back sleepers, a knee pillow that comes with adjustable straps would be the most effective one. This feature would make it remain in one place and keep the sleeper's leg at the same distance from each other.
2. Pregnant Women
Mothers who are expecting a child are more or less restricted when it comes to sleeping. Because of their stomachs, they need to adopt side-sleeping positions even if they aren't used to doing this. A knee pillow can ease a lot of discomfort, and some sources suggest that it even makes the baby kick less often. Additionally, it improves the expectant mother's circulation and leaves her waking up relaxed and well-rested.
3. People Who Recently Had Surgery
Sleeping well can be challenging for someone who has gone through an operation. Pain and discomfort are two things that are likely to be experienced during the night. On top of everything, some individuals have to try to protect the area they've had surgery on. Since a knee pillow is capable of aligning a patient's bone structure, it can provide pain relief and comfort. Besides, it can help people avoid producing damage to their sutures.
4. People With Poor Circulation
Poor circulation can translate into a myriad of complications over time, which range from swollen legs to the development of varicose veins. When you sleep in an incorrect position, the heart isn't able to pump the blood into the most distant parts of your body. That's why many people wake up with their feet and hands feeling cold. A knee pillow elevates your legs, so it contributes to maintaining a healthy blood flow during the night.
5. People With Spine Misalignment
Using adequate support can have a beneficial effect on spine misalignment. The individuals that can benefit from this the most are children, as their bodies grow until they reach the age of 18. If a kid were to have lordosis, using the right support during the night, along with a corset during the day, would bring their spine into the correct alignment by the time their growing process ends.
6. People With Back, Knee, and Hip Pain
Aligning your knees with a pillow can reduce the inflammation on your sciatic nerve, helping you get rid of pesky back pain. A knee pillow aligns your legs, as well, so you also avoid putting extra strain on your knees. Last, but not least, it can also make a difference for people who have achy hips. It prevents the latter from rotating as you move during your sleep.
Benefits of Knee Pillows
1. They Offer Correct Support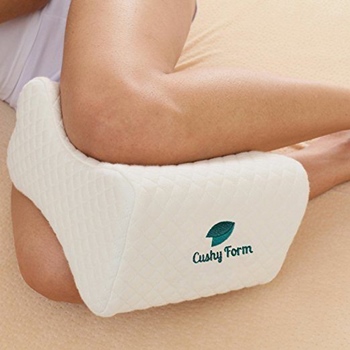 A knee pillow positions the legs, hips, as well as the spine in the appropriate body alignment. Since it also elevates your lower body, it maintains a straight side sleeping position. This translates into a better sleep experience overall and plenty of comforts.
2. They Improve Blood Circulation
Blood circulation disorders can have several negative effects and they range from the development of sore knees and muscle tension to achy legs overall. Plus, people who have problems with their blood flow have cold hands and feet, which makes it challenging for them to deal with the autumn and winter chill. Using a knee pillow allows your heart to pump blood even into the more distant parts of your body — your feet.
3. They Prevent Back Pain
Aside from diminishing muscle cramps, varicose veins, and lower back pain, a knee pillow can also make a difference when it comes to eliminating lumbar pain. Incorrect sleeping postures are often at the root of muscle pressure, too. Back and stomach sleepers would find it more comfortable to sleep on one side if they were to use such a pillow.
4. They Help Improve Sleep
There's nothing stopping you from using a knee pillow when you read or watch TV since it helps keep your legs higher anyway. But knee pillows are winners when it comes to improving your sleep. Thanks to their capabilities, you will wake up feeling rested and capable of facing a new day, whether at work or doing chores around your house. For those that are interested in losing weight through exercise, using one can limit the amount of pain they feel due to physical strain.
5. They Lower Stress
We all know that stress can have a negative effect on your wellbeing. People who are expecting to feel stressed or those who work long hours will find it harder to fall asleep. Knee pillows can assist with avoiding this challenge as they give users a soothing and restful night's sleep. Moreover, they can help you fall asleep faster and easier — you'll feel more ease more quickly.
Best Knee Pillows Comparison Chart
PRODUCT
DETAILS

Comfilife Orthopedic Knee Pillow

Price: $$
Customer Rating: 4.4
Size: 9.8 x 7.9 x 6.3 inches
Strap: No
Design: Wedge

View On Amazon

Cushy Form Knee Pillow for Side Sleepers

Price: $$
Customer Rating: 4.3
Size: 10 x 5.5 x 8 inches
Strap: No
Design: Wedge

View On Amazon

Everlasting Comfort 100% Pure Memory Foam Knee Pillow

Price: $$
Customer Rating: 4.4
Size: 10.5 x 6 x 8 inches
Strap: Yes
Design: Wedge

View On Amazon

Abco Tech Memory Foam Knee Pillow

Price: $
Customer Rating: 4.3
Size: 10.2 x 8.3 x 6.2 inches
Strap: No
Design: Wedge

View On Amazon

Aocome Knee Pillow for Side Sleepers

Price: $
Customer Rating: 4.3
Size: 10 x 7 x 6.5 inches
Strap: Yes
Design: Wedge

View On Amazon

Cozy Hut Memory Foam Semi Roll Pillow

Price: $
Customer Rating: 4.4
Size: 9 x 4 x 4 inches
Strap: No
Design: Half Moon

View On Amazon

Rubark Orthopedic Knee Pillow for Side Sleepers

Price: $
Customer Rating: 4.3
Size: 10 x 7.2 x 7 inches
Strap: Yes
Design: Wedge

View On Amazon
Best Knee Pillow Reviews
1. Comfilife Orthopedic Knee Pillow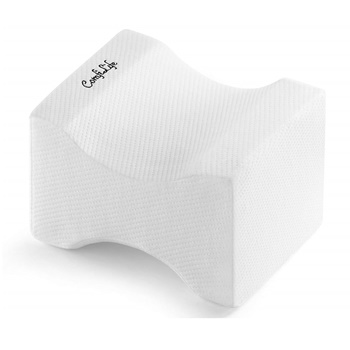 Despite being quite affordable, this option can be used for several different purposes. Thanks to its ingenious design, it can be the perfect knee pillow, but it can also be utilized to offer support to other body areas – such as your hips or joints. The pillow features premium high-density memory foam, which means that it is capable of lasting for as long as possible. It will retain its shape over time and it will provide you with the comfort you need.
Furthermore, this model comes with an ergonomic design that keeps your hips, legs, and spine in the correct alignment even while you sleep. The pillow can effectively improve your circulation, too. Besides, it even comes with its own cover, which is said to be breathable. The fact that the cover boasts a zipper is a benefit in itself as you can remove it and clean it in the washer.
Pros
Memory foam construction promises durability and long-lasting comfort
Breathable and easy-to-remove cover
Can be used for relieving sciatica pain, knee pain, and pressure on the lower back
Keeps your spine aligned properly at night
Cons
Bigger users (taller than 6' and heavier than 200 lbs) might find it too small for their physical attributes
Too soft for some buyers' liking
2. Cushy Form Knee Pillow for Side Sleepers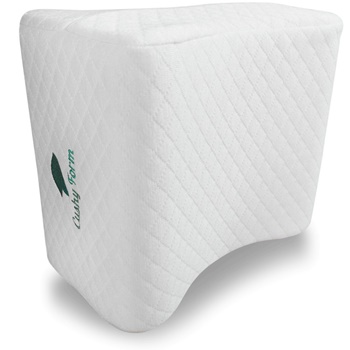 This essential cushion is capable of improving circulation for side sleepers. However, it can also make a difference as a knee spacer for those recovering from surgery or for pregnant ladies. It also assists with restless leg syndrome, which can be a lifesaver for sleepers and their partners, too. The bolster can be inserted in-between your knees with ease.
What seems to make the difference between this item and others is that it is actually recommended by doctors and sports trainers. Having been crafted from memory foam, it is capable of standing the test of time. It's hypo-allergenic, as well, so you don't have anything to worry about in that sense.
Pros
It feels softer in warm temperatures and firmer in cold temperatures
Comes with its own free storage and travel bag
Recommended by physicians and chiropractors
It can be used for providing relief for scoliosis and bursitis
Eases knee, back, leg, and ankle pain
Cons
This one works best for small adults and kids
3. Everlasting Comfort 100% Pure Memory Foam Knee Pillow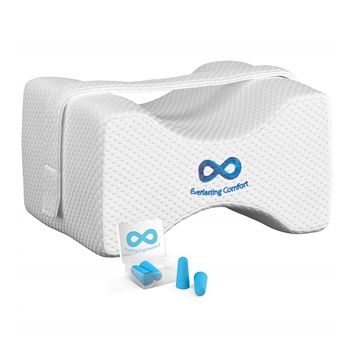 The Everlasting Comfort model is another that you should consider since it is made of 100% memory foam and contains no allergens or additives. It boasts an ergonomic, curved design that keeps your knees at a distance from each other. It also offers the correct support to align your hips, your legs, as well as your spine. This pillow can be effectively used to alleviate pain in various body regions, ranging from your lower back to your thigh area and your spine.
Additionally, the pillow comes with an adjustable and removable hook-and-loop strap that keeps your knees in the correct position even as you sleep. Plus, thanks to this feature, you'll get knee support even when you roll from one side to the other.
Pros
Made of 100% pure memory foam
Comes with a curved, ergonomic design
The strap keeps your legs in place throughout the night
Bonus: memory foam earplugs
Cons
The cover zipper is delicate. To avoid breaking it, unzip the cover gently.
4. Abco Tech Memory Foam Knee Pillow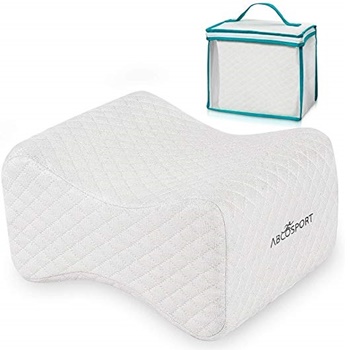 If you want to benefit from better spine alignment and significantly less pain in your lower back region, you should try a memory foam knee pillow such as this one. It can help you achieve the correct alignment when you sleep on your side. It can also provide the right amount of support to your muscles and ligaments throughout the night.
The best thing about this pillow is how easy it is to clean and maintain. It is made from hypoallergenic material, so anyone can use it. Besides, it comes with a removable cover that can be cleaned in the washer, allowing you to regularly sanitize it. The product feels soft, yet firm enough in-between your knees. It also does wonders for people recovering from knee or hip surgery.
Pros
Made from 100% hypo-allergenic materials
Comes with a removable (and zippered) cover that can be washed separately
A carry case is included with every purchase
Feels soft and cozy to the touch
Cons
As reported by other customers, it can be rather uncomfortable until you get used to it.
5. Aocome Knee Pillow for Side Sleepers
If you are on a budget, but you still need a more than decent knee pillow, this one should fit the bill. It is specifically designed for side sleepers and it is capable of alleviating pain from sciatic-related conditions and joint pathologies. As is the case with some of the others we've showcased here, this one comes with a removable and washable cover.
The leg strap that the pillow is equipped with certainly comes in handy. Feel free to use it to position your legs properly. Thanks to it, you can rest assured that the pillow is going to remain in one place even when you turn from one side to the other. This memory foam pillow is breathable, as well as hypo-allergenic.
Pros
Comes with a leg strap
The cover is removable and washable
Improves conditions such as sciatica, knee and back pain, and arthritis
Made of 100% hypo-allergenic memory foam
Cons
The cover zipper can rub the sleeper's calf
6. Cozy Hut Memory Foam Semi Roll Pillow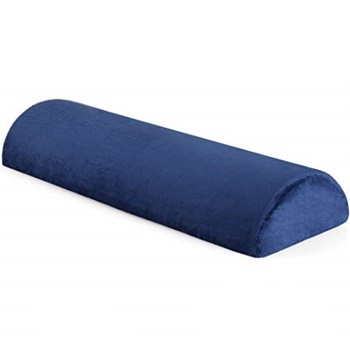 This bolster knee support pillow makes the perfect option for people who sleep on their side, but also for people who sleep on their back and stomach. It can effectively improve the condition of those suffering from back and leg pain. Similarly to other models, this one comes with a removable and washable cover.
It's also worth noting that the cover is made of soft velour, so it feels nice against your skin. Also, it is breathable and it even has moisture-wicking capabilities. The pillow is made from quality memory foam that retains its shape for continued support. The versatility of this product cannot be denied as it can be used under a myriad of circumstances from hiking to traveling by plane.
Pros
Made from high-quality memory foam
Multi-purpose design for all sorts of activities
Comes with a removable and washable cover
Foldable into its storage bag
Cons
Provides less relief to the neck area
7. Rubark Orthopedic Knee Pillow for Side Sleepers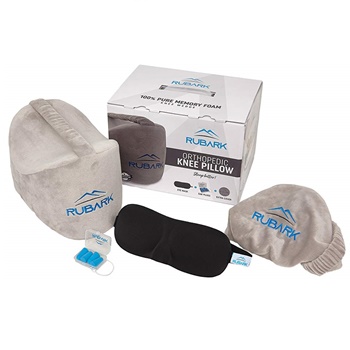 Although it is by far one of the most budget-friendly choices out there, the Rubark model is highly convenient and versatile. It can provide adequate support to your knees, back, hips, ankles, and a variety of your joints. Part of what makes it so easy-to-use and efficient is that it is outfitted with a side strap. The strap is adjustable and lets you benefit from the same support even as you move from one side to the other.
You definitely get your money's worth with this pillow as it is accompanied by a pair of earplugs, an eye mask, as well as a bonus cover. As for the construction, it is made from ergonomic and soft memory foam. While the foam of other models goes flat quickly, this one is much more resistant by comparison.
Pros
Contoured wedge design makes it ideal for side sleepers
The strap helps the pillow remain in one place throughout the night
Comes with two machine-washable covers
Includes a sleeping mask and a pair of earplugs
Cons
It's smaller compared to other models
What is a Knee Pillow?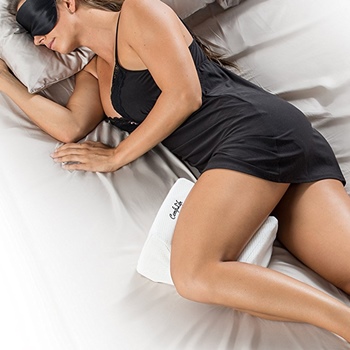 A knee pillow is an accessory that offers benefits to almost all types of sleepers. When they go to bed, most people reach out for something that can offer some support to their knees and lumbar area. Other individuals have problems with their neck, so the design of many knee pillows is versatile — so that it can cater to the needs of different people.
The UK Sleep Assessment and Advisory Service conducted a study that showed that about 40% of people primarily sleep on their side. But what's so wrong about that? Sleeping on your side can pull your hips, as well as your spine out of the appropriate alignment. This eventually translates into an achy back and painful hips.
Most people try to fix this issue by getting a good supportive mattress. To make an analogy, people would get a massage for their feet if they were to hurt, right? But our whole bodies are far more complex than just one region. That's what makes it challenging for us to find the right sleep position.
1. Drawbacks of Using a Regular Pillow
There are several drawbacks to using one of the pillows you already have in your home. Naturally, placing something between your legs can help stabilize your hips. However, a regular pillow, or even worse, a decorative pillow, can leave you feeling overly hot during your sleep. That makes it likely for you to unconsciously remove it. Ideally, a knee pillow should keep you warm during the cold season and maintain an optimal temperature in-between your legs in the hot season.
Furthermore, most such pillows aren't made from the right materials, so they don't provide enough support. People like to rest their heads onto something that's soft, especially after a long day of standing. If the pillow isn't firm enough, you aren't going to get much (or any) relief.
These are all disadvantages that you wouldn't have to deal with if you were to use a specially made knee pillow.
2. Spine Alignment & Body Posture
Maintaining the right body posture throughout the day is almost impossible nowadays, especially for people who work in front of their computers. In theory, our spines would have to be perfectly perpendicular to the ground. As you can expect, that never happens, and many people tend to bend their necks to the front whenever they focus on something.
Correct postural alignment causes the least amount of musculoskeletal strain and pain. There are several ways you can improve posture and alignment, and using a knee pillow is one of them. Others include going to a chiropractor, who would mechanically align your spinal bones, or practicing Pilates or Yoga. Massage therapy can also come in handy for most people.
We spend more than a fourth of our day sleeping. If you sleep in the wrong position or on the wrong mattress, you can cause damage to your spine in the long run. If you don't sleep well during the night, you aren't going to feel capable of tackling your daily tasks. A knee pillow can be an asset in this respect.
Knee Pillow Types
There are four main types of knee pillows currently available for sale. Check out the section below to find out more about each and every one of them.
1. Hourglass Knee Pillow
This is the most affordable and common type of knee pillow. As its name suggests, it is shaped to resemble an hourglass. Thanks to its design, it won't slide out from in-between your legs during your sleep. You can also use it in-between your lower legs or between your thighs. It all depends on your specific needs, after all.
2. Strap-On Knee Pillow
Viewed as one of the most convenient designs on the market today, the strap-on knee pillow comes with a unique (and usually customizable feature). The strap is typically adjustable as it needs to work with the different physical attributes of many people. Given this feature, the pillow doesn't move during the night, even if you switch to the other side. This kind of pillow is generally longer compared to its counterparts.
3. Long Knee Pillow
If what you want to achieve is cradling your whole body along with the knees, this type of design is the one you should go for. Such a product can provide you with increased support to your lower body. The drawback, however, is that it might prevent you from turning over during the night.
4. Wedge Knee Pillow
Differently from the other designs that we have discussed already, this type of pillow is shaped in a triangle form. This feature brings the upper and lower parts of your legs in a triangular position. Of all of the variations, this particular one is the highest recommended one for diminishing back pain.
In addition to this, it also facilitates a good position for swollen feet, tired muscles, as well as people with varicose veins. Since it inclines the knees as you sit on your back, it is recommended for back sleepers. It also works for people who have respiratory problems, acid reflux, snoring, and sleep apnea. Many physicians suggest getting one if you have recently had surgery performed.
Knee Pillow Buying Guide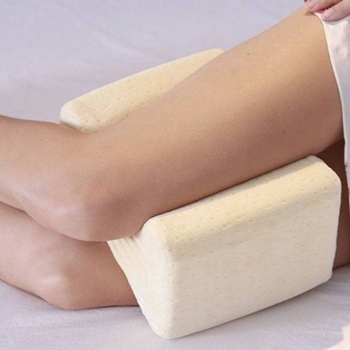 We've talked about who should use knee pillows, what their benefits are, as well as the many different designs currently available. Now it is time to touch upon the subject of features and factors that you should keep an eye on if you're in the market for such a product. So, what are the characteristics of knee pillows that you should take into account?
1. Material and firmness
Manufacturers use a variety of different materials in creating knee pillows. Some can be made of water or gel while others can be crafted from memory foam. Memory foam pillows tend to be a little more expensive compared to their counterparts. However, they are hypoallergenic, which means they can be used by anyone, including children.
The pillow should also be adequately firm. Why is this important? Well, achieving the perfect balance between softness and firmness can be challenging, but it matters to the end-user. If the pillow is too soft, it will change its shape and will fail to provide enough support. If it's too hard, it won't feel comfortable against your knees. Medium firmness is preferred by most people; that's what we found doing our research.
2. Thickness
Thickness also has a say when it comes to defining your user experience. A thin pillow is virtually incapable of doing its job, meaning that it can't maintain the right distance between your legs. The depth of the pillow should be around four to six inches. This thickness has been found to offer the greatest amount of comfort to most individuals. Besides, if it isn't thick enough, the pillow will not ensure the right spinal alignment.
3. Size & Weight of The User
People have different weights and sizes, but their physical attributes matter a lot when it comes to picking the perfect knee pillow. If you are overweight or your thighs are thicker, you should pick a firmer and thicker pillow. If, on the other hand, you're in excellent shape or even skinny, you should consider getting a softer (and smaller) pillow.
Even your height can make a difference in your decision-making process. Naturally, shorter individuals will have different sized bones than taller folks.
4. Durability
Some products in this line can cost a pretty penny. If you're making an investment, you're probably focused on expanding the life span of the pillow. While it is true that most pillows do get damaged over time, especially depending on how often you use them, there are some things you can pay attention to.
For example, you could get your pillow from a trusted manufacturing brand. If the company offers a guarantee, that's even better. This is a reassuring detail for someone who wants to know that the pillow isn't going to clump or flatten in a short amount of time.
Another aspect to check is whether the pillow comes with a removable cover. Needless to say, cleaning the whole pillow in the washing machine can be inconvenient. It can also damage the product. To avoid going through this hassle, get one that comes with a removable and washable cover. Just pay attention to the knee pillow reviews acquired by the item you're considering purchasing. They can let you know whether the zipper is easily breakable, for example, or how the cover feels to the touch.
5. Adjustability
As we have previously mentioned, not all people have the same physical characteristics. When it comes to knee pillows, versatility and adjustability come from features such as the strap. Customizing the length of the strap is important. Furthermore, it needs to be made from elastic fabric so that it doesn't put too much pressure on your thighs.
If you tend to kick your legs to some extent, you should benefit from the use of a strap-on knee pillow. Hourglass-shaped models are made to keep the legs in place, as well.
Some knee pillows have a design that allows you to make the most of them. You could use them when you watch TV or as neck or back pillows when you read.
6. Hot or cold
Depending on the material that a knee pillow is made from, it can either tend to absorb more body heat or keep you cool. Foam has heat-retaining capabilities that are a problem for people who naturally sleep hot. If the pillow cover is cotton, it may help with this issue. In our experience, gel models are recommended for people who tend to get too hot at night.
7. Purpose
Every product is made with a purpose in mind. The same goes for knee pillows. While some are created to improve your blood circulation, others are specifically designed to offer back pain relief. On the other hand, some are specially made for pregnant women. Consider your personal needs and preferences before deciding to invest in a pillow.
Where To Place a Knee Pillow?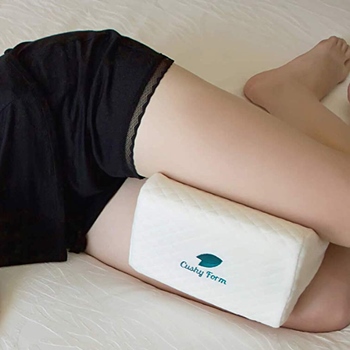 The place where you position a knee pillow usually depends on the type of sleeper you are. It also relates to any medical condition that you might be suffering from, such as arthritis or sciatica, or surgery recovery.
1. For side sleepers
If you are a side sleeper, the general consensus is that you should locate the pillow in-between your legs. This prevents your upper leg from going forward and thereby twisting your pelvis. Having a pillow between your knees can also prevent them from rubbing onto one another. For someone suffering from knee pathologies, this can be an excellent way of preventing pain.
2. For stomach sleepers
It is less advisable to sleep on your stomach as you are inadvertently putting pressure on your internal organs, including your heart and lungs. Furthermore, the likelihood of sleep apnea increases when you sleep on your stomach.
To understand how complicated it can be to be a stomach sleeper, we'll tell you that you should use not one, but two support pillows. One should be for your head and another should be placed under your stomach and pelvis. Doing this would make it possible for your spine to be aligned properly.
3. For back sleepers
If you find it difficult to switch to sleeping on your back, you could simply place a knee pillow right under your knees. Doing so also helps with relieving pressure from your knees and back.
4. For expecting mothers
Some maternity pillows are made with a different design than what you'd normally find in a knee pillow. They offer support and cushioning both to the expectant mother's belly and to her knees. That means that they are also longer, especially when compared to their counterparts. The future mommy simply slides the pillow under her belly and in between her knees (on the side).
Can You Use a Regular Pillow as a Knee Pillow?
Using a traditional pillow instead of a knee pillow is quite common since most people like benefitting from some support in-between their legs during the night. We don't necessarily recommend using one for this purpose, but if you are resolute about doing it anyway, we do have one suggestion. The least you could do would be to use a pillow made from dense memory foam. This feature would make it more difficult for the pillow to change its shape during your sleep.
Knee pillows have many benefits compared to their regular counterparts. They are designed with the correct shape and the proper density, and they're even user-friendly in terms of how they feel against your skin. They are capable of reducing hip strain and they promote adequate spine alignment. Many of them are created based on the recommendations of physicians and chiropractors or they've at least received their approval.
The bottom line is that the only regular pillows that resemble knee pillows are high-density memory foam models. If you do not have one in your home, you will have to buy one anyway, so you might as well get a knee pillow right off the bat.
FAQ About Knee Pillows
1. Are knee pillows easily washable?
They can be, provided that they are equipped with removable covers. There are two types of covers currently used by manufacturers of knee pillows. Most come with a zipper, but there are some that feature velcro. Removing the cover is very easy, but you do need to be gentle so as to avoid damaging the zipper. In most cases, the cover can be cleaned in the washing machine.
If the pillow to be cleaned is made from memory foam, it is usually not recommended to clean it in the washer. Some gel options can be sanitized this way, though. For most models, we recommend washing the cover only, not the pillow itself.
2. Are knee pillows good for you?
We've already discussed that knee pillows have several benefits that should make more people try them out. They are most useful for kids whose skeletal systems are still developing and who might adopt incorrect postures at school, for example. If they use knee pillows when they sleep, their spine is going to grow correctly. By the time they reach adulthood, their spine will be perfectly aligned.
3. Do knee pillows really help?
If you suffer from a chronic medical condition such as arthritis, for instance, you might fail to see results right after starting to use a knee pillow. In such situations, you have to get proper long-term treatment and combine it with the use of such a product. If you haven't been diagnosed with any health problems pertaining to your skeletal system, a knee pillow can at least improve your posture and offer you knee and back pain relief.
4. How to sleep with a knee pillow?
If you are a side sleeper, you should place the pillow between your knees or thighs, especially when you're in a fetal position. This helps prevent you from rolling over, even if you're recovering from leg surgery.
If you are a back sleeper, you should place the pillow under your knees so as to take some pressure off your spine. Using a thinner pillow under your back might prove to be useful, as well, as it better aligns your spine.
5. Should I use a knee pillow?
If you find that you've been experiencing back and joint pain, you should give sleeping with a knee pillow a try. It might do wonders in terms of relieving the pressure on your pain points. If you are feeling concerned about your spine alignment, you could also benefit from using this type of product.
6. Can I make my own knee pillow?
If you believe that your DIY skills are strong, you can give this a try. However, we'd like to note that making a gel knee pillow is almost impossible if you try it at home. The same goes for memory foam pillows. Therefore, real orthopedic knee pillows can only be bought.
Nevertheless, organic knee pillows can be made at home, and they can have fillings such as millet or buckwheat. The issue with these is that, while the hulls provide more air circulation and keep you comfortable while you sleep, they can also change their shape a lot. You'd have to fill the pillow to the brim to benefit from appropriate support, and even in that case, you'd notice that it changes its shape throughout the night.
Wrap Up
As you can see, getting the best knee pillow can be a challenging endeavor. On the one hand, you have quite a bit of model to go through. With the help of our knee pillow reviews, you should consider your specific needs and match them as best as possible to the features of the product. After all, we did our best at picking the most comfortable and effective items in this line.
No matter what you end up choosing, the truth is that all knee pillows can take your sleep experience to a whole new level. You aren't going to believe how refreshed, relaxed, and energetic you are going to wake up in the morning after sleeping with a knee pillow.
See also: foot spa reviews